President Joe Biden's executive order to strengthen anti-discrimination protections for the LGBTQ community has sparked concerns about what impact it might have on female sports.
Rights campaigners have welcomed the order titled "Preventing and Combating Discrimination on the Basis of Gender Identity or Sexual Orientation." But opponents say it would force schools to include transgender athletes in girls' sports and unintentionally put cisgender athletes at a disadvantage.
Biden's order aims to protect gay and transgender people against discrimination in aspects of American life such as schools, health care and the workplace.
It extends the interpretation of last year's Supreme Court ruling that gay and transgender employees were covered by the Civil Rights Act of 1964, which prohibits discrimination "because of sex."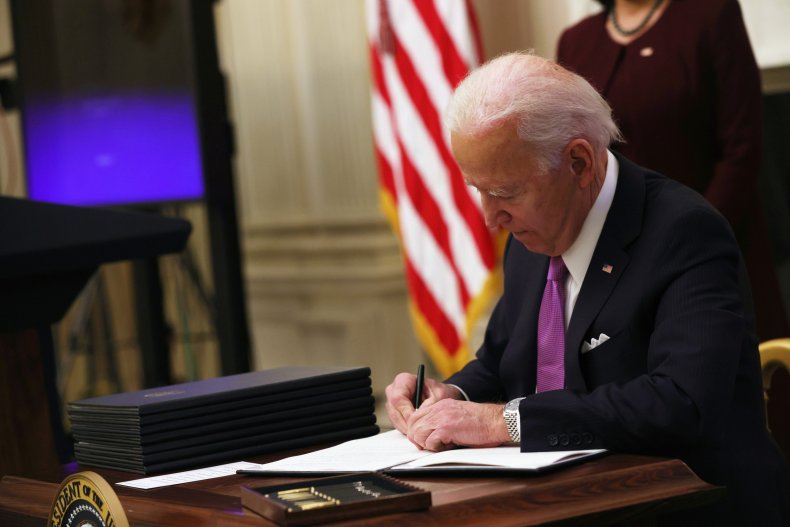 Biden's order clarifies that "sex" includes sexual orientation and gender identity. "Children should be able to learn without worrying about whether they will be denied access to the restroom, the locker room, or school sports," the executive order states.
But journalist and author Abigail Shrier warned of the move by Biden on his first day in office and referred to speculation that public schools will have funding pulled if they do not allow transgender female athletes to compete in girls' sports.
"Any educational institution that receives federal funding must admit biologically-male athletes to women's teams, women's scholarships, etc. A new glass ceiling was just placed over girls," she tweeted, adding that the order "unilaterally eviscerates women's sports."
Her message was retweeted by Erielle Davidson from the Jewish Institute for National Security of America who described Biden's order as a "sad day for women's sports" because it would mean that "women must compete against biological males at the risk of injury and loss of title.
"Don't ever tell me this is 'pro-woman.' It's not. It's destructive and malicious." Davidson added. Ryan Anderson from the conservative Heritage Foundation wrote that "in reality, it spells the end of girls' and women's sports as we know them."
On the same day Biden gave the order, Representative Greg Steube (R-FL) tweeted that "by forcing biological female athletes to compete against biological male athletes in competitive sports, we are taking away women's opportunities on and off the field."
On Thursday, Steube reintroduced the Protection of Women and Girls in Sports Act which he had put forward earlier in the month before Biden took office and which is backed by 13 other GOP lawmakers.
In a statement, he said the bill would "protect women and girls in competitive sports. It states that "in athletics, sex shall be recognized based solely on a person's reproductive biology and genetics at birth."
In 16 states there are policies aiding the inclusion of trans/non-binary/GNC (gender non-conforming) students in high school athletics, according to Transathlete.
In 2020, 17 states introduced bills to restrict athletes' participation in sports based on their gender assigned at birth, but Idaho has so far been the only one to pass a bill into law, although this has been blocked pending a lawsuit.
After the hashtag #BidenErasedWomen started trending on Thursday, LGBT activists responded by saying the executive order was simply a move towards a more inclusive society.
"Biden has simply said that he's not going to allow people like me to be discriminated against for using female toilets, as we've always done," transgender writer Paris Lees tweeted.
Meanwhile the Human Rights Campaign has described it as "the most substantive, wide-ranging executive order concerning sexual orientation and gender identity."
The following graphic provided by Statista looks at state protections for LGBTQ people in the workplace.