Republican Texas Gov. Greg Abbott has emerged as one of President Joe Biden's biggest challenges in solving the worsening situation at the southern border, where GOP figures are defining the ballooning number of migrant arrivals as the administration's first significant immigration "crisis."
Abbott and Biden are already clashing over what the administration says is the governor's delay of Federal Emergency Management Agency funds to provide COVID-19 coronavirus tests and quarantine facilities for migrants arriving at the border, while also complaining about the danger of new arrivals exposing Texans to the virus.
Biden has now approved a FEMA deployment to the southern border, possibly opening up a new front in the conflict between Austin and the White House.
The Department of Homeland Security said Saturday that FEMA will be supporting a 90-day bid to help receive, shelter and then transfer the spiking number of unaccompanied minors crossing the southern border. The agency performed a similar role in 2014 when President Barack Obama was faced with an increasing number of arrivals at the border.
More than 3,600 migrant children were being held in U.S. border facilities as of Thursday, according to an unnamed U.S. official quoted by Reuters. This represents a more than four fold increase versus the end of February. The HHS refugee office now has around 8,800 unaccompanied children in custody.
"Our goal is to ensure that unaccompanied children are transferred to HHS as quickly as possible, consistent with legal requirements and in the best interest of the children," DHS Secretary Alejandro Mayorkas said on Saturday.
"It is never safe to come to the United States through irregular channels, and this is particularly true during a pandemic," Mayorkas added. "To effectively protect both the health and safety of migrants and our communities from the spread of COVID-19, individuals apprehended at the border continue to be denied entry and are returned."
Abbott has emerged as a leading Republican voice urging Biden to revert to stricter immigration measures to end what they are calling the border "crisis." Migrant arrivals are surging with new arrivals hoping to meet with a more lenient immigration policy than under former President Donald Trump.
Abbott said Saturday that the Biden administration is "scrambling to find staffers to help CBP & ICE handle the...disaster created by their open border policies."
Abbott complained last week that the Biden administration was failing to fulfil its COVID testing responsibilities at the border. "The federal government alone has the responsibility to test, screen and quarantine illegal immigrants crossing our border who may have COVID," Abbott said in a statement.
"Instead of doing their job, the Biden administration suggested it did not have the sufficient resources and, remarkably, asked Texas to assist them in aiding their illegal immigration program. Texas refused."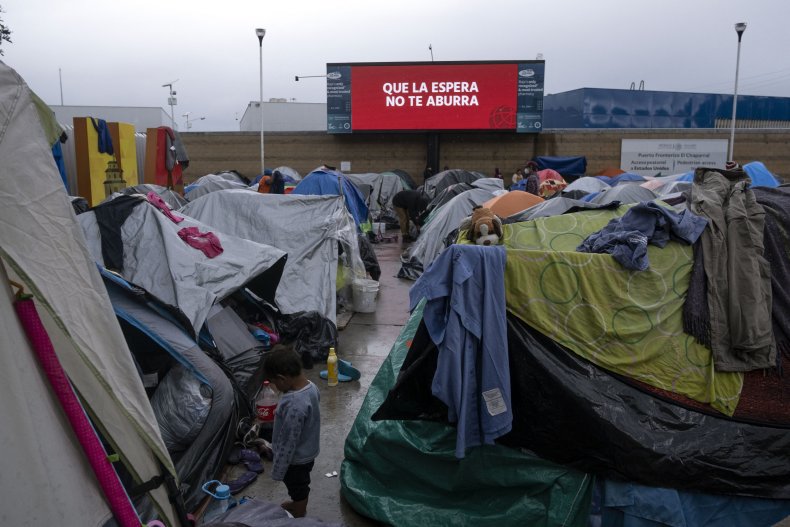 A DHS spokesperson told CNN the administration hopes "that Governor Abbott will reconsider his decision to reject DHS's agreement with the Texan local authorities that would enable the very testing of migrant families that Governor Abbott says he wants."
Abbott's press secretary Renae Eze said last week that the administration's proposal on testing has "strings attached," requiring the state to conduct border security. "The federal government alone has the responsibility to test, screen, and quarantine illegal immigrants crossing our border who may have COVID," Eze said
"The Biden administration continues to pressure Texas to assist them in aiding their illegal immigration program...We are focused on doing our job—protecting Texans."
Some Texas Democrats have rounded on Abbott over his head-to-head with the administration.
Texas Rep. Veronica Escobar said of the governor: "Not only did he reject that funding, but then he turned around and went on Fox News and other cable networks and said immigrants are bringing disease like COVID into our country—fueling racism, xenophobia, using the kind of language that we know only too well is dangerous, and very consequential."
Biden's border problem offers Republicans an opportune attack line as the party grapples with internal conflict over the November presidential election and broad criticism over its refusal to back Biden's $1.9 trillion coronavirus relief package.
The border situation is also diverting attention away from the failings of Texas officials following last month's collapse of the state energy grid.
House minority whip Rep. Steve Scalise described the arrivals as "super spreader caravans," and blamed the president for "this Biden border crisis." House Minority Leader Kevin McCarthy meanwhile is reportedly arranging a visit to the border on Monday with other GOP representatives.
Correction 3/15/21: This article originally referred to Rep. Steve Scalise as House majority whip. Scalise is House minority whip. Newsweek regrets the error.