After crossing the U.S. border with Mexico, migrant children wait on average for four days before they are admitted to shelters where their cases are processed.
The situation for children at the nation's Southwest border has grown increasingly dire. Over 3,500 teens and children filled steel and concrete detention cells this week anticipating transfer to shelters—a record capacity number. The rapidity of arrivals has outpaced authorities' ability to place these children in Health and Human Services (HHS) shelters set up by the Biden administration and eventually house the kids with families that have been vetted.
"DHS has continued our close coordination with HHS as it increases its capacity to care for unaccompanied minors and place them with sponsors," a CBP spokesperson wrote to Newsweek. "Our goal is to ensure that CBP has the continued capability to quickly and efficiently transfer unaccompanied minors after they are apprehended to HHS custody, as is required by U.S. law, and as is clearly in the best interest of the children."
As of Monday, more than 1,400 unaccompanied minors were held at U.S. Customs and Border Protection stations for more than three days, according to CBP documents obtained by CBS News. The CBP spokesperson confirmed to Newsweek when U.S. authorities encounter unaccompanied children at the border, they move the minors to CBP stations or short-term holding facilities, where the kids are identified and undergo an initial health screening. CBP then turns the children over to the Office of Refugee Resettlement in HHS.
Migrant children are legally not permitted to stay in immigration custody for more than 72 hours, but The Washington Post reported minors have been waiting 108 hours on average this week before they are transferred to HHS shelters, where their cases are processed. The CBP stations are bare and cramped, according the Post, with lights on 24 hours a day and few places to play or exercise.
At least 130 children have been waiting for as long as 10 days in CBP custody. According to CBS, there were only 500 open beds in HHS shelters near the Southern border as of Monday, further exaggerating overcrowding at CBP sites.
Children have access to medical services, meals, snacks as well as showers every 48 hours, Troy Miller, acting CBP head told the Post.
"Addressing the flow of unaccompanied children crossing our Southwest border is an important priority of this administration and DHS," the CBP spokesperson said to Newsweek. "It requires a whole of government coordinated and sustained response."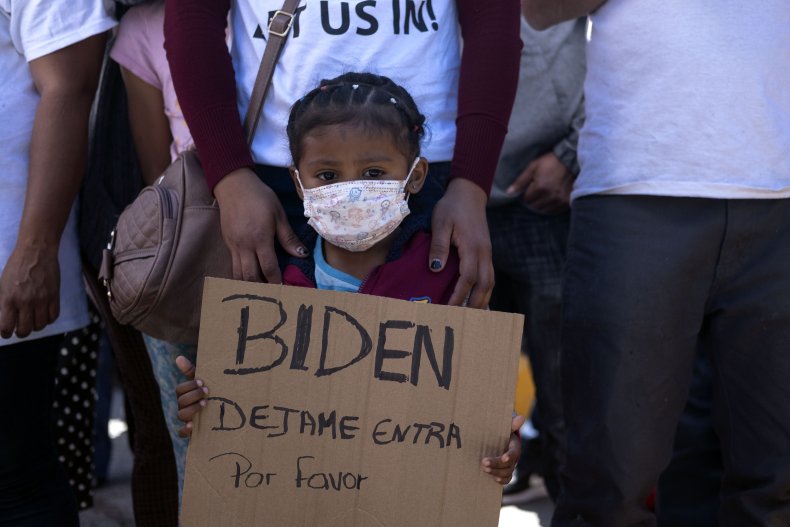 The new administration has been grappling with an immigration crisis. President Joe Biden initiated his presidency by taking steps to repeal former President Donald Trump's immigration policies. But Biden's switch-up in tone at the border has collided with surges of migrants who were previously turned away by Trump's Migration Protection Protocol arriving to finally have their cases processed. Biden also ended Trump's "zero tolerance policy" that resulted in the separation of thousands of families.
Now masses of people escaping economic losses and violence for the U.S. have overwhelmed border authorities' resources—during the COVID-19 pandemic. Another report from the Post showed there were 4,200 migrant crossings per day this week alone.
U.S. Immigration and Customs Enforcement (ICE) sent an email to senior leadership on Thursday requesting volunteers to support the numbers of children and families filling facilities at the border.
"This situation mandates immediate action to protect the life and safety of federal personnel and the aliens in custody," wrote Michael Meade, ICE's acting assistant director for Field Operations, in an email obtained by the Post.
The Biden administration had to "revamp" and reopen two HHS migrant facilities to safely and humanly hold children awaiting their cases to be processed, White House press secretary Jen Psaki said in an interview with The View last month.
"We're absolutely not doing what the former president did and what, frankly, the current president and the current vice president objected to, which is ripping kids from the arms of their parents," Psaki said on The View last month. "That is not the policy of this administration and not something we would do."
Biden also revived the Obama-era Central American Minors program, which permits migrant children to join relatives legally living in the U.S., accelerating the entry process for children who are already approved for admittance.
Newsweek has reached out to ICE for comment but did not receive a reply in time for publication.
Update: This story has been updated with comment from CBP.