Biden Forgets Rep. Walorski Died, Asks for Her at Conference
Following Representative Jackie Walorski's death in a car crash in August, a memorial was held for the Republican lawmaker from Indiana, and the American flag was flown at half-staff in her memory. President Joe Biden seemed to have forgotten those tributes and that Walorski had died when he asked for her at a conference she helped organize on Wednesday.
"Is Representative Jackie here? Where's Jackie?" Biden asked. "I think she was going to be here."
Walorski was killed in a car crash along with two of her staffers and the driver of another vehicle in August. The Elkhart County Sheriff's Office in Indiana determined Walorski's staffer, Zachery Potts, was driving the vehicle left of center with excessive speed, which contributed to the crash.
During her time in office, Walorski co-sponsored bipartisan legislation with various other lawmakers to convene the White House Conference on Hunger, Nutrition and Health that took place Wednesday morning. Some reports speculate if Biden wanted to recognize the late lawmaker at the conference when he asked for "Jackie" at the event.
Twitter users slammed Biden for the mistake. Others asked if perhaps Biden was asking for Democrat Senator Jacky Rosen, a member of the Senate's Health, Education, Labor and Pensions Committee who has introduced bills to expand SNAP benefits. However, Biden was thanking the other co-sponsors of the bill that created the conference, and Rosen wasn't recognized in the Biden-Harris Administration National Strategy on Hunger, Nutrition and Health published this month. Instead, the document recognized co-sponsors including Representative James McGovern, Senator Cory Booker, Senator Mike Braun and Walorski specifically for her "unwavering commitment to ending hunger."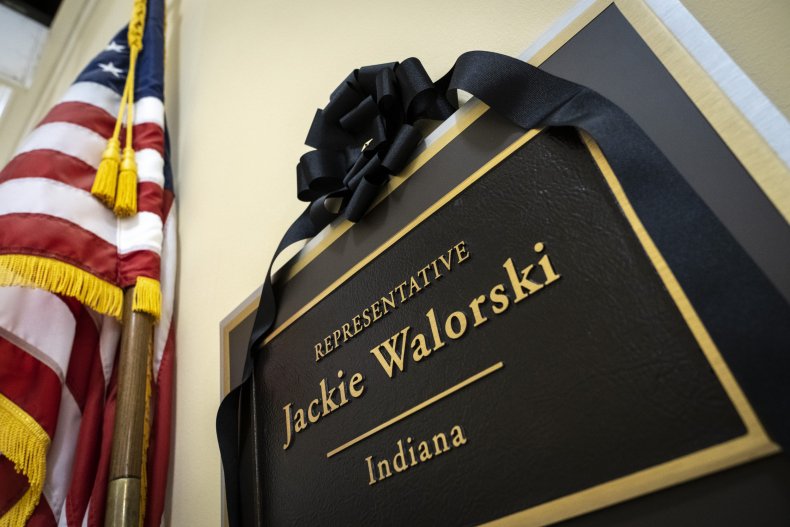 "Wonder how the press secretary will clean up this error at the WH briefing later today..." Sinclair national correspondent Ahtra Elnashar tweeted.
Politico food and agriculture reporter Meredith Hill tweeted that a tribute video honoring Walorski was scheduled to play during the conference.
"She was a major advocate for the effort and among a handful of Rs who stuck behind it, even when the politics grew tough," Hill tweeted this morning before the conference.
Later, Hill referenced Biden's mistake.
"Biden, thanking bipartisan lawmakers for making the conference happen, appears to reference the late Rep. Jackie Walorski without realizing she passed away in August," Hill tweeted.
Twitter users responded to Hill's tweet, with some defending the president by referencing his age and saying he has "a lot on his plate." Others criticized the president's words, saying he "has no soul" and that the mistake was evidence of his "rampant dementia."
The Food Research & Action Center published a memorial piece recognizing Walorski shortly after she died. The webpage recognized Walorski's actions to fight hunger and her efforts in establishing the conference.
"The last conference of its kind, held more than 50 years ago, sparked major improvements and expansions to the federal nutrition programs, paving the way to significant reductions in food insecurity for millions of individuals and families," the memorial said.
Newsweek reached out to the White House for comment.