Democratic nominee Joe Biden has widened his lead against President Donald Trump in their fight to win the November election, a recent national election poll shows.
The Reuters/Ipsos poll, released Wednesday and conducted September 3 through 8, found that 52 percent of likely voters said they would support Biden in the election, compared to the 40 percent who chose Trump. Out of the remaining voters, 3 percent said they would vote for another candidate and 5 percent remained undecided.
Results from this week show a five-point increase in Biden's lead over Trump. In the last Reuters/Ipsos poll, conducted August 28 through September 1 among registered voters, 47 percent of respondents said they would vote for Biden if the presidential election were held today. Trump's amount of support did not change, with 40 percent of registered voters backing him.
Wednesday's poll results revealed voters' perceptions of other factors among the two candidates, including coronavirus response, the economy and law enforcement.
Biden had the upper hand when it came to addressing the ongoing pandemic in the U.S., with 51 percent of likely voters saying Biden would be better than Trump. Thirty-eight percent answered that Trump would do a better job.
The two candidates polled the same when it came to the economy: 45 percent of likely voters believed Trump would be best for the national economy and expanding the workforce, and 45 percent said the same of Biden.
Trump received better marks in terms of addressing crime and civil unrest in the country. Forty-five percent of likely voters said Trump would be "tough on crime and civil unrest," while 40 percent said Biden would be better in this category.
On the economy, neither candidate has the upper hand among likely voters: 45 percent of likely voters said they thought Biden would be better for the national economy and expanding the workforce, while 45 percent said they thought Trump would be best.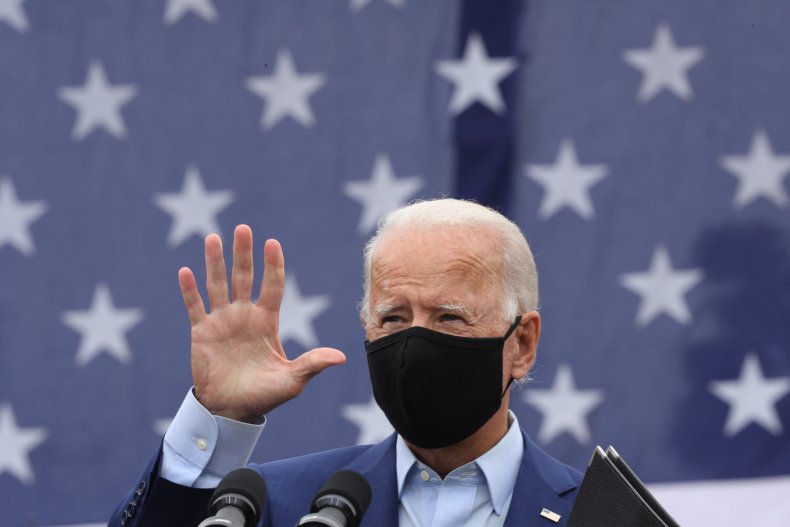 The majority of national opinion polls have put Biden ahead of Trump, both in terms of securing the popular vote and electoral college vote.
A recent CBS News/YouGov poll of battleground states projected that Biden will lead in November with 279 electoral votes compared to Trump's 163, with 96 votes still a toss-up. At least 270 electoral college votes are needed by a candidate to win the presidential election.
The CBS News/YouGov poll, released Sunday, also suggested that 52 percent of likely voters said they would support Biden in the election, with 42 percent saying they'd vote for Trump.
This particular poll also showed that, by a double-digit margin, the majority of voters said Biden cares about people and has the right temperament for the presidency. Biden is favored by 63 percent of voters when it comes to caring about people, compared to the 44 percent who could say the same of Trump. Nearly half of voters—49 percent—said Biden has a better temperament, opposed to the 37 percent who favor Trump.
With less than 60 days until the November 3 election, polling averages show that Trump holds a significant lead in at least 17 states. According to statistics available on polling website FiveThirtyEight, Trump is pulling in the strongest numbers in Alabama and Oklahoma, both considered to be red states.
A majority of those polled in the CBS News/YouGov survey said that Trump has better energy for the job of president, with 61 percent of voters saying they viewed him as energized compared to the 46 percent who described Biden the same way. The two candidates had nearly the same numbers concerning who would do a better job in handling the economy, with Trump holding a 1 percentage point lead over the former vice president.