Joe Biden Says 'Lying' President Not His Son Should Be the Focus—Appears to Take a Swipe at Ivanka Trump and Jared Kushner
Democratic presidential candidate Joe Biden has said that none of his family members will hold a position in the White House or have any conflicts of interest if he is elected in 2020.
In a thinly veiled attack against Donald Trump, who brought in his daughter Ivanka Trump and her husband Jared Kushner to work as White House advisers in his administration, Biden said they will be no ethical conflicts with regards to his family's involvement or business dealings during his presidency.
Two more of the president's children, Eric and Donald Trump Jr., have also continued doing business deals internationally despite assurance from Trump that they would cease.
Biden made the remarks following confirmation that his son, Hunter Biden will step down as a board member of Chinese private equity investment fund BHR Partners and will cut all other foreign business ties should his father get elected.
"No one in my family will have an office in the White House, will sit in meetings as if they are a cabinet member, will have any business relationship with anyone that relates to foreign corporation or country. Period. End of story," Biden told reporters in Des Moines, Iowa, on Sunday (via CBS 2 Iowa).
"What I'm not going to let you all do is let you take the focus off the problem.
"No one has asserted my son did a single thing wrong. No one has asserted that I've done anything wrong except the lying president. That's the only thing. That's the focus."
Biden and his son are the focus of the impeachment hearings against Trump following claims the president attempting to pressure the Ukrainian president to investigate the pair ahead of the 2020 election.
Trump has repeatedly accused Hunter Biden, without evidence, of profiting from business dealings during his father's time in the White House as vice president.
In a statement released via his lawyer attorney George Mesires on Sunday, Hunter Biden confirmed that he will be resigning from BHR on October 31, as well as vowing to end all foreign dealings should his father become president.
"To date, Hunter has not received any compensation for being on BHR's board of directors. He has not received any return on his investment; there have been no distributions to BHR shareholders since Hunter obtained his equity interest.
"Moreover, Hunter played no role in directing or making BHR's investments."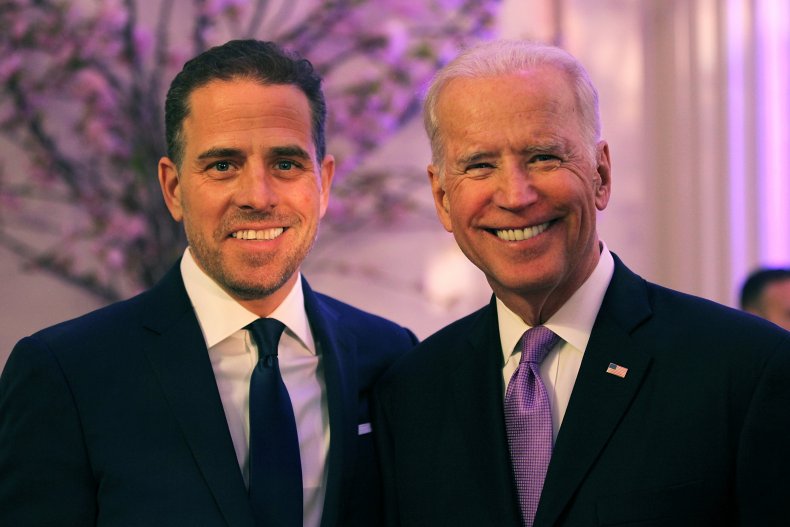 During a recent campaign rally in Minnesota, Trump made unsubstantiated claims that Hunter Biden gained $1.5 billion from a deal with China.
Mesires also detailed Hunter Biden's involvement with Ukrainian energy company Burisma Holdings after he stepped down from the board in April.
"Despite extensive scrutiny, at no time has any law enforcement agency, either domestic or foreign, alleged that Hunter engaged in wrongdoing at any point during his five-year term.
Joe Biden was previously accused of pressuring the Ukraine government to firing the country's Prosecutor General Viktor Shokin after Burisma was investigated by authorities over corruption allegations. The former VP denied this had anything to do with his son being on the company's board.
"When Hunter engaged in his business pursuits, he believed that he was acting appropriately and in good faith. He never anticipated the barrage of false charges against both him and his father by the president of the United States," Mesires' statement added.
"Under a Biden Administration, Hunter will readily comply with any and all guidelines or standards a President Biden may issue to address purported conflicts of interest, or the appearance of such conflicts, including any restrictions related to overseas business interests,"
"In any event, Hunter will agree not to serve on boards of, or work on behalf of, foreign owned companies."