Biden Decries Lack of Respect After Trump Jokes He Was Only a Good VP Because He 'Kissed Obama's A**': 'America is So Much Stronger Than Your Weakness'
Joe Biden has responded to a series of attacks aimed at him and his son by President Donald Trump at his campaign rally in Minneapolis, Minnesota.
The presidential candidate hopeful was one of a number of Democrats targeted by Trump at the Target Center Thursday night, who claimed Biden's legacy will entirely be down to his relationship with former president Barack Obama.
"He was never considered smart. He was never considered a good senator," Trump said, via C-Span. "He was only a good vice president because he understood how to kiss Barack Obama's ass."
Trump also repeatedly mocked the former vice president by once again referring to him as "Sleepy Joe," while attacking the other Democratic candidates.
"So now the Democrats are making a pathetic bid to save Sleepy Joe, Sleepy Joe Biden. And you know what? I'd love to run against him, to be honest," Trump said. "If you can't beat him in a debate, you've got a big problem folks.
"You can't beat him in a debate, you cannot be president because what are you going to do against [China's] president and [North Korean leader] Kim Jong-Un? You cannot beat Sleepy Joe but now you're going to meet with Kim Jong-Un? I don't think so.
"He is totally owned and totally controlled by the Washington swamp, for many years."
In a tweet, Biden hit out at the lack of respect the president has shown to him and for anyone else after attending a CNN and Human Rights Campaign (HRC) town hall on LGBTQ issues with fellow Democratic presidential candidates.
"I spent my night at the HRC forum talking about the fundamental respect every human being deserves," Biden tweeted. "You spent yours showing how little respect for anyone else you have. America is so much stronger than your weakness, @realDonaldTrump."
The president also repeatedly attacked Biden's son Hunter, whom Trump has claimed, without evidence, of profiting from his father's time in the White House.
The pair are at the center of the impeachment inquiring hearings against Trump after the president was accused of attempting to pressure the Ukrainian president to investigate the Bidens ahead of the 2020 election.
"Joe's son Hunter got thrown out of the Navy and became a genius on Wall Street in two days. Whatever happened to Hunter, where the hell is he? Where is Hunter? Fellows, I have an idea for a new T-shirt? I love the cops, but let's do another T-shirt. Where is Hunter? Where is he?" Trump said.
Trump's campaign did indeed immediately start selling "Where's Hunter" T-shirts on their website for $25.
The president also made unsubstantiated claims that Hunter Biden, who has not spoken publicly about the impeachment allegations, made $1.5 billion from a deal with China.
"Frankly Hunter, you are a loser, why do you have $1.5 billion?" Trump added.
As noted by The Guardian, the crowd at the rally chanted "lock him up!" in reference to Hunter Biden, having previously been known to chant "lock her up!" whenever Trump discussed his 2016 presidential rival Hilary Clinton.
Trump also spoke about House Speaker Nancy Pelosi, who announced the impeachment hearings against the president, describing her as "either really stupid or she's really lost it" while boasting of his "perfect" phone call with Ukraine's President Volodymyr Zelensky.
He also described Minnesota Representative Ilhan Omar as an "America-hating socialist" in reference to comments she previously made about the September 11 terror attacks.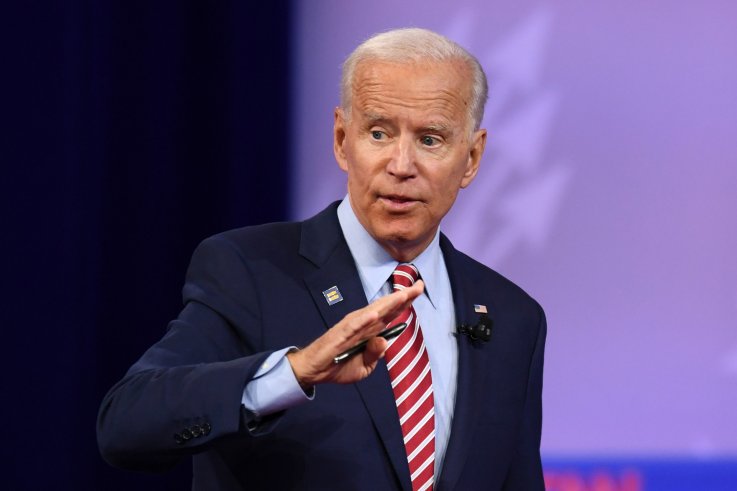 Biden Decries Lack of Respect After Trump Jokes He Was Only a Good VP Because He 'Kissed Obama's A**': 'America is So Much Stronger Than Your Weakness' | U.S.