Joe Biden, Ketanji Brown Jackson Celebrate Historic Vote in Moving Photos
Emotional photos show President Joe Biden and Ketanji Brown Jackson celebrating a historic vote after Jackson was confirmed to the Supreme Court on Thursday.
The Senate voted 53-to-47 to confirm Jackson, making her the first Black woman to be appointed to the Supreme Court in history. Jackson was nominated by Biden to fill Associate Justice Stephen Breyer's vacancy.
Photos captured Biden and Jackson watching the Senate's vote on a TV on Thursday.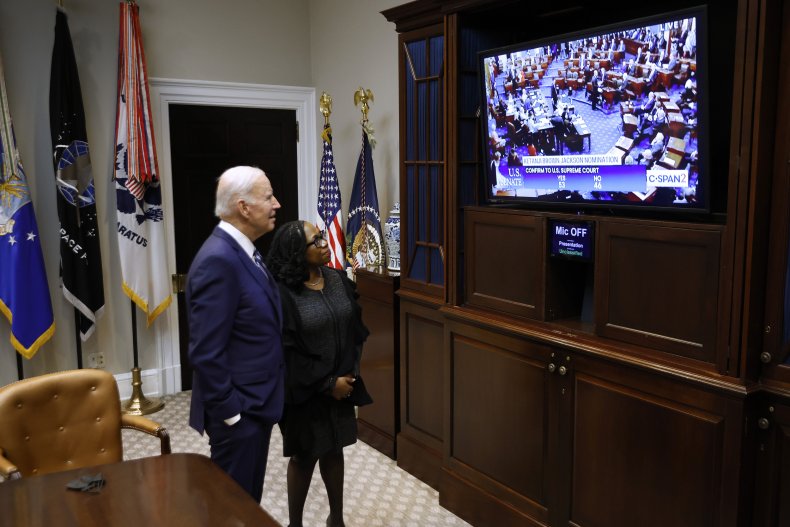 Another photo, shown below, shows Biden congratulating Jackson after the Senate's vote to confirm her to the bench.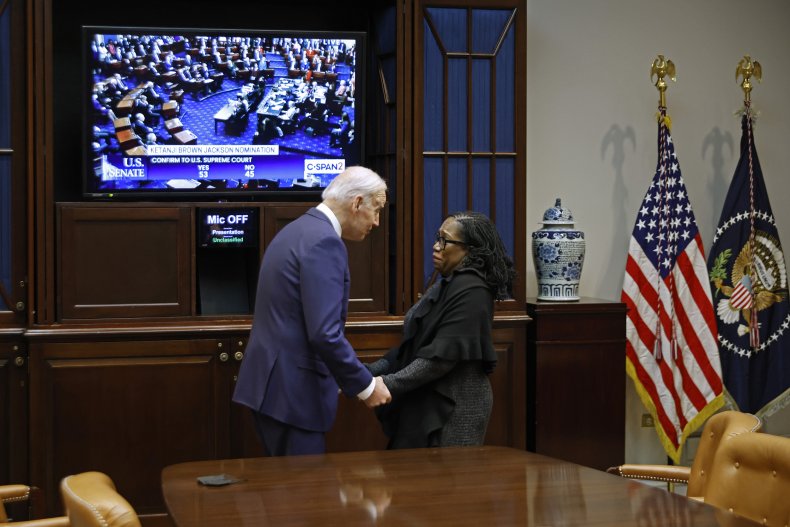 Following the confirmation, Biden and Jackson were seen hugging in front of the TV where they watched the Senate vote together.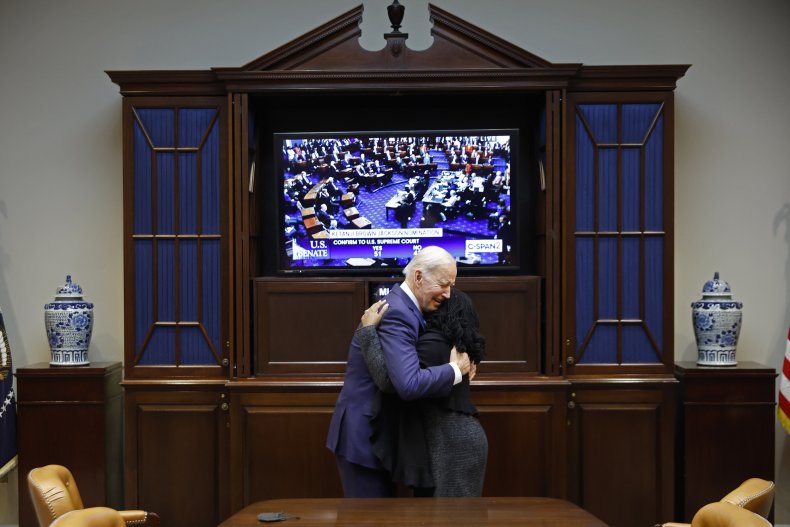 Biden also posted a tweet following the confirmation, which he called "a historic moment for our nation."
"We've taken another step toward making our highest court reflect the diversity of America. She will be an incredible Justice, and I was honored to share this moment with her," Biden wrote in the tweet, which included a picture of the president and Jackson.
Earlier this year, Biden vowed to nominate a Black woman to the U.S. Supreme Court saying that it was "long overdue."
"While I've been studying candidates' backgrounds and writings, I've made no decision except one: the person I nominate will be someone with extraordinary qualifications, character, experience and integrity - and that person will be the first Black woman ever nominated to the United States Supreme Court," Biden said in January. "It's long overdue, in my view."
In February, Biden nominated Jackson, saying in a statement that she is "one of the nation's brightest legal minds."
"Judge Jackson is an exceptionally qualified nominee as well as an historic nominee, and the Senate should move forward with a fair and timely hearing and confirmation," the White House said in a statement on February 25.
During Jackson's confirmation hearings before the Senate Judiciary Committee, Jackson answered questions from Senators on both sides of the aisle on an array of different issues. Several Republican senators, including Ted Cruz and Josh Hawley, grilled Jackson on her past rulings in child pornography cases.
On the first day of her confirmation hearings, Jackson told Senators that filling Breyer's vacancy would be "extremely humbling" as she previously served as a clerk for Breyer.
"I have been a judge for nearly a decade now, and I take that responsibility and my duty to be independent very seriously," Jackson said during the hearings.
Newsweek reached out to the White House for further comment but did not receive a response in time for publication.
Update 4/7/22, 3:48 p.m. ET: This story has been updated with additional information and background.