Democratic presidential nominee Joe Biden now leads President Donald Trump in at least eight national polls following the first presidential debate held last week on September 28.
With less than a month until Election Day on November 3, Trump is trailing Biden in all recent national polls. Although the former vice president was already ahead of the incumbent Republican president in nearly all national polls prior to their debate, the margin has grown substantially following their head-to-head confrontation.
Polling by NBC News/The Wall Street Journal, Rasmussen Reports, Fox News, CNBC/Change Research, CNN, Data for Progress, Reuters/Ipsos and SurveyUSA all show Trump trailing Biden by double-digit margins. The worst results for the incumbent president come from CNN, which has Trump down by 16 percentage points.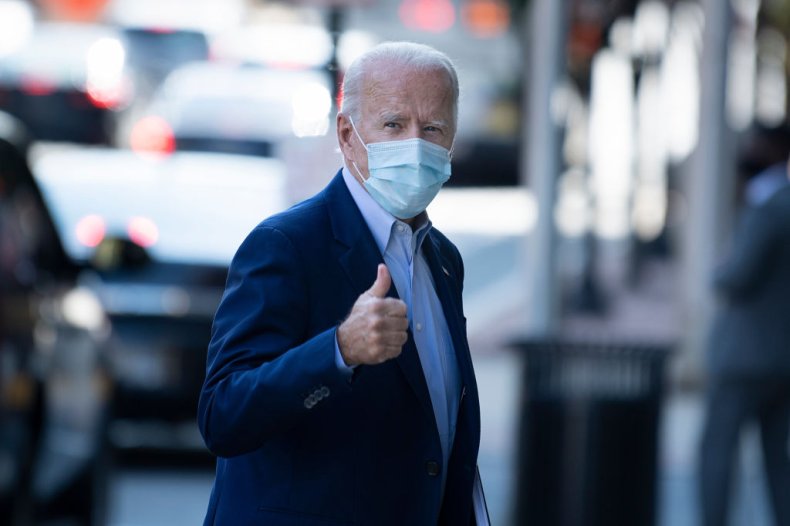 Polling from Data for Progress released on Thursday shows Biden leading Trump by 15 percentage points—with the backing of 56 percent of likely voters compared to just 41 percent who support the president. That aligns closely with CNN's data, which showed Bien backed by 57 percent and Trump supported by 41 percent.
The post-debate survey carried out by NBC/The Wall Street Journal is similar. In that poll, Biden is supported by 53 percent of registered voters while Trump is backed by just 39 percent—a 14 point margin in favor of the former vice president. Conservative Rasmussen Reports and Reuters/Ipsos both show Trump trailing by 12 percentage points—with the same results of 52 percent to 40 percent.
Results from Fox News, SurveyUSA, CNBC/Change Research polling are close as well. All three surveys show Biden leading Trump by 10 percentage points. In the Fox News and SurveyUSA polls, the difference is 53 percent for the Democrat and 43 percent for the Republican. CNBC/Change Research shows Biden with 52 percent support as opposed to 42 percent for Trump.
Notably, the last national poll to show Trump as favored to win the election came from Rasmussen and was carried out from September 9 to 15. That showed the incumbent president with a very narrow lead of just 1 percentage point. Prior to that, the last poll to show Trump in the lead was from Emerson College in February. Two national polls in April—one from Fox News and the other from IBD/TIPP—showed a tied race.
Biden also appears favored to win multiple key battleground states. Democrats are especially invested in Florida, Michigan, Pennsylvania and Wisconsin—states that voted for former President Barack Obama in 2008 and 2012 before flipping red for Trump in 2016. The current polling averages out of the four states compiled by RealClearPolitics show Biden ahead in all four. The Democrat has an average lead of 4.5 percentage points in Florida; 6.2 percentage points in Michigan; 7.1 percentage points in Pennsylvania; and 5.5 percentage points in Wisconsin.