Joe Biden Says BLM Would Have Been 'Treated Very Differently' Than Capitol Rioters
President-elect Joe Biden said Thursday that police would have treated Black Lives Matter protesters "very differently" than the violent mob of supporters of President Donald Trump who stormed the U.S. Capitol on Wednesday.
Trump supporters rioting over the president's election loss to Biden were met with relatively mild resistance from law enforcement when breaching the Capitol building. Many in the largely white mob were allowed to simply leave the area after taking part in the violent insurrection. Biden said "we all know" that law enforcement would have taken a different tact with protesters supporting the movement for racial justice.
"Not only did we see the failure to protect one of the three branches of our government, we also saw a clear failure to carry out equal justice," Biden said from Wilmington, Delaware. "A little over an hour and a half after the chaos started, I got a text from my granddaughter... she sent me a photo of military people in full military gear, scores of them, lining the steps of the Lincoln Memorial because of a protest by Black Lives Matter. She said, 'Pop, this isn't fair.'"
"No one can tell me that if it had been a group of Black Lives Matter protesting yesterday, they wouldn't have been treated very differently than the mob of thugs that stormed the Capitol," he added. "We all know that's true. And it is unacceptable. Totally unacceptable. The American people saw it in plain view."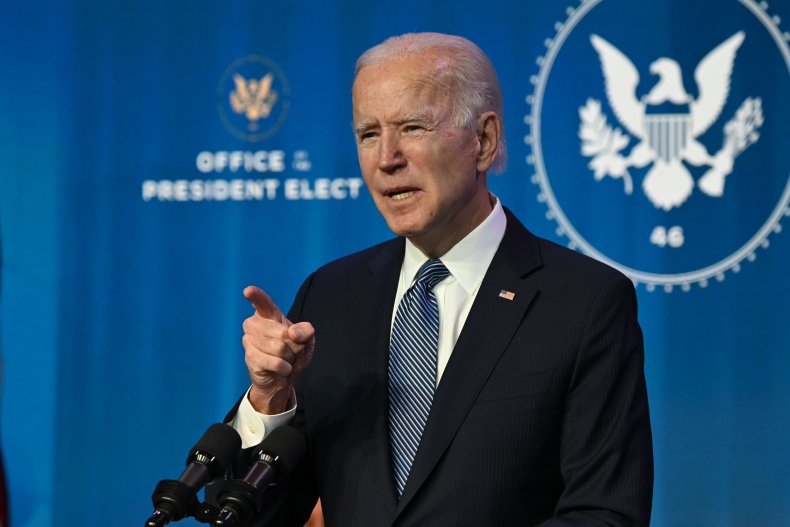 The photo Biden is referring to may be a picture of dozens of camouflaged Washington, D.C. National Guard troops lined up and standing guard in front of the Lincoln Memorial during a peaceful Black Lives Matter protest on June 2. The image has been shared repeatedly on social media in the wake of Wednesday's riot.
Many have criticized the police response to the chaos at the Capitol, which left multiple people dead and included pipe bombs being left elsewhere in the city. Former first lady Michelle Obama said Thursday that "seeing the gulf between the responses to yesterday's riot and this summer's peaceful protests and the larger movement for racial justice is so painful."
During last summer's mass protests, initially sparked by the May 25 police killing of George Floyd, law enforcement often responded in much larger numbers and at times resorted to violence towards protesters. Although property damage and other violence from protesters occurred at some demonstrations, most were peaceful.
Before and during Wednesday's violence, U.S. Capitol police declined help from the Pentagon and the Department of Justice, who offered the assistance National Guard troops and FBI agents, according to the Associated Press, citing two people familiar with the matter. Capitol Police Chief Steven Sund resigned following the criticism on Thursday, effective January 16.
Newsweek reached out to U.S. Capitol Police for comment.