Joe Biden Says His 'Billionaire Tax' Will Rake in $360B Over Next Decade
President Joe Biden unveiled a budget plan for 2023 that asks Congress to pass a new minimum tax on America's billionaires. The policy would target U.S. households worth more than $100 million and would rake in roughly $360 billion over the next decade, according to the White House.
The tax code's "special treatment" for the types of income the wealthy receive, "combined with sophisticated tax planning and giant loopholes, allows many of the wealthiest people in the world to end up paying a lower tax rate on their full income than many middle-class households," the budget proposal says.
To fix this "glaring problem," the administration said, it is calling on lawmakers to enact a 20 percent minimum tax on households worth $100 million or more, with over half of the revenue raised coming from billionaires.
A tax on the wealthiest people in the U.S. has gained traction in recent years, especially after Democratic Senator Elizabeth Warren proposed a tax on ultra-millionaires during her 2020 presidential campaign. Last year, Senate Democrats introduced a wealth tax proposal, but the bill has yet to move forward. It's unclear if such a measure would gain enough support in the 50-50 divided chamber, as West Virginia Democrat Joe Manchin has previously dismissed the idea of a wealth tax.
"The richest Americans became 40% richer during the pandemic," Democratic Representative Rashida Tlaib tweeted Monday in response to Biden's proposal. "That fact alone says it all."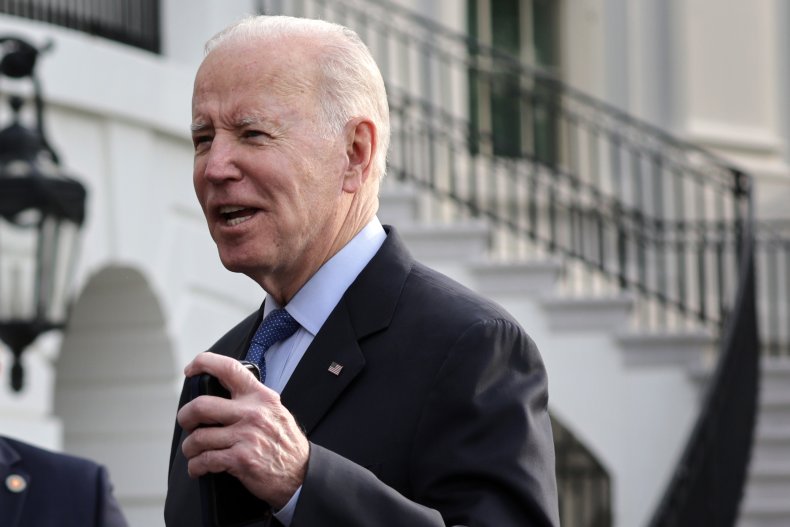 Biden's $5.8 trillion budget plan also focuses on defense spending and increasing funds for law enforcement. It calls for a $774 billion increase to the military budget and $30 billion for state and local law enforcement and crime prevention programs.
The administration is also calling for billions of dollars for a "Bipartisan Unity Agenda," which would center on mental health and drug addiction.
"Budgets are statements of values, and the budget I am releasing today sends a clear message that we value fiscal responsibility, safety and security at home and around the world, and the investments needed to continue our equitable growth and build a better America," the president said Monday in a statement.
Office of Management and Budget Director Shalanda Young told reporters Monday that the investments included in the budget will be "fully paid for" through the proposed tax reforms on corporations and billionaires.
"It achieves significant deficit reduction over the next decade, and it ensures that no one earning less than $400,000 a year will pay an additional penny in new taxes," Young said of the plan.
Correction 03/29/22, 11:40 a.m. ET: An earlier version of this story gave the wrong income figure in a quote from Office of Management and Budget Director Shalanda Young about the 2023 budget plan. Young said that "no one earning less than $400,000 a year will pay an additional penny in new taxes."