Joe Biden Outlines Timeline for COVID-19 Vaccinations in Children
Joe Biden has cautiously outlined a timeline for when he expects the COVID-19 vaccine to be offered to children under 12 in the U.S.
Speaking at a CNN town hall in Cincinnati on Wednesday, President Biden said the decision would be led by scientific data, but added that he expected the rollout to begin between the end of August and October.
Asked by moderator Don Lemon, "When will children under 12 be able to get vaccinated?" the president said he hoped it would be "soon."
Pressed for a specific timeline, Biden said: "My expectation talking to the group of scientists we put together, over 20 of them plus others in the field, is that some time, maybe in the beginning of the school year, at the end of August, beginning September, October, you'll get a final approval saying the FDA said 'No, this is it. It's good."
Earlier in the town hall, he had issued a caveat on the rollout timeframe, saying: "I do not tell any scientist what they should do. I do not interfere."
Biden added: "What they're telling me is, let us decide based on scientific data and how we proceed. Do it the way we would ordinarily."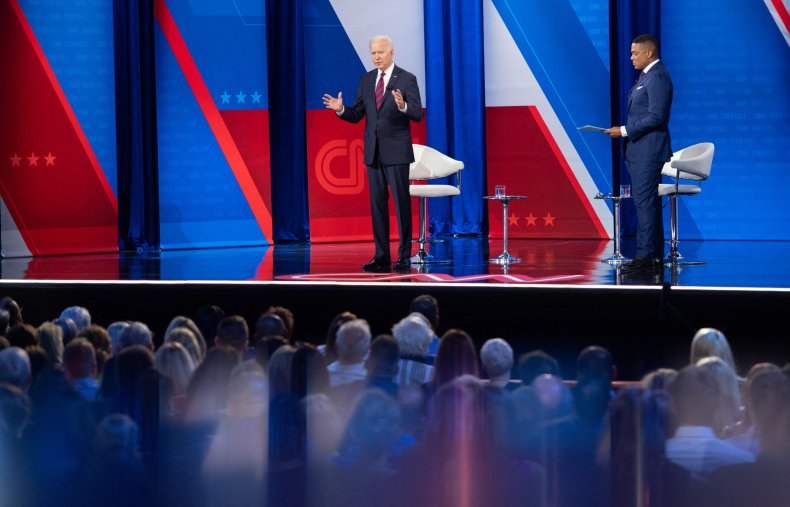 Moderna and Pfizer-BioNTech began trials of their vaccines for the under-12s in March, with results expected in the fall.
"When they are ready, when they've done all the scientific that needs to be done to determine—children at ages three, four, five, six, seven, and eight, they, in fact, are—all have different makeups," Biden said.
"They're developing. They're trying to figure out whether or not there's a vaccination that would affect one child at such and such an age and not another child. That's underway."
Children aged 12 and over can receive the Pfizer-BioNTech vaccine, after clinical trials found it was "highly effective at preventing laboratory-confirmed COVID-19 infection in adolescents 12-15 years old," according to the U.S. Centers for Disease Control and Prevention.
President Biden told the town hall audience in Cincinnati that the CDC was likely to advise that under-12s "should probably be wearing a mask in school."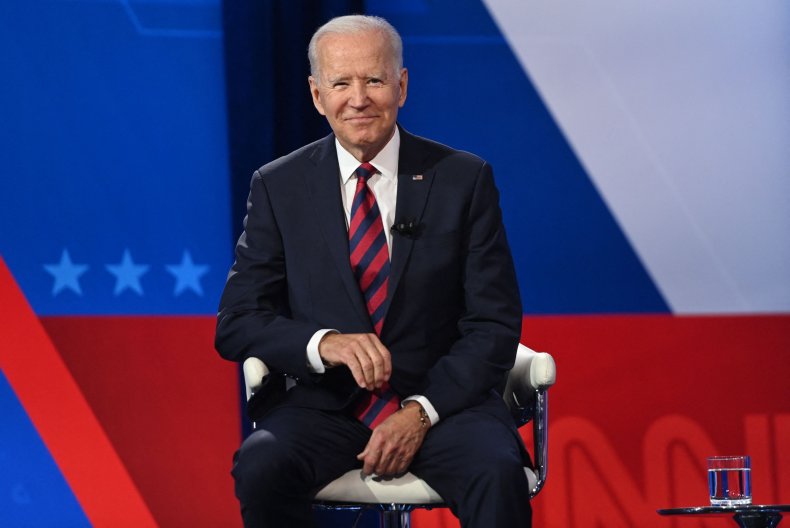 About half (49.32 percent) of the U.S. population has been fully vaccinated, according to John Hopkins University.
However, the rollout has stalled in recent weeks amid a surge in cases fueled by the Delta variant and vaccine hesitancy.
The Biden administration missed its self-imposed target of having seven in 10 U.S. adults at least partially vaccinated by July 4, and has since criticized social media companies for not doing enough to clamp down on vaccine disinformation—a claim that Facebook has rejected.
In June, 99.2 percent of the people who died with COVID in the U.S. were unvaccinated, according to the country's top public health official, Dr. Anthony Fauci.
For Biden, there is a "simple" divide: "We have a pandemic for those who haven't gotten a vaccination."
He added: "So it's gigantically important that you act like—we all act like Americans who care about our fellow Americans to get—there's legitimate questions people can ask that they worry about getting vaccinated.
"But the question should be asked, answered and people should get vaccinated. But this is not a pandemic. We've made sure of that since I got in office. We've inoculated over 160 million people, 85 percent of people over the age of 50."
The president also moved to allay fears among some Americans that COVID vaccines have been produced too quickly, by framing the process in the wider context of vaccine development.
"They've been working on it for two decades," Biden said. "There's nothing quick about this. It's been over two decades."