President Joe Biden is facing backlash for his comments about the Derek Chauvin trial, following fellow Democrat Maxine Waters' recent controversial remarks.
As the jury deliberates the manslaughter and murder charges against Chauvin, the former Minneapolis police officer on trial for the death of George Floyd last May, Biden told reporters on Tuesday about his overnight call to Floyd's family.
Without explicitly stating that he is hoping for a conviction, the president said, "I'm praying the verdict is the right verdict. The evidence is overwhelming in my view."
But Biden's comments are coming under fire after Waters, a California congresswoman, was seen protesting miles away from the Minnesota trial this weekend, joining crowds demanding justice in the death of Daunte Wright, who was shot by police during a routine traffic stop in Brooklyn Center a little over a week ago.
Waters' appearance and remarks that protesters should "get more confrontational" if Chauvin isn't found guilty of murder has brought widespread criticism from Republicans who have accused her of inciting riots and jury tampering.
In response, Chauvin's attorney asked for a mistrial, a request that was denied by the judge, who said the jury has been advised to avoid media coverage and that "a congresswoman's opinion really doesn't matter a whole lot."
Critics think Biden should have refrained from commenting on what the verdict should be, deferring to the jurors and whatever decision they come to.
"President Joe Biden insists there is a 'right verdict' in the Chauvin case," Amber Athey, the Washington editor of British magazine The Spectator, tweeted.
"This is deeply irresponsible and will certainly contribute to riots/unrest if the jury returns 'not guilty,'" Athey added.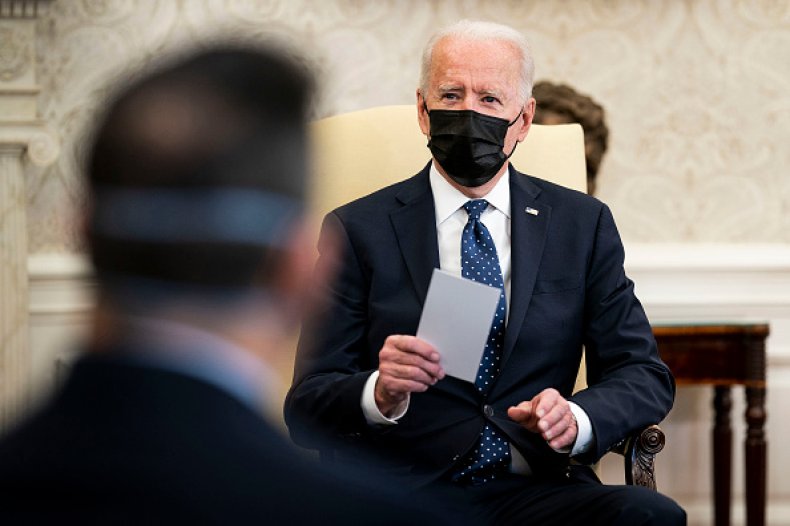 Turning Point USA founder Charlie Kirk said Biden's comments, along with Waters' remarks, will prevent a fair trial for Chauvin.
"Between the most powerful man in the world & Maxine Waters, Derek Chauvin is guaranteed to not get a fair verdict," Kirk wrote on Twitter. "Democrats hate justice."
Jenna Ellis, a former senior legal adviser to Donald Trump's presidential campaign, agreed, tweeting, "RIP due process. The judge needs to declare a mistrial."
Mark Pothier, a Boston Globe writer and editor, called it "not wise" for Biden to say anything about the trial while the jurors are deliberating.
Asked about the president's comments, White House press secretary Jen Psaki said Biden is "not looking to influence" the case, which is why he spoke out and called Floyd's family only after the jury was sequestered. Psaki added that she doesn't think the president felt as if he was "weighing in on the verdict" so much as he was extending compassion toward Floyd's family.
"I'm glad that he at least waited until the jury was sequestered," said former White House press secretary Kayleigh McEnany, now a Fox News host. "But I think that the country is such a tinderbox right now, especially Minneapolis. There's so much hurt, so much pain."
She added, "And I think it's the role of the president of the United States to stay back, to not inflame the tension. I think he should have just reserved comment and said he's praying for the family, as we all are."
But Jerry Dunleavy, a reporter for the Washington Examiner, fired back at Psaki's remarks, saying that sequestration doesn't mean the jurors are completely blocked off from the president's comments.
The imminent verdict has caused Minnesota Governor Tim Walz to declare a state of emergency for seven counties in anticipation of unrest that may follow if Chauvin isn't convicted by the jury.
Critics have viewed Biden's recent comments as adding fuel to that fire by not using the opportunity to appeal to Americans to refrain from protesting the verdict.
"To say nothing of how Biden's comments could influence the actions of anyone looking to justify violent rioting if the jury's decision doesn't go the way they want it to," Dunleavy tweeted.
Newsweek reached out to the White House for further comment but did not hear back before publication.
This story was updated with comments from former White House press secretary Kayleigh McEnany.