Biden Didn't 'Act Fast Enough' to Slow Inflation: Manchin
Hours after the U.S. Department of Labor released new data that revealed inflation increased at the fastest rate in decades over the last year, Democratic Senator Joe Manchin of West Virginia released a statement blaming inaction on the part of the federal government.
"The Federal Reserve and the [Biden] administration failed to act fast enough, and today's data is a snapshot in time of the consequences being felt across the country," Manchin said.
The report released Tuesday showed that inflation, partially fueled by the Russian invasion of Ukraine, increased about 8.5 percent for the 12 months ending in March, Newsweek reported. In addition to the Labor Department's Tuesday report, the Department of Agriculture said in a report released late last week that it expected food prices to continue to increase another 3 or 4 percent over the rest of 2022.
"The inflation number today is only the beginning unless we take immediate action to address the pain being felt across our nation," Manchin said to conclude the statement. "This is one problem facing the American people that one political party alone cannot fix. The American people cannot wait any longer."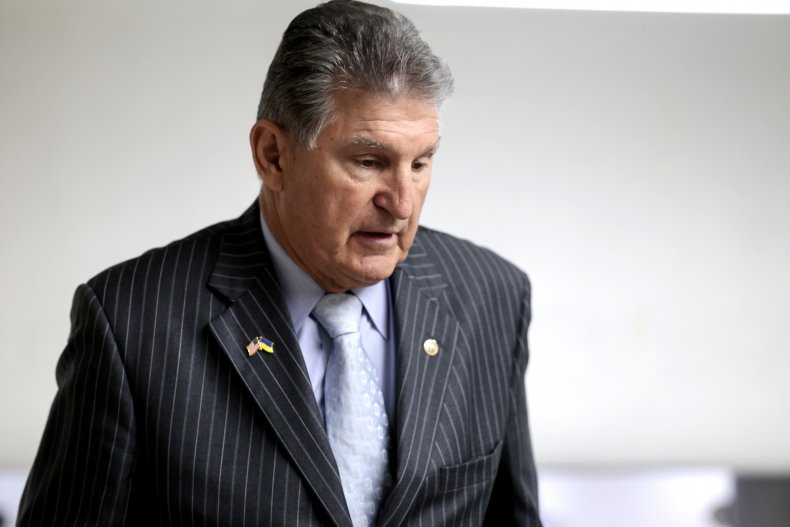 Other reports from the United Nations and U.S. International Trade Administration have previously estimated increases in the cost of grain products like wheat and bread, as Ukraine is a significant grain producer and production was expected to be severely impacted by the ongoing Russian invasion, Newsweek reported late last month.
Gas prices especially have been a key point of concern for many Americans in recent months as they have reached record highs amid disruptions to international oil and gas markets because of Russia's invasion of Ukraine.
The national average gas price was just under $4.10 per gallon as of Tuesday, according to AAA. Several states in the western U.S. have prices over $4.50 per gallon. California, Nevada and Hawaii were the only states where average gas prices were over $5.00 per gallon.
Manchin said in his statement that the Biden administration and Congress have to work across party lines, along with the Federal Reserve, to take steps to curb inflation and create energy policies that reduce American reliance on foreign energy from places like Russia and "other terror-sponsoring countries."
Late last month, President Joe Biden announced a plan to release about 1 million barrels of oil per day from the nation's strategic reserves over the next six months in an effort to decrease gas prices. In addition, he also announced plans to ban the import of Russian oil and gas because of the invasion of Ukraine, and legislation to officially do so was passed with near unanimous support in the House and Senate last week.
Also last week, several oil and gas executives testified before Congress and claimed that their companies have little to no impact on setting gas prices, saying they are often dictated by local gas stations competing with one another as well as the larger economic forces of supply and demand.
Update 4/12/22, 5:50 p.m. ET: This story has been updated with additional information.