Joe Manchin Puts a Damper on Biden's Infrastructure Plan, Says It Risks U.S. Competitiveness
Senator Joe Manchin, a moderate West Virginia Democrat, criticized the corporate tax increase plan President Joe Biden has proposed to pay for a $2 trillion infrastructure bill, raising concerns it could risk American competitiveness.
Biden and the White House unveiled the $2 trillion American Jobs Plan last week, touting the need to build the nation's crumbling infrastructure, restore manufacturing and create good paying jobs in order for the U.S. to continue to be a leader in innovation and stand up to China's growing influence around the world. But Republicans quickly expressed opposition to the proposal, taking particular issue with the president's suggestion that the top corporate tax rate should be raised from 21 percent to 28 percent in order to cover the cost of the package.
In an interview with WV MetroNews Talkline podcast on Monday, Manchin echoed Republican concerns about the tax hike, but also suggested that he'd approve of a more modest increase. "As the bill exists today, it needs to be changed," the moderate Democrat said.
"We have to pay for it. We can't continue to throw caution to the wind. And both sides—the Republicans and the Democrats—have been irresponsible in the financial responsibilities that we have for our country and future generations," Manchin said.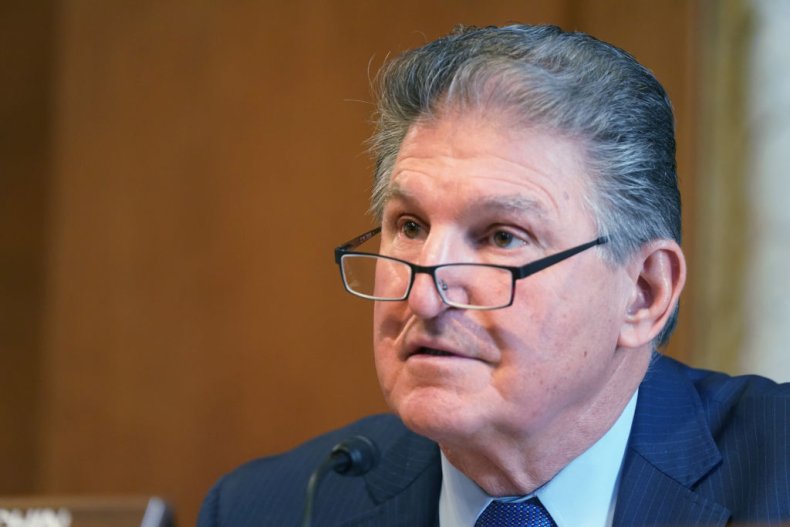 However, the West Virginia senator went on to say that he wasn't talking about raising taxes "except that I think that corporate [taxes] should have never been below 25 [percent]. And that's the worldwide average and that's basically what every corporation would have told you—that's what they thought was fair."
Manchin went on to suggest that he approves of the spirit of Biden's infrastructure plan. The senator explained "this whole thing here has got to change, to the point where we are starting to look at how do we rebuild America and continue to take care of our deferred maintenance."
"I think corporate should have been at 25 percent," he said again, suggesting he's open to a more modest increase.
"There's six or seven other Democrats who feel very strongly about this. We have to be competitive, and we're not going to throw caution to the wind." the senator added. Manchin also noted that the bill is "not going anywhere" if he doesn't vote for it.
Biden and White House officials have said that their idea to raise the top corporate tax rate from 21 percent to 28 percent is an initial proposal, noting that they are open to alternative suggestions. At the same time, they've defended the proposed corporate tax hike, pointing out that it stood at 35 percent before former President Donald Trump's tax cuts came into effect in 2018.
"We're just asking corporations to pay their fair share at a rate…that would be lower than it's been for most of my life," Transportation Secretary Pete Buttigieg said Sunday during an interview with NBC News' Meet the Press.
But Republicans have pushed back.
"How could the president expect to have bipartisanship when his proposal is a repeal of one of [Republicans'] signature issues in 2017?" GOP Senator Roger Wicker of Mississippi told Meet the Press, referring to Trump's tax cut legislation, which was approved by Republicans in 2017.
Newsweek reached out to Manchin for further comment but did not immediately receive a response.