Joe Manchin, Who Pushed to Limit Stimulus Checks, Rated 'Very Favorable' By Just 4%
Senator Joe Manchin of West Virginia, a moderate Democrat, has used his crucial stimulus vote to push party leaders to decrease the $15 minimum wage hike and lower the income threshold for the $1,400 direct cash payments—the most popular measure in President Joe Biden's sprawling $1.9 trillion economic relief package. A poll on Manchin's popularity taken among Americans around the height of the checks debate shows his "very favorable" rating at just 4 percent.
In a recent Statista survey of 1,473 U.S. adults, taken between February 19 to 22, 12 percent of respondents said they had a "very" unfavorable opinion of Manchin, while just 4 percent viewed him "very" favorably. An additional 17 percent had a "somewhat" favorable opinion of the Democrat and 20 percent said they viewed him "somewhat" favorably.
Manchin's overall favorability rating sat at negative 11 percent, with a further 47 percent indicating they had no opinion of him.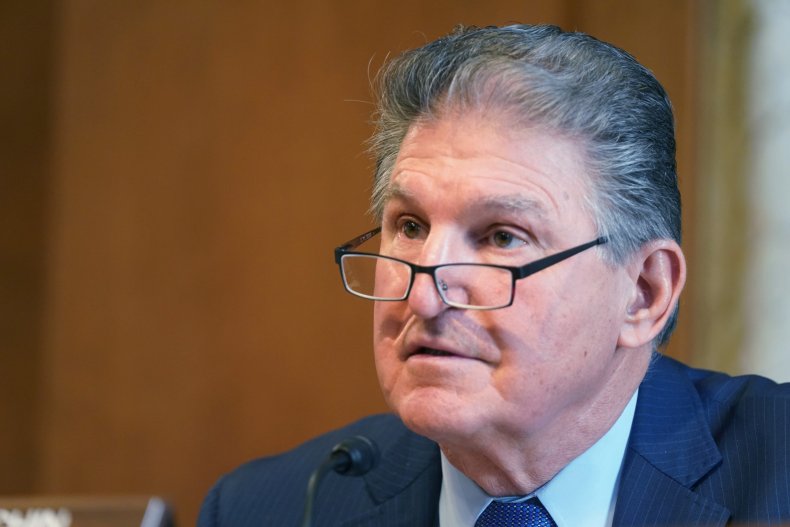 Newsweek reached out to Manchin's office for comment.
Over the past few weeks, Manchin has opposed a few provisions in Biden's stimulus package for being too costly and untargeted. He wanted Democrats to limit eligibility for the $1,400 stimulus checks, lower the $400 weekly federal unemployment benefits to $300, further target the $350 billion in aid to state and local governments, and lower the $15 minimum wage hike to $11.
On Monday, Biden held a meeting with Manchin and other moderate Senate Democrats to discuss amendments to the bill that passed by the House of Representatives late on Friday night. Every Senate Democrat will need to align on the package in order to pass it using the budget process called reconciliation without Republican support.
On Wednesday, Biden decided to endorse a plan from moderates among the party to further limit the income eligibility of the $1,400 direct payments. Under the new agreement, individuals earning less than $75,000 and joint filers earning less than $150,000 would still be eligible to receive the full amount. But those earning over $80,000 would be phased out completely. Prior to the deal, individuals would receive a lesser payment if they earned under $100,000.
Recent polling shows the third stimulus check as the most popular provision in Biden's bill. A Yahoo! Survey, which sampled 1,556 U.S. adults between February 20-22, found that 77 percent of respondents were in favor of sending $1,400 direct payments, including 61 percent of Republicans and 89 percent of Democrats. Fewer Republican voters supported Biden's overall package, which demonstrated that the checks were boosting support for the bill.
Progressives quickly expressed opposition to Biden's decision to send fewer people checks, but stopped short of saying they would vote against the bill due to the amendment.
"I don't like that this is being narrowed. I feel like the survival checks are the easiest, simplest, most popular... proposal," said Rep. Pramila Jayapal of Washington, chair of the Congressional Progressive Caucus.