Joe Rogan has made some wild claims about Dwayne "The Rock" Johnson and said that the actor could make millions of dollars by becoming a sperm donor.
The Rock is one of Hollywood's most coveted stars and also one of the most-followed people on Instagram in the whole world and the controversial podcast host thinks the former WWE star could profit on his popularity in a rather unusual way.
"Cryogenically frozen 'The Rock's [sperm] that's worth a million dollars," Rogan said in a recent episode of The Joe Rogan Experience.
"So in my mind, it is 100 percent a million dollars at least, we are being conservative here," Rogan said. "If The Rock can jerk off twice a day, he makes $2 million a day minimum."
The bizarre conversation took place on Episode #1786 during a discussion with guests Brian Moses and Freddie Gibbs.
Moses, a poet, further elaborated on this thought, adding: "Damn that's a check, dog, I mean you are trying to sell your catalog."
Rogan and his podcast have been embroiled in a number of controversies in recent months after the host faced backlash from a number of musicians over COVID-19 misinformation on his podcast, prompting the likes of Joni Mitchell and Neil Young to pull their music from Spotify.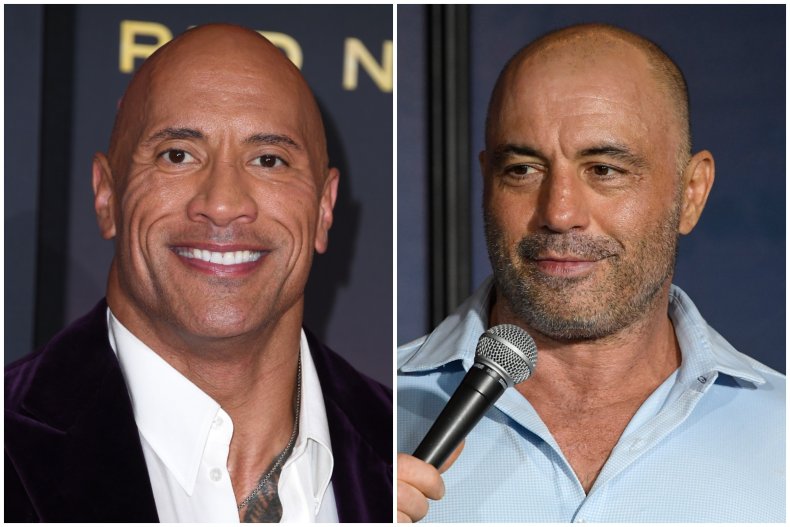 The host also was forced to issue an apology after his excessive use of the n-word on the podcast was highlighted in a compilation video made by singer-songwriter India.Arie.
Johnson, who had previously shared a message of encouragement for Rogan, later withdrew his support when the n-word video was released.
"I hear you, as well as everyone here 100 percent," Johnson tweeted in February.
"I was not aware of his N-word use prior to my comments, but now I've become educated to his complete narrative. Learning moment for me."
Rogan issued an apology for using racial slurs and said he was wrong to use the n-word but insisted he was not racist.
"I can't go back in time and change what I said," he said in the apology posted to Instagram.
"I wish I could. Obviously, that's not possible, but I do hope this could be a teachable moment for anybody that doesn't realize how offensive that word could be coming out of a white person's mouth, in context or out of context."
Johnson and Rogan had previously enjoyed a friendly relationship.
Back in March 2020, amid much speculation that Johnson was planning to run for office, Rogan said he would back the screen star if he ever made a bid for the White House.