David Crosby Says Joe Rogan Has A 'Right to Spew His Garbage' After Spotify Exit
David Crosby has said that while he personally does not want to remain on Spotify, he has insisted Joe Rogan has a right to remain on the platform uncensored.
The former members of the legendary folk-rock supergroup Crosby, Stills, Nash & Young were among the first musicians to pull their music from the streaming giant in protest of COVID-19 misinformation on The Joe Rogan Experience.
Neil Young was the first to pull his music from Spotify after the platform sided with Rogan in an ultimatum that demanded the company to choose either himself or the controversial podcaster.
Several other artists have joined ranks with Young since the announcement, including Graham Nash, Stephen Stills, Joni Mitchell, India.Arie and guitarist Nils Lofgren.
Meanwhile, Rogan has also been embroiled in controversy over his use of the n-word in dozens of past episodes.
Now Crosby has opened up about his decision to pull his music from Spotify and emphasized that he doesn't want Rogan to be censored, but that he just doesn't want to be part of the same platform as the podcaster.
"Here's how I feel about it. I think Joe Rogan is... eh, not real impressive. But I think he has a right to spew his garbage," he said in an interview with Stereo Gum.
The "Lady Friend" musician likened Spotify to a marketplace, saying: "I told a friend this morning, 'Listen man, if I was selling my records in a marketplace, I don't want to be selling them next to some spoiled meat.'"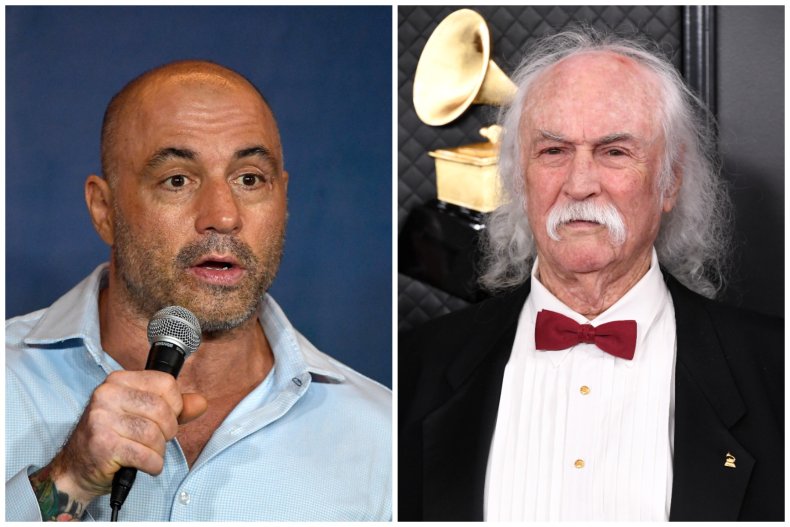 Crosby added: "That's why I don't want to be on the same platform as Joe Rogan. He's calling people the n-word all the time. He's talking about women as if they're a mouth and a pair of tits. He doesn't really represent me at all, so I don't want to be there with him. That's all I said. I said I'm removing me. I'm not trying censor him or you."
Acknowledging criticism from Rogan's fans, Crosby said he still has the same values regarding not censoring people.
"That's of course the first thing that all his fans said: 'This is censorship! You used to be a hippie!' I still am," he said. "I still have the exact same set of values. I just don't want to be associated with that guy."
Rogan has also defended himself against criticism of his decision to give a voice to vaccine skeptics on his podcast.
In a statement posted to Instagram last month, Rogan apologized and said: "I'm not trying to promote misinformation, I'm not trying to be controversial. I've never tried to do anything with this podcast other than just talk to people and have interesting conversations."
He added that he would "do my best to make sure I've researched these topics" and "try harder to get people with differing opinions" on his show.