Joe Rogan Fans Surprised to See Him Go From Bernie Sanders to Ron DeSantis
Joe Rogan thinks Florida Governor Ron DeSantis would make a "good president" which has surprised fans who remember he supported Vermont Senator Bernie Sanders for president in the 2020 race.
Speaking on The Joe Rogan Experience, the comedian and podcast host praised DeSantis for his "admirable" work as governor of Florida, pointing out the positive impact he believes he's had in the state. Tesla and SpaceX founder Elon Musk also recently came out in support of DeSantis as well.
"All this stuff is happening while we have a dead man as president," Rogan said, referencing President Joe Biden. He went on to praise DeSantis' reaction in response to the COVID-19 pandemic, touting it as a success.
During the Democratic presidential primaries in 2020, Rogan said he'd "probably vote for Bernie," adding, "I like him a lot."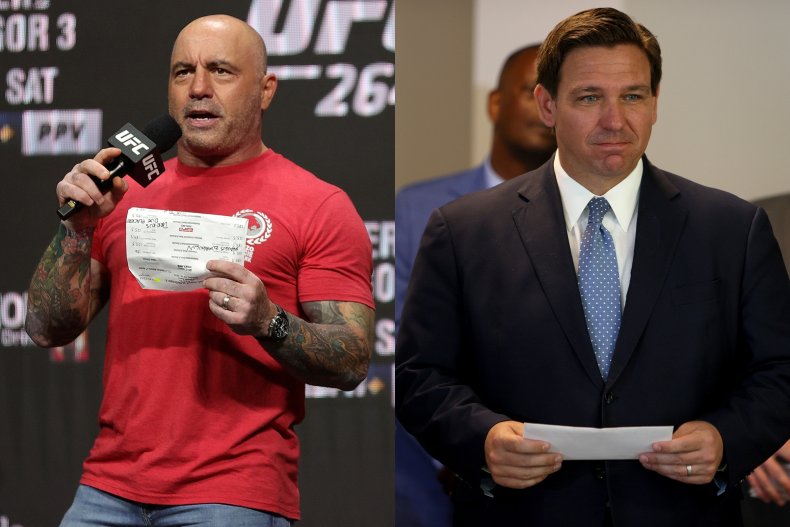 Rogan's recent approval of DeSantis didn't go down well with many online, drawing a furious reaction from critics of the Florida governor. Many expressed their surprise at what appears to be Rogan's political shift since 2020.
"Rogan might be the ONLY Bernie to DeSantis voter in the entire country," Twitter user @Socdem_Michael wrote. "He has no real beliefs. He just adopts whatever beliefs his most recent guests have. Even the typical low-info swing voter doesn't usually swing this far and this quickly."
"Rogan is an enigma" added @GreenBuddhist_. On Twitter, @davenewworld_2 got thousands of likes and interactions for his assessment of the situation. "Joe Rogan built a career off marijuana culture but the only governors he's ever praising on his show are in favor of criminalizing marijuana and destroying millions of lives over it," they said. "He went from Bernie/Yang to Ron DeSantis in 2 years. This is a fundamentally unserious man."
DeSantis has voiced his opposition to recreational marijuana use though has also hinted at decriminalizing it. During a press conference in Tallahassee in January 2022 he said: "I think a lot of those other areas that have done it [legalizing] you know have ended up regretting it." Rogan regularly smokes marijuana with his guests on The Joe Rogan Experience.
The comments expressing confusion and criticism continued to roll in for Rogan on Twitter.
"Rogan went from Bernie to Desantis? How am I not surprised," wrote @IllyOfTheValley. @CoreyJanson believed that Rogan's $200 million Spotify deal may be why he went from supporting Sanders and former Democratic presidential candidate Andrew Yang to Ron DeSantis in the space of two years.
Spotify announced in May 2020 a licensing agreement to host Rogan's show exclusively. It was widely reported at the time to be worth over $100 million, but The New York Times wrote in February 2022 that the value of the deal was at least $200 million.
While Rogan believes DeSantis would make a "good president," it has yet to be confirmed whether or not he'll even run. DeSantis has not publicly said he plans to run for president in 2024, but he has already won multiple Republican straw polls and usually places second in national polls after former President Donald Trump for the GOP's nomination.
DeSantis' press secretary, Christina Pushaw, referred Newsweek to his 2022 gubernatorial reelection campaign when reached by email on Wednesday morning for comment.
"Gov. DeSantis is focused on doing what's right for the people of Florida and running for re-election as governor," Pushaw wrote.