Popular podcaster Joe Rogan described President Joe Biden as "dead" while saying that Florida Governor Ron DeSantis, a Republican, would make a "good" president during a recent episode of his show, The Joe Rogan Experience, on Spotify.
Rogan has previously drawn substantial criticism, particularly from liberals, over his promotion of unproven treatments for COVID-19 as well as his willingness to interview controversial individuals, such as conspiracy theorist and InfoWars founder Alex Jones. However, the podcaster has also interviewed and spoken favorably of popular progressives, such as independent Senator Bernie Sanders of Vermont.
During episode 1,837 of his show, which was uploaded on Tuesday, Rogan interviewed actor Gina Carano.
"All this stuff is happening while we have a dead man as president," Rogan said in an apparent reference to Biden. "You know, it's just not fun."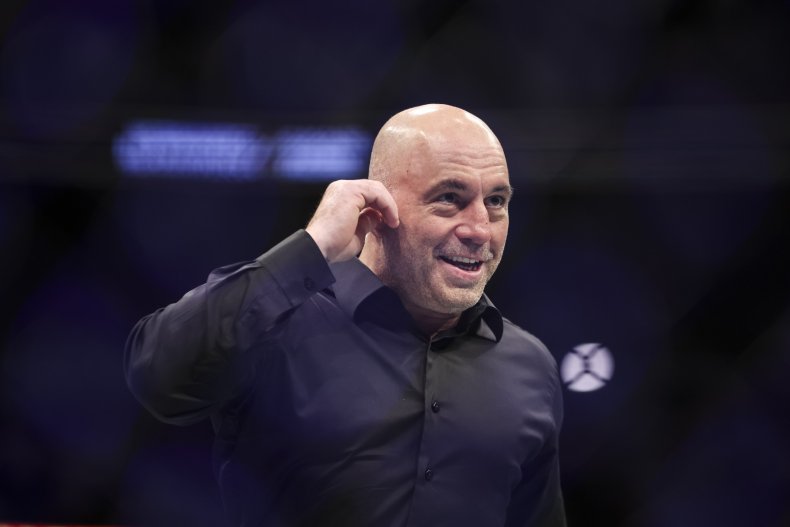 Carano then asked him for his thoughts on who he would support for president in 2024, mentioning DeSantis by name. The Florida governor has been widely rumored to be weighing a presidential run.
"Yeah, I think Ron DeSantis would work as a good president. I mean, what he's done for Florida has been admirable," he said.
"I feel like what he did for Florida, a lot of people gave him a lot of grief, but ultimately, he was correct," he added. Rogan then pointed to DeSantis' response to the COVID-19 pandemic, touting it as a success.
Although DeSantis received substantial backlash for his response to COVID-19, Florida saw an average number of deaths from the novel coronavirus at roughly the same rate as New York and other states that implemented stringent lockdown measures. The Republican governor resisted lockdowns and mask mandates.
As of Wednesday, Florida has seen an average of 352 deaths per 100,000 residents. Comparatively, New York saw 354, according to The New York Times' data tracker. Michigan, which had one of the nations most stringent lockdowns at the outset of the pandemic, has seen an average of 369 deaths per 100,000 residents. Overall, Florida ranks 17th for the highest number of deaths per 100,000 residents.
Florida ranks third for the total number of deaths from COVID-19 and is the nation's third most populous state. About 68 percent of the state's population is considered fully vaccinated.
DeSantis' press secretary, Christina Pushaw, referred Newsweek to his 2022 gubernatorial reelection campaign when reached by email on Wednesday morning for comment.
"Gov. DeSantis is focused on doing what's right for the people of Florida and running for re-election as governor," Pushaw wrote.
DeSantis has not publicly said he plans to run for president in 2024, but he has already won multiple Republican straw polls and usually places second in national polls after former President Donald Trump for the GOP's nomination.
Newsweek reached out to the White House for comment.
DeSantis in February defended Rogan after he apologized following the release of a viral compilation video of times the celebrity had used the n-word. The podcaster, who is white, released a video response expressing remorse at the time, and saying he no longer uses the slur. He apologized and said he recognized that his previous use of the word was not appropriate.
"Do not apologize. Do not kow to the mob. Stand up and tell them to pound sand; if you do that, there's really nothing that they're able to do to you," DeSantis said in a February interview with Fox News about the Rogan controversy. "The only way they have power is if you let them get your goat."
DeSantis also said Rogan should not have apologized for discussing unproven COVID-19 treatments.
"No, he shouldn't have apologized. I mean, you see what happens," DeSantis told Fox News. "The mob will come after people, and they're targeting Rogan because he's threatening to upset the apple cart on some of the things that they're holding dear. And with COVID, he's just bringing opposing views."
In 2020, Rogan praised Sanders, who was then seeking the Democratic presidential nomination, suggesting that he backed his bid for the White House. He also interviewed the prominent progressive senator on his podcast.
"I think I'll probably vote for Bernie. Him as a human being when I was hanging out with him, I believe in him. I like him, I like him a lot," Rogan said in a January 2020 episode of his show.