Joe Rogan: Johnny Depp Trial 'Cautionary Tale About Believing in Bulls***'
The Joe Rogan Experience host Joe Rogan weighed in on Johnny Depp's ongoing defamation trial against ex-wife Amber Heard, calling the actor's battle a "cautionary tale."
Depp, 58, filed a $50 million lawsuit against Heard, 36, over a 2018 op-ed published by The Washington Post, in which the actress wrote that she had been the victim of domestic abuse. While Depp wasn't named in the article, his lawyers have argued that it was clear she was referring to him. Heard has countersued for $100 million.
As the trial continues, Rogan, who has previously weighed in on the matter, spoke about the allegations that have been made in the Fairfax, Virginia, courthouse during the latest episode of his Spotify podcast.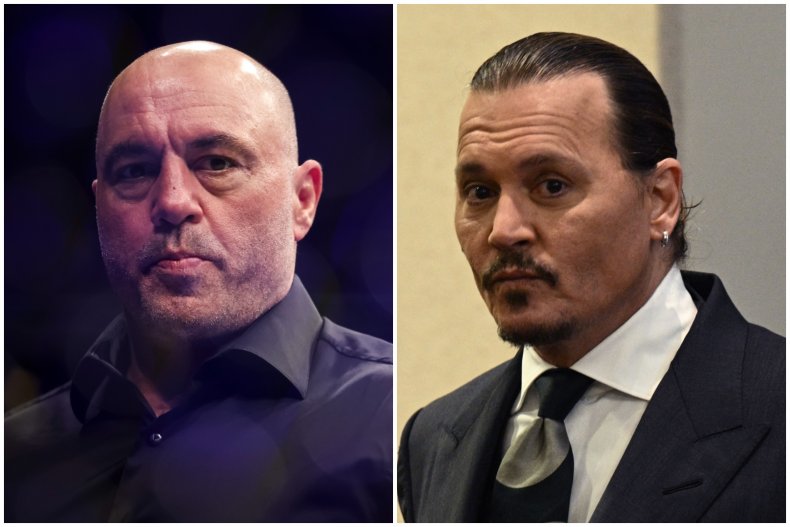 "I'm watching this trial, like it's a cautionary tale about believing in bulls***, like forming a narrative in your head like, 'We're rebels together,'" Rogan told comedian Jessica Kirson. "And then you're seeing it all play out in court like you're seeing all the crazy come out. [Depp] talked about [Heard] s***ting in his bed. Yeah, that's great...That's a real problem. Hard to forget."
Continuing his discussion with Kirson, the TV personality also brought up Milani Cosmetics' recent claim that it wasn't selling a specific makeup kit purportedly presented by Heard's lawyer as a product she was using to conceal bruises from alleged abuse at the hands of Depp. The lawyer did not name the brand in court.
Rogan went on to question Heard's mental health in his assessment of the court proceedings.
Consequences of Fame
Turning his attention back to Depp, Rogan said he felt that the actor's success in Hollywood has affected his "perspective."
"The whole Johnny Depp thing is just, he was famous when he was 20," said Rogan. "And I don't think you get any kind of perspective like that. I think you're f***ed. It's like making cement, but you don't add in all the ingredients."
After giving a critique of the ensembles worn to court by the former couple, Rogan then questioned whether Heard would be able to afford to pay Depp, should he walk away from their ongoing court battle victorious.
"Here's the problem, even if he wins, she doesn't have any money," Rogan said. "If he gets $50 million in the settlement the only good thing is everybody knows now. And this is a good thing. This is one of the reasons why it's good that he did this."
Rogan then drew up Newsweek's recent article about Depp testifying that Aquaman star Heard had defecated on his bed as he and Kirson laughed at video footage of the actor detailing his allegations while on the stand.
Johnny Depp's Testimony
During his testimony last week, Depp said that after he and Heard had an argument at her birthday party in April 2016, he expressed a desire to retrieve his belongings from their home while she was at the Coachella festival. However, he said, his security guard, Sean Bett, advised against it.
"I had received some news," he said. "I was shown a picture of what the problem was. I had gone to Mr. Bett and said, 'She's at Coachella. I think it's a good time to go downtown so that I can get some of my things and get them out of there,' especially things that were precious to me...
"And he said, 'I don't think now's a good time to go.' And I thought, 'It's the perfect time. She's not going to be home for two days,'" Depp continued. "Then he showed me a photograph on his telephone of...it was a photograph of our bed, and on my side of the bed was human fecal matter."
"I understood why it wasn't a good time to go down there," he said. "My initial response to that was, I mean...I laughed. It was so outside. It was so bizarre and so grotesque that I could only laugh. So I did not go down there that day."
Depp testified that when he broached the subject of divorce with Heard soon afterward and allegedly informed her that he wouldn't cite irreconcilable differences nor his claims of violence, the actress mentioned the feces on the bed.
The actor appeared to contain his laughter as he went on to allege that Heard "tried to blame it on the dogs."
When he was asked why he didn't believe the dogs were at fault, Depp responded: "They're teacup Yorkies. They weigh about 4 pounds each. The photograph that I saw—I lived with those dogs for many years. It was not the dogs. I didn't feel like I deserved that kind of treatment."
The trial, which started earlier this month, comes less than two years after Depp lost a 2020 libel case against British tabloid The Sun, which had labeled the actor a "wife-beater" in reference to Heard's allegations of domestic abuse.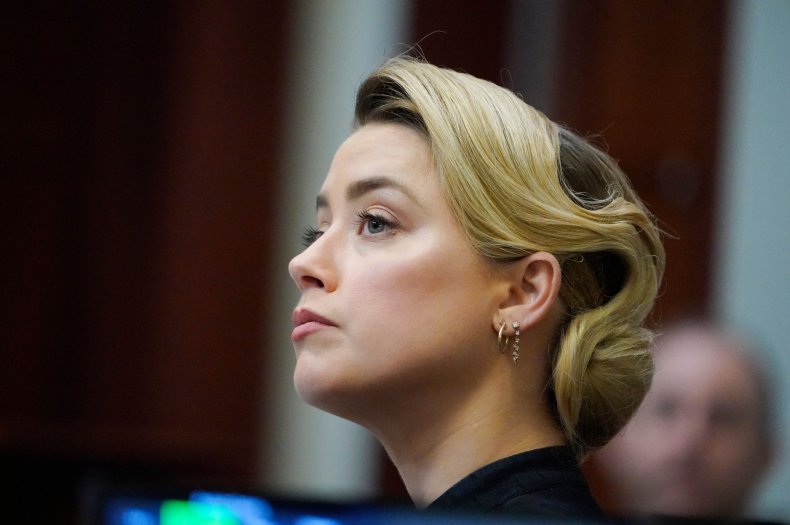 Depp had also accused Heard of defecating on their bed when he testified during that trial, stating at the time: "I thought that was an oddly fitting end to the relationship."
Heard accused Depp of domestic abuse during their divorce proceedings in 2016. The Rum Diary co-stars, who wed in 2015, had their union officially dissolved in January 2017, months after Heard filed for divorce from Depp.
While Depp had repeatedly denied ever having been violent to Heard during the three-week trial in London, the overseeing judge found that The Sun's claims that he was abusive to Heard were "substantially true."