Joe Rogan Thinks MacKenzie Scott's Second Husband had 'Zero Chance'
Joe Rogan isn't surprised to see billionaire MacKenzie Scott, ex-wife of Jeff Bezos, get divorced from a schoolteacher.
The comedian and podcast host shared a scrapped stand-up bit he'd written about the situation on The Joe Rogan Experience (JRE).
Scott was married to Bezos from 1993 to 2019 when she received billions of dollars in the divorce settlement. She also retained a stake in Amazon. There have been varying reports suggesting what her current net worth is, but throughout his discussion surrounding MacKenzie Scott (formerly MacKenzie Bezos), Rogan stated she was worth $39 billion.
Scott married high school chemistry teacher Dan Jewett in early 2021, but in September 2022, she filed for divorce.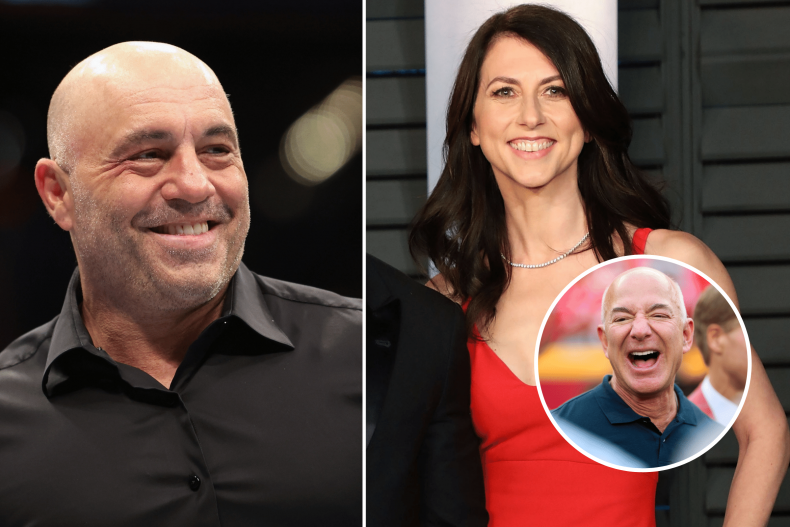 On the latest episode of JRE, Rogan told his guest, comedian Greg Fitzsimmons, that he'd written "a bit" about Mackenzie Scott, 52, but admitted he bailed on it because he felt "mean."
"She won $39 billion in the divorce settlement, and then she immediately married a high school science teacher. So the bit was about a woman worth $39 billion marrying a dude worth $3,200. Like, that guy doesn't have s*** to say in that relationship. That guy doesn't get to pick any of the colors of the walls.
"I'm like, you know how I know? Because I don't get to pick anything in my house and my wife doesn't even work." Rogan continued. "He has zero chance if she's that rich. That guy's on his best behavior."
Rogan added: "He's got his pronouns in his Twitter bio, he's drinking white wine, that guy, he's neutered. That guy's a performance artist. He's putting on a show. He knows how much money she has. I'm like, how long can you be cool? Turns out, 24 months."
Rogan added, "He couldn't keep it together. There's no way you can be yourself if your wife is worth $39 billion. It's just too hard to be yourself."
Newsweek has contacted Mackenzie Scott and Joe Rogan for comment.
Dropping the bit and explaining more about Mackenzie Scott to his guest Fitzsimmons, Rogan noted all of her altruistic work.
"She's just fully committed to social justice and prison reform. She's really a kind of beautiful soul in that regard. She's a very very wealthy woman who's committed to philanthropy. She's spending all this money on affordable housing, like really cool stuff. It's really cool to see what she's doing," Rogan said.
Since her divorce from Bezos in 2019, Scott has donated billions of dollars to various causes. The Bloomberg's Billionaire Index suggests that in 2020 Scott's wealth was valued as high as $67 billion but currently she's worth around $27.4 billion.
In September 2021 Newsweek reported that Scott had donated $567 million to racial equity groups, according to an analysis by the Associated Press. In March 2022 she donated $436 million to the nonprofit Habitat for Humanity International and 84 of the charity's affiliate organizations in the U.S.
In June 2021, she announced on her Medium blog post that she'd donated $2.7 billion to various causes. Among them were a number of religious organizations including Christian, Muslim and Jewish groups, but evangelical groups were excluded from this.