Joe Rogan Thinks Will Smith and Johnny Depp Have to Be 'A Little Crazy'
Joe Rogan thinks the mental fragility of actors like Will Smith and Johnny Depp is perpetuated by their movie roles, and further damaged by their choice of life partners.
The podcast host was discussing talented actors with his guest, Tony Hinchcliffe, and claimed that performers in impressive movie roles often let emotional roles bleed into their personal lives. They brought up recent examples including Smith slapping Chris Rock at the Oscars and details revealed during Depp's ongoing trial with ex-wife Amber Heard.
The host of The Joe Rogan Experience has never shied away from controversial topics as he recently weighed in on Roe v. Wade, with his stance surprising many on the internet.
"To be one of those people, whether it's Mel Gibson or any of these actor types, to be insanely good in a movie, you've got to be a little crazy," Rogan said on his podcast.
He brought up multi-Oscar winner Gibson as he's faced many controversies in his career including accusations of antisemitism, homophobia and sexual misconduct.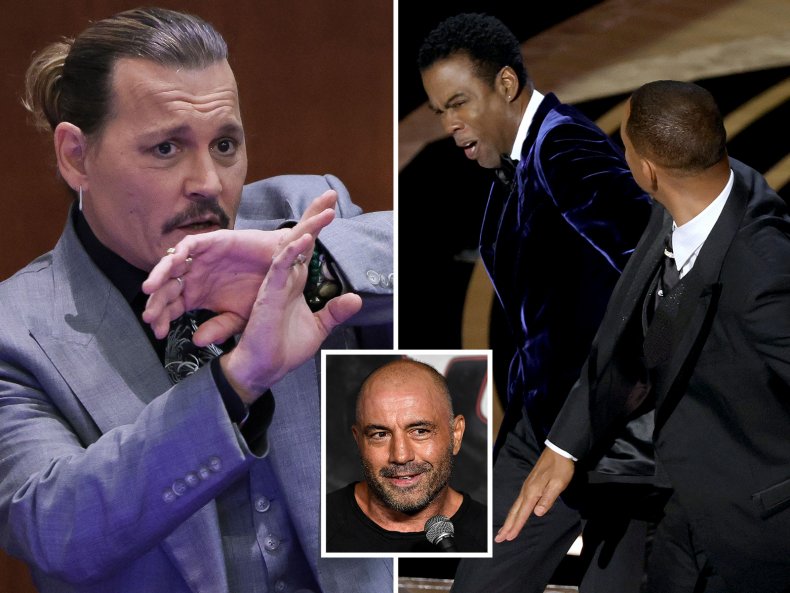 Hinchcliffe brought up Smith slapping Rock as an example of his role in King Richard affecting his mental state, and Rogan agreed: "He's an amazing actor right? He shows emotion in his film, it's so real. The guy's probably always on the verge of crying, it's probably a mess.
"I mean, the way his wife [Jada Pinkett Smith] smiled after Chris Rock got slapped. The whole thing was just, oh my god. Like, he's under a spell, like he's been captured by witchcraft." Rogan added, "He's one of the biggest movie stars ever, and he lives in hell. He lives in hell."
To prove his point about Will and Jada's relationship he brought up a recently resurfaced clip of Jada filming Will without his permission, which she later shared online.
As "another example" of actors in troubling personal situations, Rogan moved on to the current Johnny Depp and Amber Heard trial. He didn't hold back in his assessment of the case so far.
"Johnny Depp and Amber Heard's trial, like whoa, you feel you feel jealous that some people are movie stars? Yeah? You wanna know what they're like behind the scenes? When there's this one witch that convinces the super millionaire to not sign a prenup so that she can weasel all the money out of him. Throws a f****** glass bottle, cuts his finger off, beats him up and then goes to the press and tells everybody that Johnny beat her," Rogan said.
He also brought up Heard's testimony, which mentioned a specific makeup brand she used to cover scars though it hadn't been made yet. "She got so specific, which is something that people are full of s*** do. They add a lot of like unnecessary details," Rogan said.
From there, the conversation progressed to discussions of the trial, specifically Depp's witness called to the stand who testified that Heard had exaggerated her PTSD and that she had a "borderline personality disorder."
Newsweek has reached out to representatives for Smith, Depp and Heard for a response to Rogan's comments.