Joel Osteen's Megachurch Is Now Open to Hurricane Harvey Victims
Texas televangelist Joel Osteen has confirmed that his 16,800-seat megachurch is now being used as a shelter for victims of Hurricane Harvey.
Osteen, the lead pastor at Lakewood Church in Houston, tweeted Tuesday that "Lakewood's doors are open and we are receiving anyone who needs shelter."
Church spokesman and Osteen's brother-in-law, Don Iloff, told CNN that there were concerns that the church could flood and endanger anyone using it as a shelter, but denied that the church had turned people away. "Our doors were never ever locked," said Iloff.
Osteen and the church came in for severe criticism on social media in recent days for not functioning as a shelter for victims of Harvey. The church canceled services over the weekend due to the tropical storm and claimed it had been damaged by flooding, but social media users posted pictures that appeared to show the outside of the church in good condition.
Osteen said in a statement Monday that the church had "never closed our doors" and that it was functioning as a distribution center for those in need. The church also put out an appeal for items including diapers, baby formula and baby food.
Read more: Florida professor fired after tweeting that Texas deserved Hurricane Harvey
The church's Twitter account shared a video Tuesday showing bags of donated items in the church and thanked "the hundreds upon hundreds of volunteers" for their "overwhelming" response.
Iloff, the church spokesman, told CNN that the bottom floor of the church—which previously played host to NBA's Houston Rockets—had flooded with eight feet of water during Tropical Storm Allison in 2001.
"When it floods, it floods a torrent. And it floods quickly," said Iloff. "So we had concerns, you know. From the very beginning as far as the safety of people in this building and that was too great a concern for us."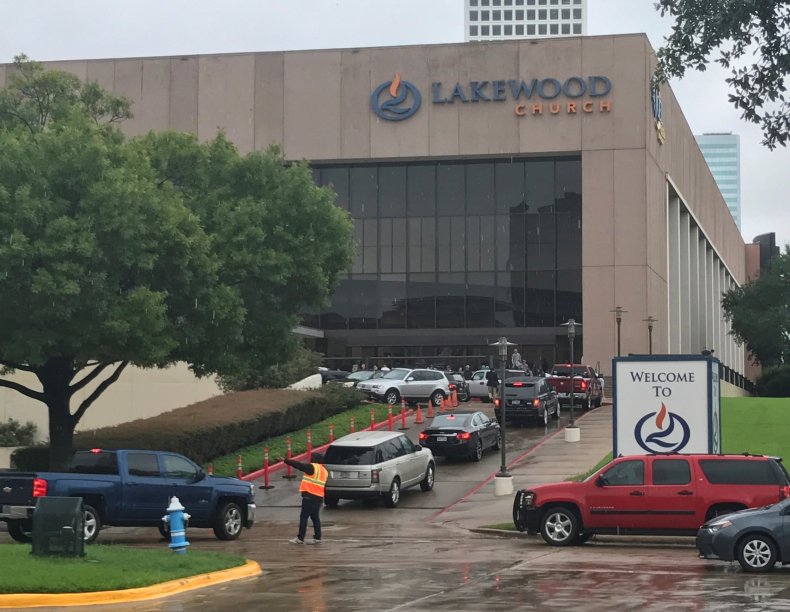 Osteen is a popular pastor who is thought to have a net worth of tens of millions of dollars. He has been associated with teaching the prosperity gospel, a brand of Christianity that maintains that God rewards his followers with wealth and success.
Lakewood Church draws an average weekly attendance of more than 40,000 people, according to a database by the Hartford Institute for Religion Research, making it the largest megachurch in the country.
A record amount of rainfall has fallen on Texas during Hurricane Harvey, which first made landfall Friday. A rain gauge in Cedar Bayou, a salt water channel on the coast of the Gulf of Mexico, recorded 132 centimeters of rain since Friday, the BBC reported Wednesday.
More than 20 people have been reported dead and 13,000 people have been rescued in affected areas so far.
President Donald Trump visited the embattled state Tuesday with a message of support. "This storm, it's epic what happened. But you know what, it happened in Texas and Texas can handle anything," he said, according to the BBC.