Former President Donald Trump offered North Korean supreme leader Kim Jong Un a ride on Air Force One because he "thought it would be really cool," according to Trump's former national security adviser John Bolton.
Bolton made the remarks during a Wednesday interview with Bloomberg, confirming a similar account of the unusual offer from former deputy national security adviser Matthew Pottinger. Bolton, who accompanied Trump on the trip, said that he remained silent while listening to the former president make the "spur of the moment" proposal to Kim following their fruitless Vietnam summit in 2019.
"I was there and I heard it and I didn't respond at all, because I was biting my tongue to avoid saying what I thought the response should be," Bolton said. "It was a typical Trump offer on the spur of the moment. He thought it would be really cool to take Kim back home to Pyongyang. He didn't think about any of the potential consequences or anything else."
"I think Kim was as taken aback as I was, that may have been a rare moment of agreement between the two of us," added Bolton. "Fortunately, he said 'no,' so we never had to worry about the consequences."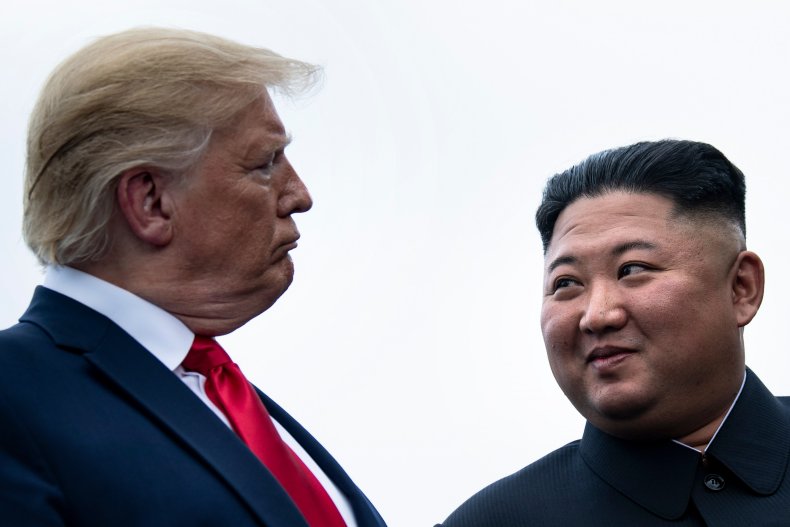 Pottinger first revealed the offer during a recent interview for the BBC documentary series Trump Takes On The World. The offer is said to have come as the leaders were preparing to leave the summit just after a breakdown in negotiations, with Trump later saying that he had no choice but to "walk" after failing to reach an agreement on denuclearization and lifting sanctions.
"President Trump offered Kim a lift home on Air Force One," Pottinger told the outlet. "The president knew that Kim had arrived on a multi-day train ride through China into Hanoi and the president said: 'I can get you home in two hours if you want.' Kim declined."
There is no indication that President Joe Biden intends to further develop closer U.S. relations with North Korea. Trump often touted his personal relationship with Kim, with journalist Bob Woodward saying that the former president felt an immediate attraction to the dictator after the pair exchanged "love letters" prior to their initial summit in 2018, which was the first-ever meeting between top leaders of the U.S. and North Korea.
"You meet a woman. In one second, you know whether or not it's all going to happen," Trump said during an interview for Woodward's book Rage, comparing his encounter with Kim to a date. "It doesn't take you 10 minutes, and it doesn't take you six weeks. It's like, whoa. Okay. You know? It takes somewhat less than a second."
Trump's feelings towards Bolton have been less friendly, with the pair having feuded since Bolton left the administration in September 2019. Mutual hostility ramped up after the 2020 publication of Bolton's memoir The Room Where It Happened, which was highly critical of the former president.
Newsweek reached out to the office of Trump for comment.