Democrat John Fetterman Targets Fox Viewers With Anti-Establishment Ad
Pennsylvania Democratic U.S. Senate candidate John Fetterman unveiled his first general election advert which is set to target Fox News viewers beginning Tuesday.
Fetterman—the bearded, tattooed Pennsylvania's lieutenant governor and the self-proclaimed "dude in shorts"—has been viewed by many commentators as a break in the norm for Democrats, who Holly Otterbein of Politico recently dubbed "a party often seen as too elite."
His appeal among blue-collar Republican voters—many of whom will watch Fox News— will be closely watched by Democrat leaders when he takes on either Dr. Mehmet Oz or David McCormick.
In the Twitter post introducing the 30-second advert, Fetterman, 52, accused politicians in Washington, D.C. of attacking towns across Pennsylvania "for years, writing bad trade deals that sent away our jobs."
"I'm running for Senate to put an end to this. Good American jobs, higher wages, no community left behind. That's why I'm running for Senate," he wrote.
"Washington, D.C., attacked towns like this for years. They wrote bad deals that sent away our jobs, approved the drugs that kill our kids. We need help. They just talk," Braxton White, an Army veteran and member of the Clarion Area School District Board, says in the election commercial.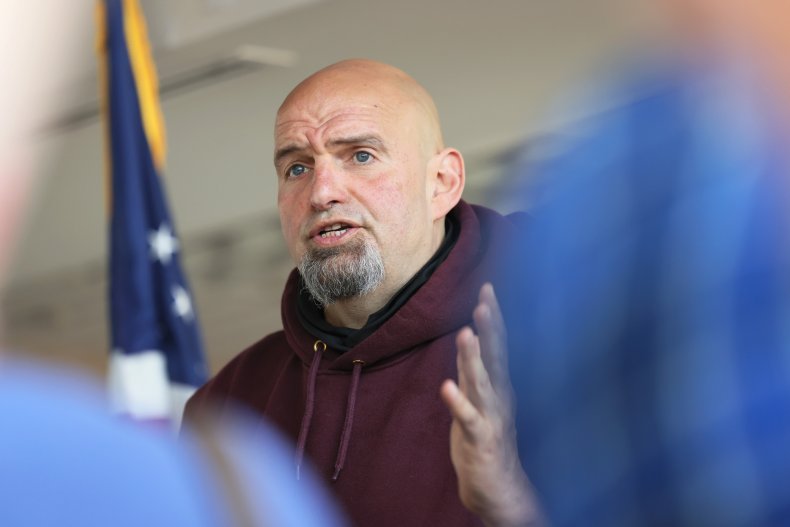 The advert is set to air on Fox News in the Pittsburgh, Scranton and Johnstown media markets, Politico reported.
Fetterman secured the Democratic nomination for the Senate on May 17. His Republican opponent is still unknown. The ad says that for two decades, Fetterman has "lived in a place like this, building, pushing, fighting," noting his support for higher wages and "good American jobs."
"This is a race for the future of every community across PA," he wrote on Twitter. "For every small town or person that's felt left behind. For every job left + factory closed. For every person that works hard but can't get ahead."
He added, "Pennsylvania is our home, and it's worth fighting for."
Fetterman revealed last month that he is currently recovering from a stroke. He said in a statement released by his campaign that he ignored warning signs for years and a doctor's advice to take blood thinners.
"The stroke I suffered on May 13 didn't come out of nowhere," Fetterman said. "As a result, I almost died. I want to encourage others to not make the same mistake."
Fetterman's cardiologist said in a separate statement released by his campaign that the Senate candidate has cardiomyopathy, a disease of the heart muscle that makes it more difficult for the heart to pump blood around the body. Giselle Fetterman, his wife, told CNN on Monday that he may not return to the campaign trail until July while he recovers.
"I think he deserves a month break to come back as strong as ever," she said. "This is going to be a tough race and a really important race. I want him to be fully ready for it."
Update 6/8/22, 10:08 a.m. ET: This article has been updated with extra context on Fetterman's position among the Democratic Party.