John Kasich Will Take the Stage With His Wife, Daughters at CNN Town Hall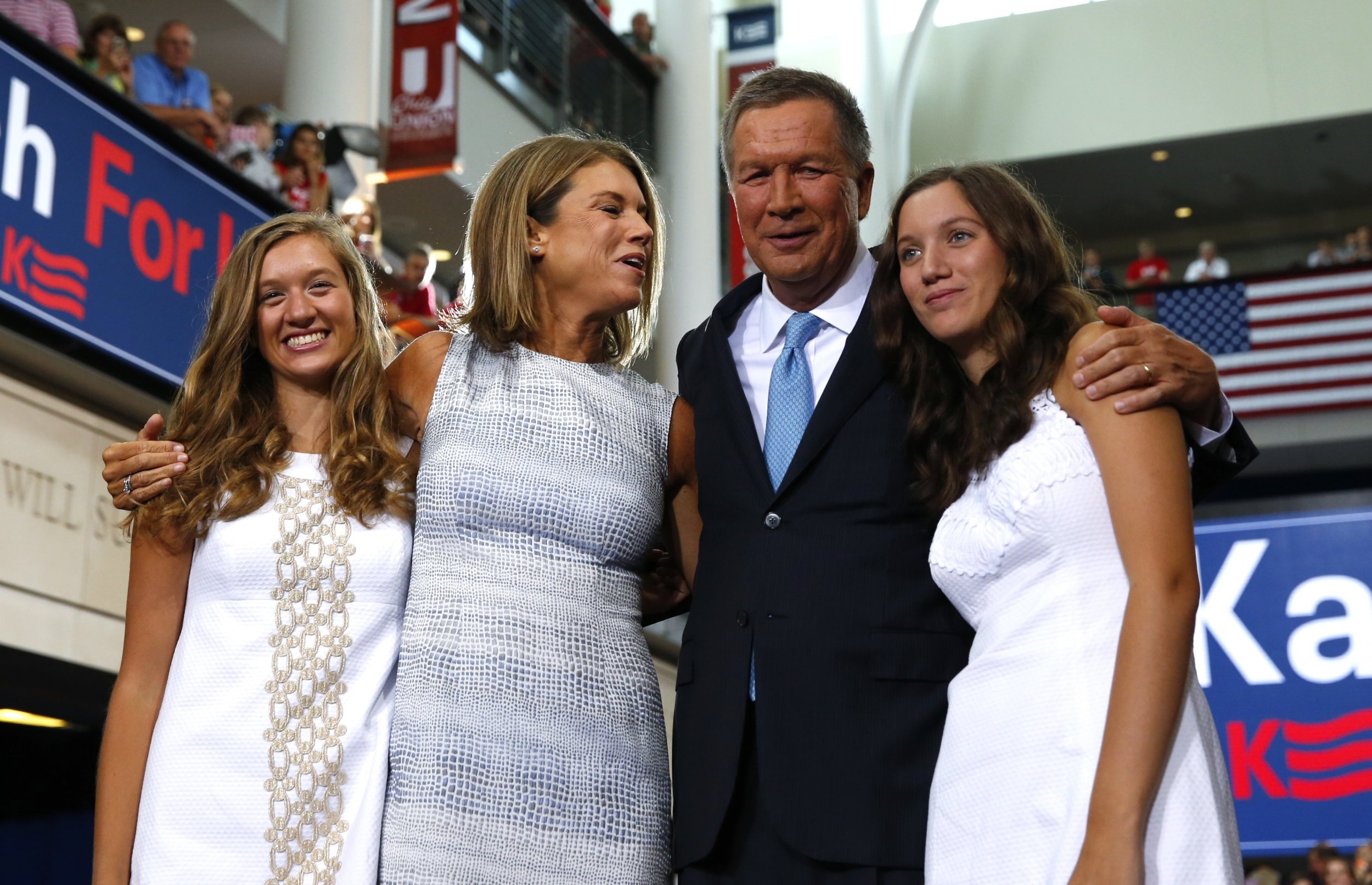 Updated | John Kasich's wife and 16-year-old twin daughters will join him onstage Monday night for a CNN town hall in New York City, almost a week before the state's April 19 primary.
After weekend contests in Colorado and Wyoming, the presidential race now is fully focused in and around delegate-rich New York. In preparation for the crucial primary, CNN has scheduled three prime-time town halls with the remaining Republican candidates, as well as a Democratic debate, which all are taking place before Friday.
Kasich, 63, and his family will take questions from CNN's Anderson Cooper and Republican voters seated in the audience on Monday night, followed by Donald Trump and his wife, Melania, and three adult children on Tuesday, and Ted Cruz and his wife, Heidi, on Wednesday. All town halls will take place in New York City. Democrats Hillary Clinton and Bernie Sanders will face off in a two-hour debate Thursday night at the Brooklyn Navy Yard.
As the primary season approaches its end, Kasich remains in third place with 143 delegates, far from front-runner Trump's 743 delegates.
Typically, the televised town halls feature a candidate answering questions from a network host and the audience. Unlike a traditional debate, each contender appears separately.
What can we expect from Kasich's wife, Karen, and their 16-year-old daughters, Emma and Reese?
Karen Kasich, 52, is a fit woman who has transferred her commitment to health and fitness—specifically heart disease and childhood obesity—into her work as first lady of Ohio, a role she assumed in 2011. She married John, then a congressman, in 1997 after an eight-year courtship, a period during which she says she devotedly read Newsweek at the request of her mother. She wanted to be aware of current events.
[Related: Why the Spouses Behind the Candidates Are the Most Interesting Ever]
John, who was divorced, described his new wife as his "anchor" and his "light." He was married to Mary Lee Griffith from 1975 until 1980. The couple didn't have children together.
He left Congress in 2001 and, almost a decade later, decided to re-enter politics when he ran for governor of Ohio in 2010. He was re-elected in 2014. "I can't stop him," Karen told The Columbus Dispatch.
In a recent episode of The Circus on Showtime, Karen said she enjoys going out into communities and meeting with residents. "It's fun for me because I come on and off the trail.… I don't do this day in and day out," she said.
Karen was vice president of what is now GSW Worldwide, a health care advertising agency. She left the role two years after Emma and Reese were born in January 2000. From assisting with an after-school program to coaching their soccer team, she has played an active role in her daughters' lives.
Karen mostly tries to shield them from the hyperfocused spotlight of her husband's career. The twins attend a private Christian school in suburban Columbus, Ohio. But they occasionally join their father on the campaign trail. They took over his Instagram account while they were in New Hampshire ahead of the state's key primary in February. After campaigning in Virginia last month, Emma wrote a blog post about her experience.
"It was amazing to see all the people at the town halls supporting him and ready to go tell everyone they knew about him. Everyone was excited; some people even cried. A lot of people felt a connection with him and that's important," she said.
Each town hall this week will air from 9 p.m. to 10 p.m. ET on CNN, CNN International, CNN en Español and CNNgo.
After the CNN event, Kasich will sit down with Fox News's Sean Hannity for a town hall beginning at 10 p.m. ET.
This story has been updated to include the Fox town hall.