John Mayer Being Called Out for Past Remarks About Jessica Simpson—Here's What He Said
Music fans are calling for John Mayer to apologize to Jessica Simpson for past remarks he made about the singer.
The online criticisms are coming in the wake of an interview Mayer did on Monday on SiriusXM's Andy Cohen Live, in which he discussed his reaction to the recent Hulu doc Framing Britney Spears. Mayer said that he "almost cried five times" while watching the series, and he also talked about how he thinks male privilege insulated him from some of the pressures and challenges of the entertainment industry.
"I mean, I was on the edge of tears five times, because if you understand what this business/industry/lifestyle does to a person. To go through this and come out the other side OK, is to have infinite grace for those who struggle with it," he said. "I came out OK... I have a very strong feeling that part of that is because I'm a man. And I have a very strong feeling that a lot of these things that happen to female performers is endemic to being female."
Some people online, though, are not thrilled with these remarks, and have characterized them as hypocritical, considering past remarks that Mayer made about his ex-girlfriend, Jessica Simpson.
"Read Jessica Simpson's memoir if you want to know what this dude is like," one user tweeted. Someone else quote-tweeted a Billboard story about the Andy Cohen interview and wrote that Mayer could "start with apologizing to Jessica Simpson."
Simpson and Mayer dated from 2006 to 2007, as per HuffPost. In 2010, he shared intimate details of their relationship with Playboy intimate details of their relationship. "That girl is like crack cocaine to me," Mayer said at the time. "Sexually it was crazy. That's all I'll say. It was like napalm, sexual napalm. Did you ever say, 'I want to quit my life and just f**king snort you? If you charged me $10,000 to f**k you, I would start selling all my s**t just to keep f**king you.'"
The interview was controversial, to say the least, and prompted a serious backlash against Mayer at the time—not just for his remarks about Simpson, but also for several racially charged comments about Black women as well. Shortly after the Playboy piece was published, Simpson told Oprah Winfrey in an interview that Mayer apologized to her, but that she didn't accept it. "I don't resent him," she said. "I'm just going to let that go. That part of my life is over."
In Simpson's 2020 memoir, Open Book, she wrote that she felt very insecure during her relationship with Mayer. "I constantly worried that I wasn't smart enough for him," Simpson wrote. "He was so clever and treated conversation like a friendly competition that he had to win."
The singer also noted that these feelings led to her drink more. "My anxiety would spike and I would pour another drink," she wrote in the book. "It was the start of me relying on alcohol to mask my nerves."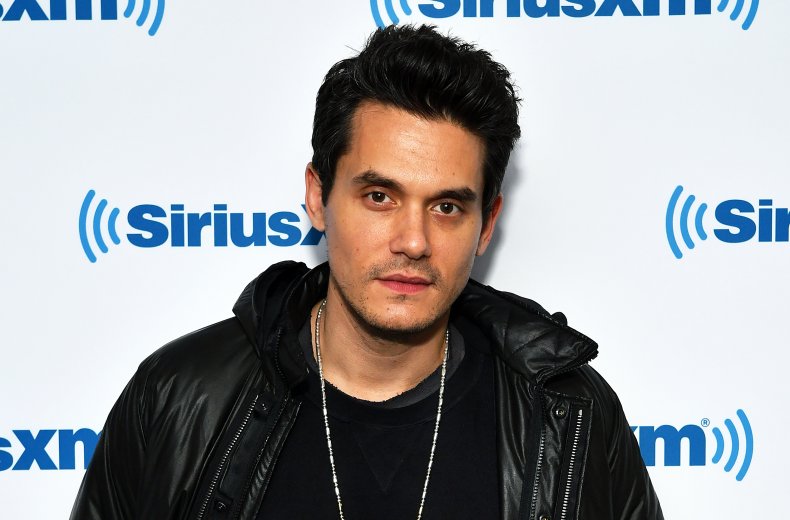 Mayer's also been getting called out for his past relationship with Taylor Swift—specifically, that they were together when she was 19 years old and he was in his early 30s. The two dated briefly in late 2009 and early 2010, and after their breakup, Swift allegedly wrote the 2010 song "Dear John" about their time together. "Dear John, I see it all now that you're gone," the chorus of the song goes. "Don't you think I was too young to be messed with? / The girl in the dress, cried the whole way home, I should've known."
In 2012, Mayer told Rolling Stone that he was "really humiliated" by the song, and said that it made him feel terrible. "I'm pretty good at taking accountability now, and I never did anything to deserve that," he said. "It was a really lousy thing for her to do."
Now, in light of Mayer's comments about Framing Britney and the way that female performers are treated in the music industry, people on Twitter are bringing up his old relationship with Swift and taking issue with the age difference between the two artists.
This is all happening not long after Justin Timberlake issued a public apology to Britney Spears and Janet Jackson following the debut of Framing Britney Spears. The Hulu doc caused many people to once again discuss the role that Timberlake played in media narratives surrounding the two female singers. "I am deeply sorry for the times in my life where my actions contributed to the problem, where I spoke out of turn, or did not speak up for what was right," Timberlake wrote in a message shared on Instagram. "I specifically want to apologize to Britney Spears and Janet Jackson both individually because I care for and respect these women and I know I failed."
Newsweek reached out to Mayer, Simpson and Swift for comment, but did not hear back at the time of publication.