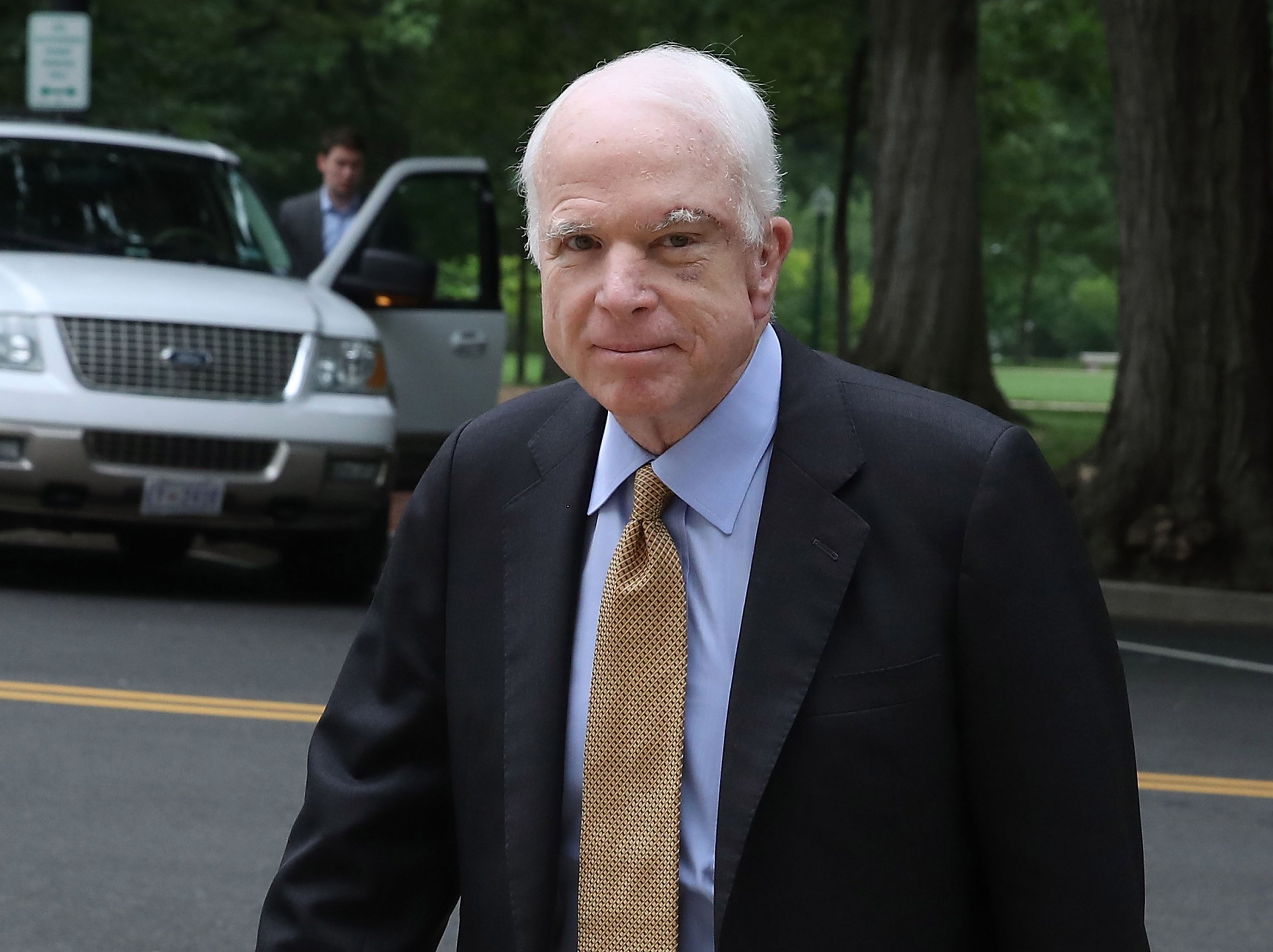 Senator John McCain's "Straight Talk Express" just ran right over President Trump.
The prisoner of war, who was held and tortured for five-and-a-half years in Vietnam, struck back at the president's attack on athletes who take a knee in protest.
"That's their right to do what they want as citizens," McCain told TMZ Sports when asked about the Dallas Cowboy players who took a knee then locked arms in solidarity before playing the Arizona Cardinals on Monday.
McCain's support for the players is a rebuke to President Trump, who has lambasted pro athletes who silently protest police brutality by kneeling during the national anthem. Scores of players did so on Sunday, two days after Trump called the protesters "sons of bitches" who should be fired.
McCain's support for peaceful protest did not overshadow his larger point about the game, of course.
"I've always hated the Dallas Cowboys and will continue to do so to this day," he said in the interview, which followed the Cowboys' 28-17 victory over the Senator's hometown Arizona Cardinals.
The president continues to lash out at the athletes who silently protested police brutality by kneeling during the national anthem, denouncing the action as "very disrespectful to the flag." He has called on NFL fans to boycott the games and suggested coaches fire players for kneeling.
After the Cowboy game, Trump tweeted, "The booing at the NFL football game last night, when the entire Dallas team dropped to its knees, was loudest I have ever heard. Great anger," before applauding them for the "big progress" of standing during the national anthem performance.
But McCain's comment rang true with veterans. Austin Bailey, an Iraq war vet, called the senator "a true defender of freedom" and not a "fake patriot" on Twitter after the TMZ report.
McCain joins a chorus of military veterans who are defending players' right to peacefully protest, including a 97-year-old World War II vet who even took a knee himself to argue that his service in defeating fascism is redeemed by the players' peaceful protests.
Meanwhile, another top Republican, House Speaker Paul Ryan, said he disagrees with the protests, but acknowledges they are protected under the First Amendment, saying players are "clearly within their rights to express themselves as they see fit."
Ryan, a Wisconsinite, is a shareholder for the Green Bay Packers, a team that linked arms during the national anthem and three players sat.
"My own view, though, is we shouldn't do it on the anthem," Ryan said. "Our national anthem, our flag, and the people who defend it and represent it—that should be celebrated everywhere and always."
McCain and Trump have a rocky history with his military record. During the campaign, Trump famously said that McCain "was a war hero because he was captured."
"I like people who weren't captured," the future president added.
McCain said Sunday that the president never apologized for that comment, but that they are "very different people," and that the door is not closed.
The controversy over taking a knee during the national anthem started when former San Francisco 49ers quarterback Colin Kaepernick began kneeling in the 2016 preseason to protest police killings of African Americans.
Watch the interview with Senator John McCain: