John Wayne, Thomas Sowell, Rush Limbaugh Among 'Heroes' Explored in Conservative Books for Children
A new publishing company is spring-boarding off so-called "cancel culture" and controversies involving critical race theory and other liberal ideology that conservatives claim is being taught in schools by launching books, action figures, and puzzles of American "heroes" who have been largely ignored or criticized by the left.
Starting Monday, merchandise from Heroes of Liberty based on the lives of former President Ronald Reagan, author and columnist Thomas Sowell, and Supreme Court Justice Amy Coney Barrett will be on sale. Each month a new biography and accompanying items will be available—some more controversial than others.
A book on the late talk-show host Rush Limbaugh is coming soon, as is one for actor John Wayne and author Mark Twain, all of whom have been attacked by some on the left for using inappropriate language. The Democratic Party in Orange County, California, last year passed a resolution calling for the John Wayne Airport to be renamed and a statue bearing the Hollywood legend's likeness be removed. Meanwhile, schools nationwide have been removing Twain's 1885 novel The Adventures of Huckleberry Finn from the curricula due to the book's use of racial slurs as well as accusations of racist depictions of African Americans.
Heroes of Liberty describes itself as a "slick and unapologetic conservative children's book imprint."
"Woke publishers control the market for children's books. They sell low-quality books with the mission to indoctrinate our kids into being drones," claimed Heroes of Liberty editor and board member Bethany Mandel.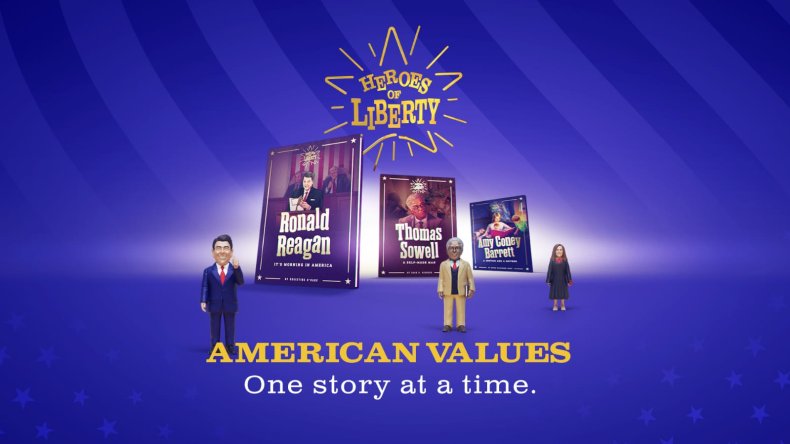 Mandel noted that polls typically indicate that 118 million Americans identify as "conservative" but books for their children don't typically reflect their values. For example, there are 14 biographies about teenage climate activist Greta Thunberg and 27 about the late liberal Supreme Court Justice Ruth Ginsburg. However, there is only one about conservative Supreme Court Justice Clarence Thomas and none about Limbaugh. Beginning Monday, there will be just one about Coney Barrett—the Heroes of Liberty version.
Mandel said Republican Glenn Youngkin's recent victory over Democrat Terry McAuliffe in Virginia's gubernatorial election fortuitously threw education into the limelight two weeks prior to the launch of Heroes of Liberty's products.
"It was great for our purposes. In the last 18 months, parents have really seen what their kids are learning and they are really concerned about the quality and content of education," she said.
While it will sell online directly to parents, Heroes of Liberty will also attempt to get its wares into brick-and-mortar stores. However, Mandel knows it's an uphill battle.
"The philosophical bent of people in the publishing industry is radically far left," she said. "What you'll see at Barnes & Noble in the kids' section is a biography of RuPaul and titles like The Hips on the Drag Queen Go Swish, Swish, Swish and Race Cars: A Children's Book About White Privilege. This is what is being pushed as children's literature, so we offer an alternative."
Conservative books aimed at children aren't new; Limbaugh launched his Rush Revere series in 2013. A company called Angel Studios last year struck a deal to distribute crowdfunded cartoons based on The Tuttle Twins, a children's series of 11 books that promote capitalism and have sold 3 million copies worldwide, with 4,000 more sold each week.
But Heroes of Liberty differs in another way. Given that it will release new products monthly, the company is working on a subscription plan where a box of merchandise will arrive each month at a cost of $199-$399 annually.
"Books about traditional morality, being charitable, doing the right thing, that's the message of our books, like the one about John Wayne. He was a strong and honorable man, and that's not a message boys are getting today; mostly they're given anti-masculinity lessons that are toxic to their psyche," said Mandel. "That's why cancel culture is so bad—it throws out the baby with the bathwater. There's so much you can take from these historical figures who shaped our nation without harping on the negative."
Update, 11/14/21 at 3:44 p.m. ET: The story was updated to reflect that Angel Studios is distributing a crowdfunded cartoon series based on The Tuttle Twins books.