Johnny Depp Stars in 'War on Terrier': The Story of His Feud With Australia's Barnaby Joyce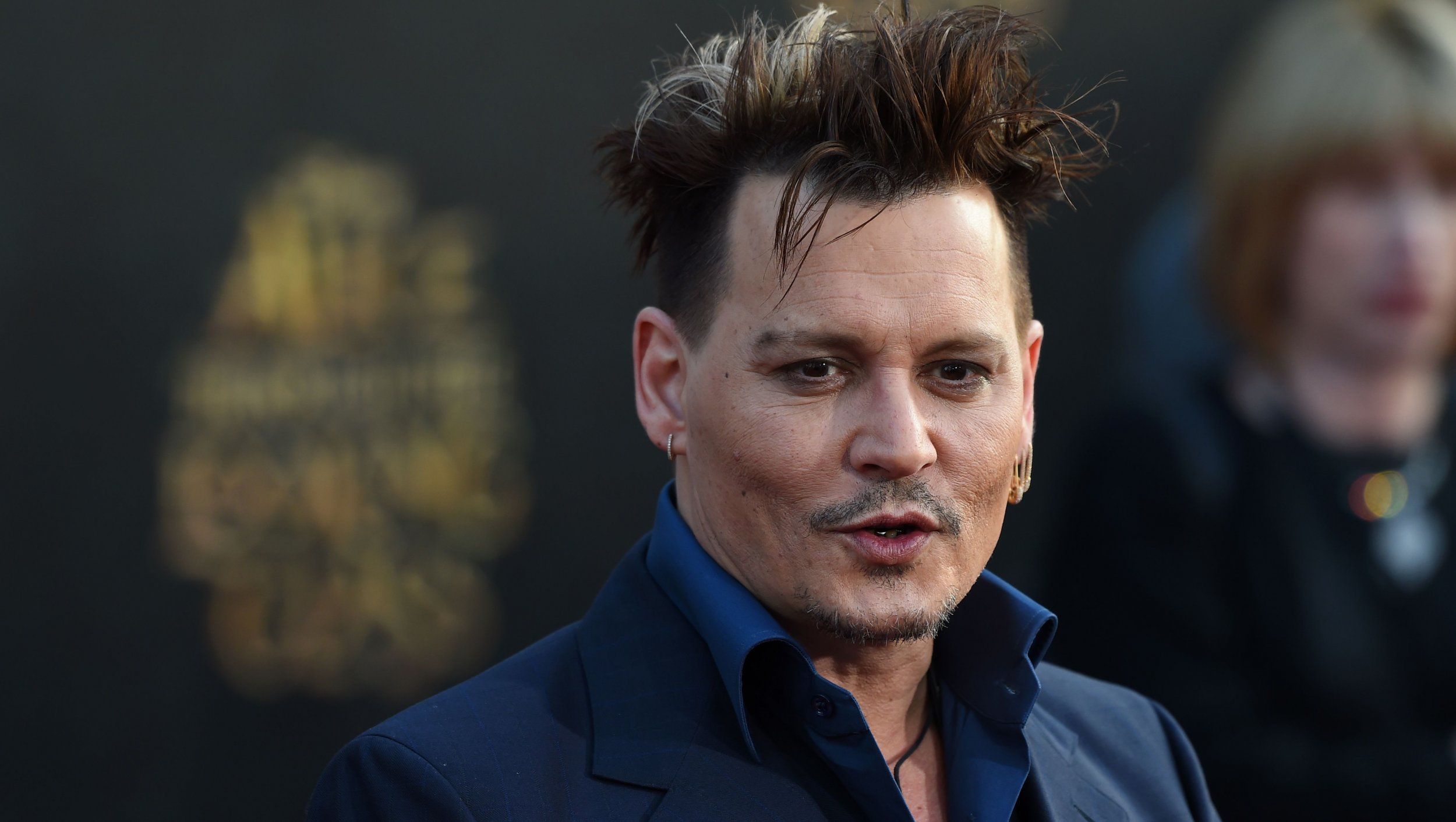 Johnny Depp may have apologized to Australia for his wife Amber Heard smuggling their pet dogs, Pistol and Boo, into the country last year. But the war of words between him and the Australian deputy prime minister Barnaby Joyce shows no sign of stopping.
Depp took yet another shot at Joyce, who threatened to euthanize the dogs if they weren't removed from Australian soil in the diplomatic dog incident in May 2015, during an appearance on late night talk show Jimmy Kimmel Live Tuesday.
The Alice Through the Looking Glass actor said "one guy" made a "big deal" of the situation, referring to Joyce, and said the agriculture minister looked like he was "somehow inbred with a tomato." Ouch.
Of course, Joyce couldn't help but offer a rebuttal—likening himself to the chilling sociopath Hannibal Lecter, played by Anthony Hopkins in Silence of the Lambs .
"I'm inside his head, I'm pulling strings and pulling little levers," Joyce told the BBC. "Long after I've forgotten about Mr Depp, he's remembering me. I'm turning into his Hannibal Lecter."
With all this back-and-forth, you're forgiven if you can't quite keep up with Depp's greatest role yet—agitator extraordinaire.
Let's recap the year-long feud between the Hollywood star and his unlikely Australian foe:
April 2015: Amber Heard, Depp's wife, failed to declare their dogs Pistol and Boo to immigration upon entering Australia. Depp was filming Pirates of the Caribbean: Dead Men Tell No Tales , the fifth film in the Disney franchise, in the Gold Coast.
May 2015: Pistol and Boo's unauthorized vacation was discovered when a dog grooming spa posted a picture of the pups.
The agriculture department quarantined the pets and Barnaby Joyce said he would have them euthanized if Depp and Heard didn't remove them from Australian soil within 50 hours. "It's time that Pistol and Boo buggered off back to the United States," he said.
Pistol and Boo took a private jet back to Los Angeles and it appeared all was well.
July 2015: All isn't well, after all. Heard was charged with illegally smuggling the dogs into Australia. She faced two charges of illegal importation and one count of providing a false document. If convicted, she could have faced 10 years in prison.
September 2015: Depp stirred up trouble with Barnaby Joyce again. Appearing at the Venice Film Festival to promote his latest film, Black Mass , the actor joked to reporters he "killed his dogs and ate them" at the instruction of a "some kind of sweaty big-gutted man from Australia."
Later that month in an appearance on Jimmy Kimmel Live, Depp said he would "just fly to Australia and assault that man" if his wife were jailed.
He also told Kimmel that he and Heard were under the impression they had the correct legal documents to bring Pistol and Boo into Australia.
February 2016: After something of an armistice over the holiday period, Joyce and Depp's feud reignited as Joyce was named Australia's deputy PM.
Asked if he'd return to Australia, Depp said he gladly would and even joked that Joyce had invited him to stay with him. "I think that guy Barnaby? He invited me to stay at his house, for some reason," he said.
April 2016: It's judgment day for Heard. The actor attended court in Queensland, with her husband, but was let off on a good behavior bond.
At the request of the government, Heard and Depp appeared in a public apology video that was quickly rounded on by the press and social media alike. Some said it looked like a hostage video.
In the clip, Depp, 52, said: "If you disrespect Australian law, they will tell you firmly." Heard, sitting beside the actor, added: "Australia is a wonderful island with a treasure trove of unique plants, animals and people."
Responding to the video, Joyce said it looked like Depp was auditioning for a role in The Godfather. "I don't think he'll get an Academy Award for his performance," he added.
May 2015: A month removed from the bizarre apology video, Depp saw the funny side, joking about it during a U.K. press conference for Alice Through the Looking Glass . "I really would like to apologize for not smuggling my dogs into England because it would have been a bad thing to do," said Depp.
Later in the month, again appearing on Kimmel , he said Joyce looked like he had been "inbred with a tomato." (Perhaps the moral of this story is: stop going on Kimmel , Depp.)
Joyce responded by saying he was flattered Depp continued to talk about him and likened himself to master manipulator Hannibal Lecter.
If this doesn't sound like an Oscar-winning biopic in the making, we don't know what does.