Johnny Depp Wins Women's Abuse Organization's Support in Amber Heard Trial
A women's abuse organization recently voiced its support for Johnny Depp amid the high-profile defamation trial between the actor and ex-wife Amber Heard.
Depp sued Heard for $50 million for defaming him after she wrote an opinion piece in 2018 claiming she was a victim of domestic violence. Heard has emotionally testified in the last few weeks that she had been beaten and sexually assaulted by Depp during their relationship, and Depp has consistently denied the accusations, alleging that Heard physically abused him.
MISSION NGO, a nonprofit international organization supporting women and children from physical, sexual, and psychological abuse, released a statement in support of Depp, and people on social media have applauded the organization for recognizing men as domestic abuse victims.
Valeria Altobelli, MISSION NGO's president and founder, wrote in the statement: "Violence is a serious topic. As women, as mothers, we have the duty and the responsibility to educate our sons and daughters, that's to say, the Future Generation, in the light of the values of dialogue, respect and compassion between men and women, without any gender distinction, in order to prevent violence with the weapons of love and education.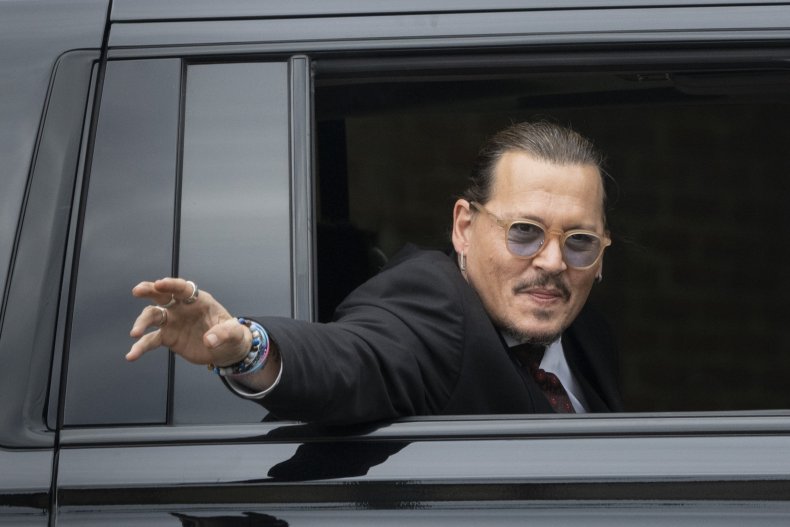 "In deep respect of the victims of domestic abuses that we have to affirm for intellectual honesty are, generally, WOMEN, we feel to express, as women, as mothers, as free thinkers, our compassion for Johnny Depp in this bad page of his personal history."
Altobelli also wrote and shared an open letter according to Globe Newswire, in which she said, "MISSION NGO women from all over the world stand against domestic violence, regardless of gender, age or race. Our mission is to educate men and women, with no gender differences, to keep talking and living in the values of love, mutual comprehension and sensitivity in order to prevent all kinds of violence, against women against men, against children."
Altobelli's letter continued, "As women, we have compassion and we feel empathy not for THE star, THE talent, THE actor but for a man, a father, a worker, A HUMAN. Mental Health is something we have to care about to live in a positive environment where women and men can love and respect each other without any kind of abuse and violence. We are human and we have to find the HUMANITY we are born to live for."
Some people online have congratulated MISSION NGO for their stance. A user who goes by the name cinemask2021 wrote, "Wow! Very important! Finally a human rights organization speaking up for #JohnnyDepp. 'Mission NGO,' you are the first to do so. You are heroes."
Another user on Twitter wrote, "This is equality... This is the real feminism!! Thank you MISSION NGO."
Heard has countersued Depp for $100 million for nuisance. The trial has taken place in Fairfax, Virginia, and has been a highly viewed affair as witnesses from both parties have spoken out regarding their understandings of the pair's tumultuous relationship.
Closing arguments are expected on May 27.
Newsweek reached out to a representative for Johnny Depp for comment.