Johnny Depp's Former Bandmate Says Amber Heard Marriage 'Ruined' Actor's Life
Johnny Depp's former bandmate has said that the actor's ill-fated marriage to Amber Heard "ruined his life."
Depp, 58, and Heard, 35, embarked on a romance after meeting on the set of their 2011 movie The Rum Diary, tying the knot in 2015. Heard filed for divorce the following year, with their union officially dissolved in January 2017.
Amid their acrimonious split, Heard went public with domestic abuse allegations against the Pirates of the Caribbean star—with the actor losing a libel case against The Sun in late 2020, after the British newspaper labeled him a "wife beater."
The fallout from the high-profile court battle, which took place in London, saw Depp being "asked to resign" from his role in Fantastic Beasts 3. The screen star has since said that he is being boycotted by Hollywood.
Bill "Beano" Hanti, who was in a band called The Kids with Depp in the 1980s, has shared his own take on the actor's relationship with Depp in the recently released Discovery+ documentary Johnny vs Amber.
In a clip shared by LADbible, Hanti is seen talking about his time with Depp in the band, before touching on his relationships.
Looking back on the star's 14-year relationship with Vanessa Paradis, with whom he shares two children, Hanti described the French actress as a "beautiful soul, beautiful lady. He had something special with Vanessa and he f***** it up."
Moving his attention to Heard, Hanti said that the actress "just saw [Depp] coming. She got the opportunity to be a part of that film and she worked it."
Hanti, who said that he had never met Heard, went on: "I do understand that she's half his age. I get it. OK, John, she's 25. I get it. Don't marry her. You don't need to marry her. You're Johnny Depp. Ruined his life, it really did... It totally f***** his career over, cost him his friends, part of his family."
"She got inside John's head and made him absolutely crazy to the point where he was drinking and drugging, to the point of insanity," he added, per LADbible.
Newsweek has contacted representatives of Heard and Depp for comment.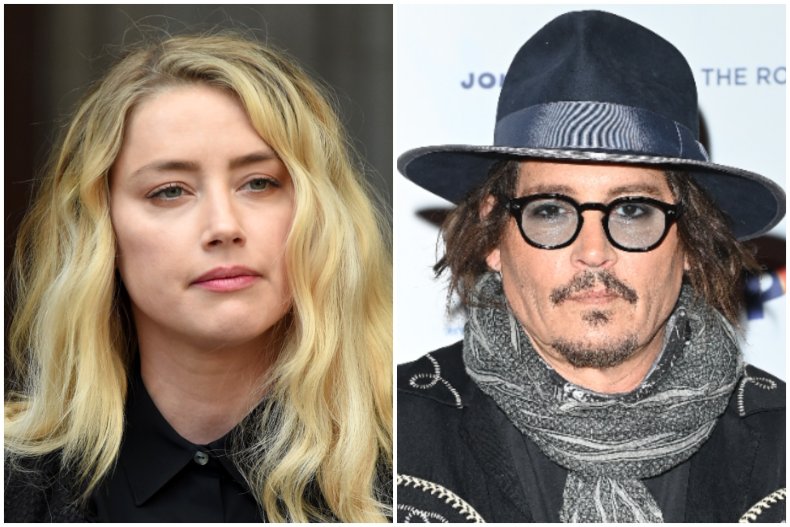 Johnny vs Amber shows two perspectives of Depp and Heard's bitter split and legal battles, with each episode focusing on one of the star's account of events.
"The series provides an in-depth insight into the epic battle that powered #JusticeforJohnnyDepp and #IStandWithYouAmberHeard fan campaigns and the very public High Court case that gripped us all," said Clare Laycock, senior vice president for planning and insights and head of entertainment at Discovery, per Variety.
Charlotte Reid, vice president of commissioning for entertainment at Discovery, added of the project: "The story of what happened between Johnny and Amber continues to be hugely divisive, between fans and the public at large.
"We set out to make a documentary that would explore the story from each of their perspectives, so the viewer can go beyond the headlines, understand who they are, and decide who they should believe in this complex human story."
Nick Hornby, co-CEO at production company Optomen, said: "Through the tapes, home videos and text messages shown in court, these films give viewers a rare and important insight into a marriage that went tragically wrong, and to better understand the hugely important issue of domestic violence."
While attending Spain's San Sebastián Film Festival in September, Depp railed against so-called cancel culture, saying: "It's so far out of hand now that I can promise you that no one is safe. Not one of you. No one out that door. No one is safe."