Johnny Rotten on Madonna's 'Vagina' NFT: 'I've Seen the Real Thing'
Rock legend Johnny Rotten took a playful jab at Madonna's controversial new NFT, which depicts her completely naked while giving birth to trees, butterflies and insects, among other things.
Pop superstar Madonna, 63, recently unveiled her collaboration with nonfungible token artist Beeple, which includes a 3D model of her vagina. While the project, entitled "Mother of Creation," has elicited a strong response on social media, Sex Pistols rocker Rotten, 66, shared an equally gasp-worthy reaction when he was asked by Piers Morgan about the project.
During an appearance on Morgan's new Talk TV show Piers Morgan Uncensored this week, the titular host brought up the project, saying that it includes "scans of her genitals."
"What I wonder was whether you might be bidding for them," Morgan inquired.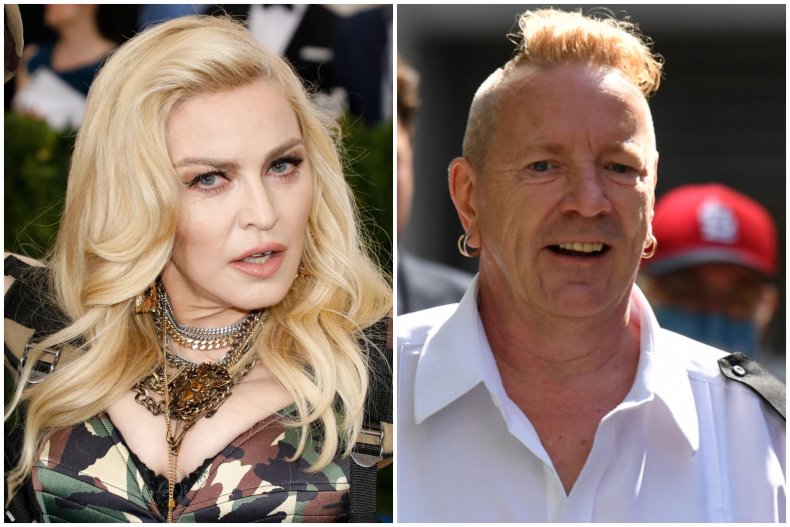 After breaking into raucous laughter, Rotten said: "I think if my memory serves me well, I've seen the real thing, and I never ever want to be reminded."
Rotten, real name John Lydon, went on to add that NFTs "are interesting to me because I'm getting involved in it myself because I'm a bit of a painter on the side."
The musician revealed that he is venturing into selling NFTs to raise money for Alzheimer's patients. Rotten's wife, Nora Foster, is living with Alzheimer's disease.
NFTs are unique digital assets that can't be copied or substituted. They are recorded in a blockchain, and they can include things like videos and artwork. They are usually also bought and sold with cryptocurrency.
According to Statista, the global sales value of NFTs in 2021 peaked at $11.16 billion. NFTs sold in the art segment equated to $2.57 billion that year alone.
During an interview with Beeple creator Mike Winkelmann, which was shared on Instagram on Wednesday, Madonna defended her eye-catching project.
"I'm doing what women have been doing since the beginning of time, which is giving birth," the singer said. "But on a more existential level, I'm giving birth to art and creativity and we would be lost without both," she continued, adding: "I think it's really important that a lot of thought and conversation went into creating these videos."
Madonna also pulled up their text messages between herself and Winkelmann, "to help people understand our levels of detail and banter back and forth to each other."
"I say, 'We need a forest with creepy crawly bugs coming out of me,'" the star read. "'We need an urban, burned-out post-apocalyptic landscape with this giant tree growing out of me.'
"Now, I only tell you this because we ended up doing all of these things, we just ended up separating them. Not often does a robot centipede crawl out of my vagina," she quipped. "My journey through life as a woman is like that of a tree. Starting with a small seed, always pushing against the resistance of the Earth. The endless weight of gravity."
In a statement shared on Wednesday, the "Material Girl" singer said that the NFT's purpose was "to investigate the concept of creation, not only the way a child enters the world through a woman's vagina but also the way an artist gives birth to creativity."
Proceeds from sales of the NFT will be go to the charities National Bail Out, V-Day and Voices of Children.