Josh Hawley Calls Out Liberals' 'Lie' That He Wanted to Overturn Election, Incited Violence
Senator Josh Hawley (R-Mo.) said he is "not going to back down" to Democrats who have he wanted to overturn the results of the 2020 presidential election and that he incited violence which occurred during the Jan. 6 Capitol insurrection.
In an interview with Life, Liberty & Levin host Mark Levin scheduled to aired on Sunday, Hawley said: "What the liberals have said is, 'Because you did that, you effectively incited violence [January 6]. That's a lie. They know it's a lie. They said, 'He wanted to overturn the election.' That's a lie. They know that it's a lie."
Hawley was the first Senator to announce he would reject the certification of President Joe Biden's win, spreading misleading claims of election fraud by "mega corporations" and states like Pennsylvania allegedly bypassing election laws.
Democrats have publicly challenged Hawley's actions. Representative Alexandria Ocasio-Cortez (D-N.Y.) tweeted the Missouri senator was "trying to wiggle out of inciting a riot that killed 5 by saying 'I was just representing my constituents' - but only those who wish to overturn the election and resurrect the Confederacy."
Representative Cori Bush (D-M.O.) called for Hawley's removal in a Tweet: "Josh Hawley said he was doing this for the people of Missouri. Let me tell you something, Josh. You are supposed to represent St. Louis too, but you do not speak for us. You have blood on your hands, and that's why I'm calling for your removal from Congress."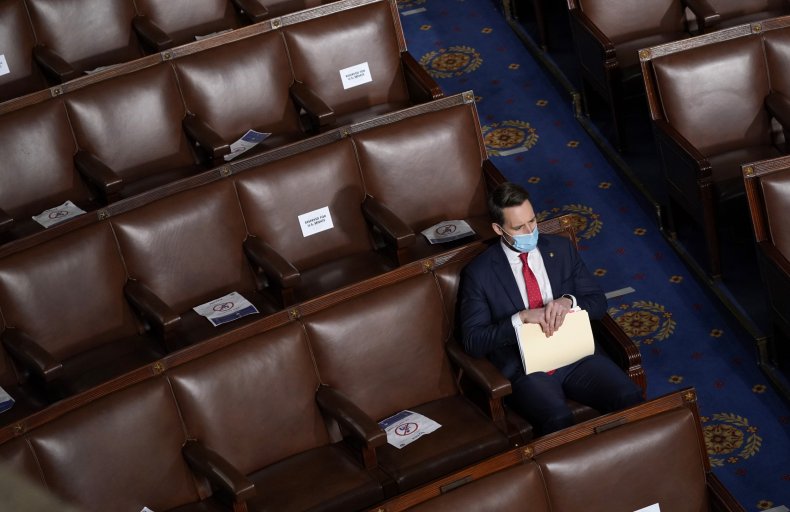 In the interview, Levin, who referred to Hawley as a "populist conservative," promised time "without interruption" for the senator to respond to Democrats' accusations.
"I objected to the state of Pennsylvania in order to have a debate about election integrity," Hawley replied to Levin. "I think we need election reforms. I think we need to ban ballot harvesting. I think we need to take a hard look at how the mail-in balloting was administered many of states, including Pennsylvania, which did not follow their own law."
Pennsylvania passed Act 77 in 2019, which Hawley falsely claims violated the state's constitution by permitting mail-in voting, according to The New York Times.
However, the bipartisan act did not violate Pennsylvania's constitution, legal experts have said. The station constitution reads that elections may occur "by ballot or by such other method as may be prescribed by law," the Times reported.
But Hawley said to Levin he was within his political right to raise objections to the Electoral College, and that Democrats did this previous years, including 2017: "It's perfectly legitimate when Republicans do the same thing for legitimate reasons, which is what I did."
Democrats sent a letter to the Senate Ethics Committee earlier this month, demanding for an investigation into Hawley's alleged role in inciting the violence at the Capitol.
"The actions of which we know demand an investigation and a determination whether disciplinary action is warranted. Until then, a cloud of uncertainty will hang over them and over this body," the letter read.
Hawley responded with his own letter to the committee in which he called for an investigation of his own into what he considered a politically-motivated punishment and a jab at power-sharing by Senate Democrats.
"I think what we're seeing now is an attempt by the left to lie about our motivations, to lie about our actions in order to grab power," Hawley said to Levin. "They want to silence dissent. They want to silence me. And I tell you right now, I am not going to back down before a liberal mob."
Newsweek reached out to the Senate Ethics Committee for comment.