Josh Hawley's Former Academic Mentor 'Distressed' and 'Bamboozled' by Senator's Actions
Senator Josh Hawley's former academic adviser at Stanford University says he's "distressed" and "bamboozled" by the Missouri Republican's actions surrounding to the January 6 insurrection against the U.S. Capitol.
Hawley has faced significant backlash after he chose to object to President Joe Biden's victory in the Electoral College, even after a mob of President Donald Trump's supporters stormed the Capitol in a bid to overturn the election results. Prior to the violent riot, which left five people dead, Hawley was photographed raising his fist in support of the pro-Trump demonstrators.
"I am more than a little bamboozled by it, certainly distressed by it," David Kennedy, a professor emeritus of history at Stanford told The Kansas City Star for an article published on Sunday. Kennedy served as Hawley's academic adviser when the future senator attended the elite university; he later penned a foreword for a 2008 book Hawley wrote about former President Theodore "Teddy" Roosevelt.
Kennedy told the Missouri newspaper that he did not believe Hawley was responsible for inciting the mob, but that the Republican lawmaker's "actions did give credence to the patent falsehood that the election was 'rigged' and its results illegitimate."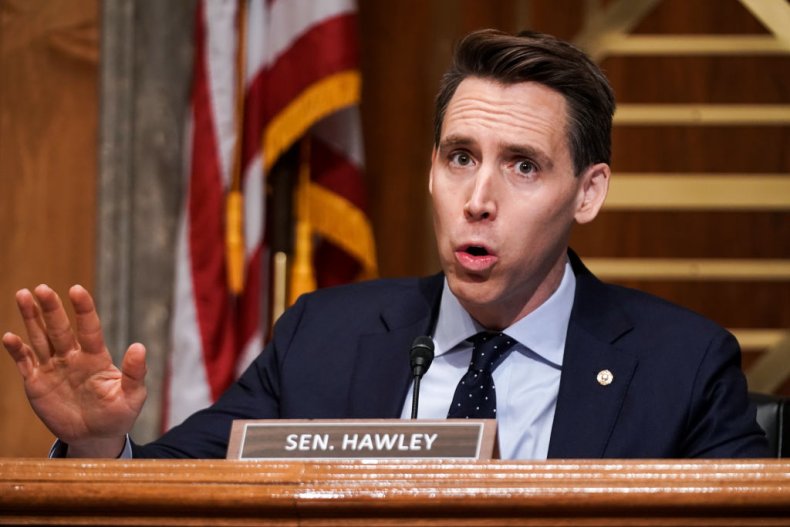 "I think Roosevelt had a deep reverence for the sacred quality of our constitutionally prescribed institutions and that mob of louts and clowns that stormed the Capitol building don't seem to have any regard for that at all," the professor said.
Newsweek reached out to Hawley's press representatives for comment, but they did not immediately respond.
A number of corporations and companies have announced that they will no longer contribute financially to Republican lawmakers, such as Hawley, who objected to the certification of Biden's win. Trump and his loyalist supporters have baselessly claimed that Biden won the election through widespread voter fraud. This unfounded allegation has been thoroughly litigated, failing dozens of times in state and federal court.
Ahead of the riot on January 6, Trump urged his supporters to "fight like hell" to keep him in office and instructed them to march to the Capitol where Congress had convened to certify Biden's win. The mob of supporters broke into the legislative building, with some voicing their desire to "hang" Vice President Mike Pence and harm other lawmakers.
Hawley and GOP Senator Ted Cruz of Texas have faced significant criticism for what many see as fanning the flames of the conspiracy theory promoted by Trump. The editorial board of The Kansas City Star blamed Hawley directly for the insurrection. Several prominent newspapers in Texas have called on Cruz to resign.
"No one other than President Donald Trump himself is more responsible for Wednesday's coup attempt at the U.S. Capitol than one Joshua David Hawley, the 41-year-old junior senator from Missouri, who put out a fundraising appeal while the siege was underway," the Missouri newspaper's editorial board wrote in a January 7 opinion article.