Judge Refuses to Block Paul Gosar, Andy Biggs From Ballot Over Capitol Riot
A judge in Arizona rejected an effort to prevent GOP Representatives Andy Biggs and Paul Gosar from 2022 midterm election ballots on Friday, asserting that the "plaintiffs have no private right of action" to disqualify the Republicans over their actions related to the January 6, 2021, attack against the U.S. Capitol.
A lawsuit was filed against Biggs, Gosar and GOP state Representative Mark Finchem, contending that the three Arizona Republicans should not be allowed to appear on the ballot—alleging they are not permitted to hold office due to their participation in an "insurrection." Many Democrats and some Republicans have called the attack by former President Donald Trump's supporters against the U.S. Capitol an "insurrection."
Gosar and Biggs voted to decertify President Joe Biden's electors in key battleground states on January 6, 2021, during a joint-session of Congress. Finchem, who is running to be Arizona's secretary of state in a bid to oversee future elections there, supported that effort. None of the three Republicans participated in the attack targeting the U.S. Capitol.
Plaintiffs, represented by the organization Free Speech For People, alleged that Gosar, Biggs and Finchem violated Section 3 of the 14th Amendment to the Constitution, which prohibits elected officials from engaging in an insurrection or rebellion. But Superior Court Judge Christopher Coury in Maricopa County dismissed the lawsuit, Arizona KPNX 12 News first reported.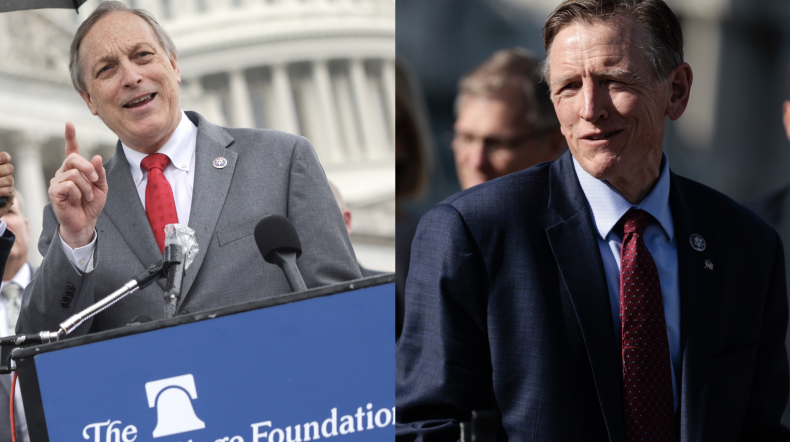 Coury, however, pointed out that his ruling should not be seen as making a determination on whether the GOP lawmakers did or did not participate in an insurrection or rebellion.
"Congress has not created a civil private right of action to allow a citizen to enforce the Disqualification Clause by having a person declared to be 'not qualified' to hold public office," Coury wrote. "This ruling neither validates nor disproves Plaintiffs' allegations against the Candidates. The Court expressly is not reaching the merits of the factual allegations in this case."
Coury noted that "there may be a different time and type of case in which the Candidates' involvement in the events of that day [January 6] appropriately can and will be adjudicated in court."
Free Speech for People vowed to appeal to the Arizona Supreme Court, arguing that the judge's decision was "contrary to the law," U.S. News & World Report reported.
"Arizona is not exempted from the mandate of Section 3 of the Fourteenth Amendment to the US Constitution," the organization said. "A candidate who has taken an oath of office and then engaged in insurrection has no place on a future Arizona ballot."
A similar case against Representative Marjorie Taylor Greene, a Georgia Republican, is being heard by Georgia State Judge Charles Beaudrot on Friday as well. Beaudrot will issue a recommendation which will then affect a final decision to be made by Georgia's Secretary of State Brad Raffensperger, a Republican who drew Trump's ire for refusing to "find" enough votes to flip the Southern state's election in the former president's favor.
Gosar pointed to Greene's case as he touted Coury's decision on Friday in a Twitter post.
"The case against @RepMTG will not survive appeal. Today the court in AZ dismissed the same lawsuit against me and @RepAndyBiggsAZ and @RealMarkFinchem in a meticulously detailed ruling. If they can't win at the ballot box the leftists run to the courts," the GOP congressman wrote.
Biggs also voiced support for Greene in a Friday tweet, but did not mention the Arizona lawsuit. "The Radical Left's smear campaign of @RepMTG is unacceptable. Preventing voters in #GA14 from deciding who their elected representative is does not protect 'our democracy.' I stand with MTG!" he tweeted.
Newsweek reached out to spokespeople for Gosar and Biggs for comment.