Julia Fox Calls Cara Delevingne 'Thirsty' After Viral Moment in Clip
A clip of actress Julia Fox calling model Cara Delevingne "thirsty" has resurfaced after the latter made headlines for her reportedly unusual behavior at the Billboard Music Awards on Sunday.
Footage of Delevingne crashing Megan Thee Stallion's red carpet moment at the event and subsequently exhibiting somewhat unorthodox actions at other times of the night has gone viral and continues to be a trending topic on social media.
Delevingne was seen peeping at the star and shouting words of encouragement from behind a barrier before she joined her on the red carpet where she repeatedly lifted the train of Megan Thee Stallion's skirt, in an attempt to make it billow for photographs.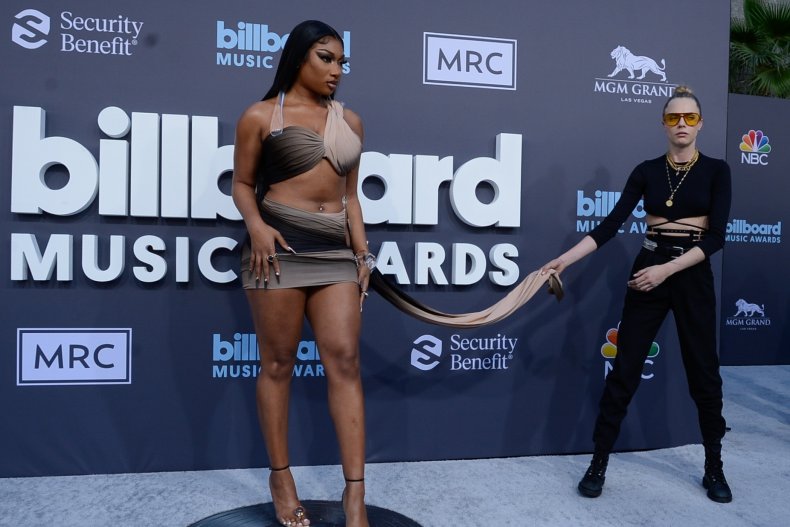 The 29-year-old Londoner has left Twitter users baffled by her apparent behavior, prompting another clip of her acting somewhat unusually towards another performer, Azealia Banks, to resurface.
In October last year, Delevingne attended a Banks show where she made her way on stage and pretended to lick the "212" hitmaker's legs as she was performing.
Fox, who is best known for her role in the 2019 film Uncut Gems, discussed this incident on her podcast last November, where she and her co-host Niki Takesh labeled Delevingne as "messy boots" and "thirsty."
"The craziest thing happened I don't understand why this isn't like all over the tabloids," Takesh began when recounting the night on the Forbidden Fruits podcast.
"We're watching Azealia Banks and like we look to the side of the stage, we were like up close in the front."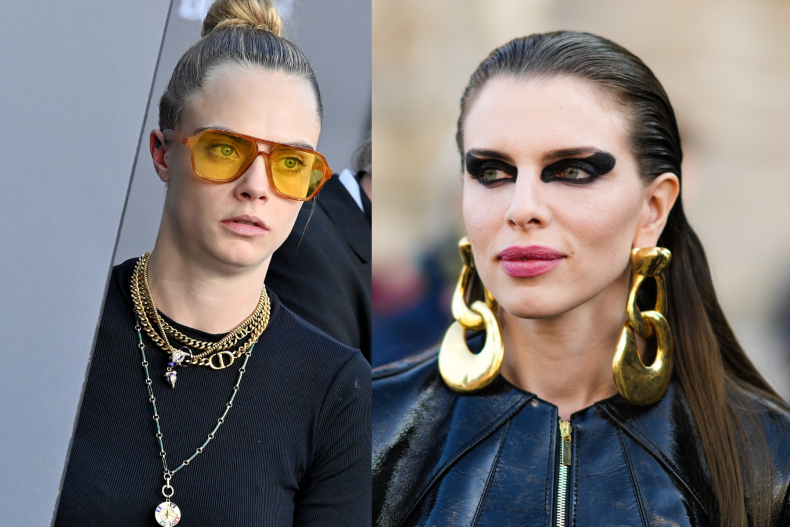 Fox chimed in: "And we see this person like trying to keep push past, rushing past security."
Fox and Takesh then exclaimed that the individual was none other than model Delevingne.
The two go on to explain that Delevingne was apparently "begging" Banks' security to let her on stage and that she was "relentlessly" trying to get the rapper's attention for around 35 minutes before she was invited on stage.
"We realized very quickly that Cara is wasted," Fox said in the episode, adding that Delevingne even "fell backwards on the stage" and "fell into the crowd."
"It was so crazy," Fox said. "I could tell by Azealia's face, she was like over it. She was like, 'Okay, let me have my moment.'"
Twitter user @itstilliv shared the podcast clip on Twitter following Delevingne's behavior at the Billboard awards.
"Honestly should have listened when Julia Fox tried to warn everyone about Cara Delevingne because-" the tweet read. The audio clip has amassed more than 100,000 views on Twitter at the time of writing.
It was initially shared on TikTok by user @azealia.tiktok earlier this year where it has more than 60,000 views.
Delevingne made headlines back in February when she mocked Fox on TikTok over her pronunciation of Uncut Gems, which went massively viral earlier this year.