How a Juneteenth National Holiday Went From Pipe Dream to Reality
Campaigners have long called for Juneteenth, a day commemorating the end of slavery, to be designated a national holiday. Now, it's about to become a reality.
The House overwhelmingly voted to make Juneteenth, or June 19, a federal holiday on Wednesday, a day after the Senate approved the bill by unanimous consent. President Joe Biden is expected to sign the Juneteenth National Independence Day Act into law at 3.30 p.m. ET on Thursday.
Juneteenth, a portmanteau of June and 19th, commemorates June 19, 1865, when Union soldiers brought the news of freedom to enslaved African Americans in Galveston, Texas—two months after the end of the Civil War and over two years after the Emancipation Proclamation freed slaves in the Southern states.
The day's jubilation quickly turned into an annual celebration, according to Juneteenth.com, and grew with the increasing participation of descendants over the years. Some who had been enslaved made annual pilgrimages back to Galveston on June 19 with their descendants.
Groups like the National Juneteenth Observance Foundation have been pushing for Juneteenth, also known as Freedom Day or Emancipation Day, to be recognized as a national day of observance for years.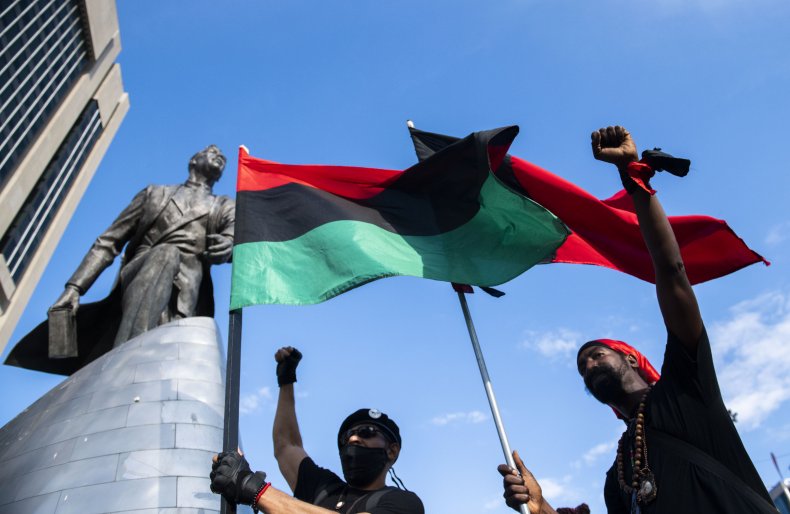 Enshrining Juneteenth as a national holiday "brings balance to American holiday celebrations," Steve Williams, the foundation's president, told Newsweek. "We were not free on the Fourth of July. Juneteenth freed the people, the Fourth of July freed the land."
For activist Opal Lee, it was a lifelong mission—five years ago, she walked from Fort Worth, Texas, to Washington, D.C., to urge lawmakers to make it happen.
While the majority of U.S. states recognize Juneteenth as a holiday and most hold celebrations, a national holiday was something 94-year-old Lee didn't think she'd live to see.
"I've got so many different feelings all gurgling up in here," Lee told CBS DFW. "I don't know what to call them all. I am so delighted to know that suddenly we've got a Juneteenth. It's not a Texas thing or a Black thing. It's an American thing."
The effort to designate Juneteenth as a federal holiday gained renewed attention amid a national reckoning on race after widespread protests against racial injustice were triggered by the police killings of George Floyd and other Black people in the summer of 2020.
Nevertheless, an attempt to pass the bill last year failed after Sen. Ron Johnson, a Republican from Wisconsin, objected. He raised concerns about the estimated $600 million cost of providing another paid holiday for federal employees. Johnson relented this week, clearing the way for the bill's approval after it was reintroduced in Congress this year.
"While it still seems strange that having taxpayers provide federal employees paid time off is now required to celebrate the end of slavery, it is clear that there is no appetite in Congress to further discuss the matter," he said in a statement ahead of the vote. "Therefore, I do not intend to object."
Senate Majority Leader Chuck Schumer quickly moved to pass the measure through unanimous consent, which allows approval without a debate or roll-call vote. Fourteen Republicans opposed the measure in the House, but it easily passed the Democrat-controlled chamber.
However, some have criticized the move as doing little to solve the material issues faced by Black people on a daily basis. They noted the Senate has yet to pass police reform legislation or the John Lewis Voting Rights Advancement Act, a bill, named for the late congressman and civil rights icon, that aims to prevent states from carrying out voting laws that are potentially racially discriminatory.
Amara Enyia, policy and research coordinator for the Movement for Black Lives, told Newsweek that recognizing Juneteenth "is an important gesture, however, it does not take the place of the substantive policy changes that need to be made to change the material conditions of Black people. We cannot lose sight of the policies and the laws that address the historic discrimination, that affected Black people."
Enyia also pointed to the contradiction of Juneteenth being recognized as a federal holiday while Republicans around the country are pushing to prevent schools from teaching critical race theory.
"At the same time that Juneteenth is becoming a federal holiday, we also have waves of legislation attempting to ban critical race theory," she said. "So it's a major contradiction where we have legislators, policymakers, lawmakers who are attempting to limit the accurate teaching about this country's history while on the other hand, we're passing legislation making a critical part of this country's history a federal holiday. We cannot get away from those contradictions."
Texas Rep. Sheila Jackson Lee, a Democrat and a lead sponsor of the legislation, celebrated its passage, saying Juneteenth "celebrates African American freedom while encouraging self-development and respect for all cultures."
But she added that "it must always remain a reminder to us all that liberty and freedom are precious birthrights for all Americans, which must be jealously guarded and preserved for future generations."
In a statement, she thanked her colleagues who co-sponsored the legislation as well as the organizations, groups and individuals "who worked through the years to bring us to this day."
She added: "In 1852, Frederick Douglass famously asked: 'What to the slave is the 4th of July?' In 2021, we can replay that it is the beginning of the American Promise that would be fulfilled and made real for all Americans, including the descendants of slaves, on June 19, 1865, 'Juneteenth Day.'
"So with a heartful of joy, I take pride in wishing everyone across the nation this Saturday a jubilant and Happy Juneteenth!"