Jussie Smollett has been compared to Amber Heard on social media, after the two sat down for post-trial interviews in which each professed their innocence, after respective juries delivered verdicts against them.
Empire star Smollett, 40, was released from Chicago's Cook County Jail in March, pending appeal, less than a week after a judge had sentenced him to 150 days behind bars.
The actor was in December found guilty of lying to police about being the victim of a racist and homophobic attack on the streets of Chicago in 2019.
Making an appearance on SiriusXM's Sway in the Morning on Tuesday, Smollett—who is currently promoting his feature directorial debut B-Boy Blues—insisted to host Sway Calloway that he did not stage his own attack.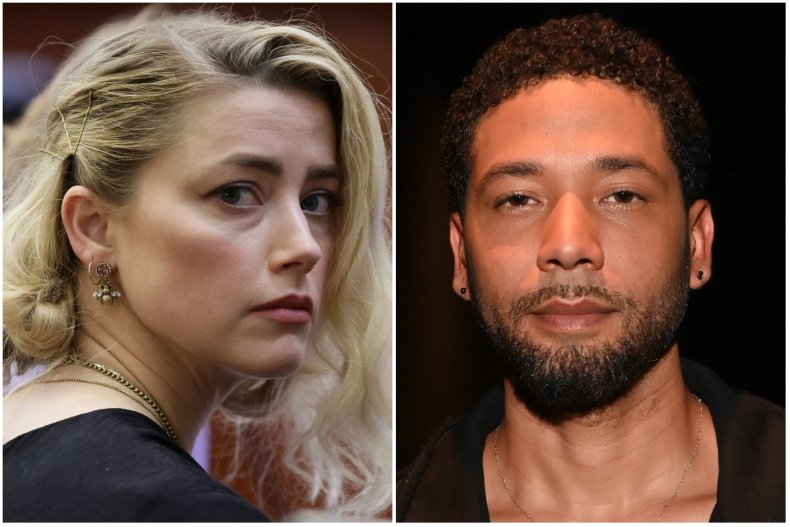 "If I had done this, I'd be a piece of s***... That's not really questionable," Smollett said, adding that doing so "would mean that I stuck my fist in the pain of Black Americans in this country for over 400 years.
"We're not even talking about in Africa because that's an even deeper, larger conversation. It would mean that I stuck my fist in the fears of the LGBTQ community all over the world. I'm not that motherf*****. Never have been, don't need to be, didn't need to have a... rise in his career. I was on the up-and-up."
Smollett's interview was broadcast days after Heard's post-trial sit-down with Savannah Guthrie aired as a Dateline NBC special on Friday.
Heard, 36, was sued for $50 million by her ex-husband Johnny Depp over a 2018 op-ed for The Washington Post, in which she said she was a domestic abuse survivor—a claim that the jury found to be false and defamatory.
Despite the jury's ruling, Heard doubled down on her allegations against Depp in her interview, insisting that all of her claims were true, as well as suggesting that the jurors came to their conclusion because her ex-husband is a "fantastic actor."
While Heard spoke emotionally about the criticism she has faced from Depp supporters, backlash against the Aquaman star has shown no signs of relenting since the interview.
With Heard and Smollett's interviews airing just days apart, the screen stars were compared to one another in videos that were released on YouTube, with Nate the Lawyer's latest update accusing Smollett of "following the Amber Heard model."
Eric Hunley, host of YouTube show Unstructured, shared a link to his installment comparing the two, adding: "Just when we started to forget Jussie Smollett and are willing Amber Heard to move on, he's back!"
The comparisons also made their way onto social media, where a number of Twitter users had been comparing the two for the past several days.
"Amber Heard and Jussie Smollett really are twinsies," wrote one Twitter user, alongside a screenshot of Heard's Dateline NBC interview, and Smollett's 2019 sit-down on Good Morning America, before he was charged with filing a false report.
Days after the court proceedings came to an end, businessman Patrick Bet-David also compared the two, as he imagined them as a couple.
"Amber Heard & Jussie Smollett would make one hell of a power couple," he tweeted.
Following Heard's high-profile trial, the jury on June 1 awarded Depp $10 million in compensatory damages and $5 million in punitive damages.
Heard, who had countersued for $100 million, was awarded $2 million after it was found that Depp's former attorney, Adam Waldman, had made defamatory comments about her.
Like Heard, Smollett faced public backlash across social media, particularly when his Good Morning America interview with Roberts had aired.
During his appearance on Sway in the Morning, Smollett admitted that he was "mortified" when he saw how he came across in his interview with Roberts—which he said he didn't watch until it was played the prosecution at this trial last year.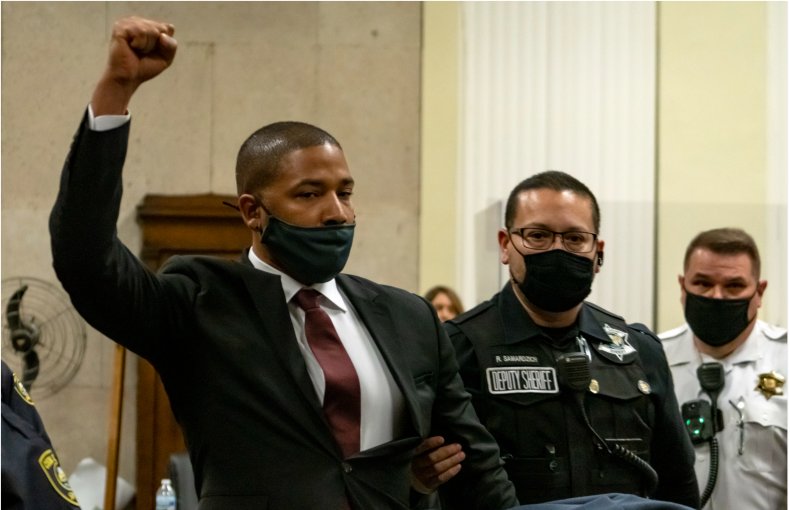 Smollett said: "I watched it and I was mortified. I mean, I was mortified. I mean, I cringed at just the, every single word that I said in that interview was the truth, but there was a certain level of performative nature that came from it because I didn't want to be there.
"I was so angry and so offended that I had to go on national television and explain something that happened to me. And it was so political, and it was all of those things, and I found myself dealing with my own internalized homophobia."
During Smollett's sentencing, Judge James Linn issued a damning assessment of the case, calling the screen star a "charlatan" whose "hypocrisy is just astounding."
The judge also sentenced Smollett to 30 months of felony probation with no travel restrictions, and ordered him to pay $120,106 in restitution to the city of Chicago and a $25,000 fine.
During an initial police investigation into whether Smollett had fabricated his attack, District Attorney Kim Foxx and the state attorney's office dropped all charges against him in 2019, in exchange for the actor performing community service.
The investigation was later taken over by special prosecutor Dan Webb, leading to Smollett's conviction.