It has been exactly two years since Joe Biden officially announced Kamala Harris was going to be his running mate in the 2020 presidential election.
Biden made the announcement on August 11 of that year and he and Harris have been the standard bearers for the Democratic Party ever since, defeating former President Donald Trump and former Vice President Mike Pence in November, 2020.
However, two years later Vice President Kamala Harris is suffering stubbornly low approval ratings and has been the subject of a series of damaging news stories, including an exodus of staff from her office late in 2021 and reports that she is difficult to work with.
Nonetheless, Harris remains a potential rival for the president as she enjoys a high national profile, her approval rating is in very similar territory and she appears to be the most obvious choice if Biden chooses not to run again in 2024.
A Decision Desk HQ poll, commissioned by NewsNation showed that Harris was the top choice for the Democratic presidential nomination next time if Biden doesn't run.
Harris led the field with 16 percent support, followed by Senator Bernie Sanders on 11 percent and California Governor Gavin Newsom on 9 percent.
That same poll also showed 61 percent of Americans believe Biden should not seek a second term, while just 22 percent wanted him to run again. The poll was conducted among 1,000 registered voters from July 22 to July 24.
Nonetheless, political scientists who spoke to Newsweek suggested that Harris' time as vice president has been less than impressive and that Biden had not entrusted her with as much responsibility as previous vice presidents—including Biden himself.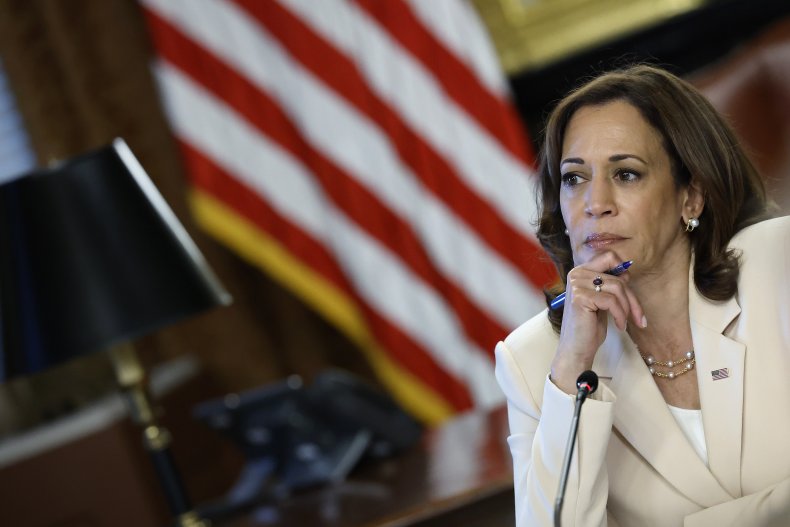 Low Approval Ratings
Biden's approval rating has been in negative territory since August 2021, according to analysis from poll tracker FiveThirtyEight, and his vice president has similarly low levels of approval.
Harris had an approval rating of 36.3 percent as of August 2, based on that analysis, while 48.6 percent disapproved of the job she's doing.
By contrast, Biden appears to be a more polarizing figure. The president's approval rating stood at 39.8 percent as of today with 55.5 percent of those polled disapproving of him.
Analysis from The Los Angeles Times published on July 26 showed that Harris' net favorability is 18 points lower than Biden's was at the same stage of his vice presidency in 2009.
The White House has indicated Biden will run for president again, despite concerns about his age, and he has said Harris will be his running mate.
Biden will be 81-years-old at the time of the 2024 presidential election and he is already the oldest serving president in U.S. history. The vice president will be 59 in November, 2024.
An "Inconsequential" Vice President
Harris' low approval rating is certainly cause for concern and political scientists told Newsweek on Wednesday that her chances of succeeding to the presidency were also low.
"It's an understatement to say that Kamala Harris hasn't exactly impressed," said Thomas Gift, founding director of University College London's Centre on U.S. Politics.
"While the former heir apparent to Biden isn't totally out of the running to be her party's next presidential nominee—after all, the Democrats don't have a deep bench of alternatives—Harris hasn't done much to help her case since taking over as VP."
"She's become a frequent punching bag on Fox News for being perhaps even more gaffe-prone than her boss. Staff exoduses and accusations of running an office in turmoil have presented her in an unflattering light," Gift said.
He added that: "Biden has largely relegated Harris to a series of low-priority, low-visibility roles. And what you get is a largely inconsequential VP who hasn't met expectations."
"Maybe this shouldn't be too surprising. In the 2020 Democratic primaries, Harris was the first top-tier candidate to flame out due to a lack of support and poor fundraising. Perhaps that should have been a clue for Biden."
Weakest VP Since Dan Quayle
Robert Singh, a professor at the Department of Politics at Birkbeck, University of London, told Newsweek that rank and file Democrats had been vindicated for not supporting the former senator's 2020 presidential campaign.
"She is surely the weakest vice president since, and perhaps even including, Dan Quayle under George H.W. Bush," Singh said.
Quayle served from 1989 to 1993 and was well-known for his public gaffes.
Singh acknowledged that the office of vice president "remains something of a poisoned chalice" but said "most recent VPs have been accorded major roles by their presidents, from Al Gore taking on 'reinventing government' under Bill Clinton to Dick Cheney's wide-ranging responsibilities from energy to national security under George W. Bush."
"Even Biden himself was given various important duties by Barack Obama, from helping with the push on Capitol Hill to enact healthcare reform to reviewing options for gun control measures," Singh said.
"Harris, by contrast, has been notable for the lack of responsibilities Biden has felt able or willing to give her. The major one, on immigration reform, has proven a dead duck, with an on-going crisis on the southern border and no feasible measures to deal with it on the agenda," he said.
Not Ready for Primetime
Singh said that when Harris has taken on a public role, "such as articulating the administration's Ukraine policy at the Munich Security Conference this year, she has come over as uncertain and poorly briefed."
"The well-documented problems of staff turnover in her office—with several officials describing her as 'difficult' to work with—throw some additional light on an individual who is not ready for primetime," he said.
No "Female Obama"
However, Singh said it was possible to sympathize with the vice president.
"She is in a difficult predicament, given that she cannot be sure whether Biden will run again in 2024, and that if he does so and wins, it will make her chances in 2028 even more problematic—the same party rarely wins three presidential elections in a row," he said.
"Moreover, she is in her current office not because of any substantive achievements but because the Democratic Party has become so preoccupied by identity politics, gender, and race," Singh went on.
"In a sense, she is a victim of her own party's obsessions," he said.
"That there is now so much speculation about alternatives to her in 2024, such as California Governor Gavin Newsom, is testimony to how ineffectual Harris has proven. The female Obama she most certainly is not," Singh said.
Though her time as vice president may not have helped her potential future presidential bid, Harris is still one of the most recognizable Democrats in the country and young enough to make a return to front-line politics if things go badly for her party in 2024.