Leading Democrats for 2024 if Joe Biden Does Not Run: Poll
If President Joe Biden decides not to seek a second term, Vice President Kamala Harris would be the choice to represent the Democratic Party in the 2024 presidential election, according to a new poll.
While Biden has indicated he plans to seek another four years in the White House, he is likely to come under added pressure to stand aside if the Democrats perform badly in the November midterms.
Just 22 percent of Americans want Biden to run again in 2024, with 61 percent opposed, according to a Decision Desk HQ poll, commissioned by NewsNation.
The survey of 1,000 registered voters, conducted between July 22 and 24, asked respondents who they'd prefer as the Democrat candidate if Biden doesn't run.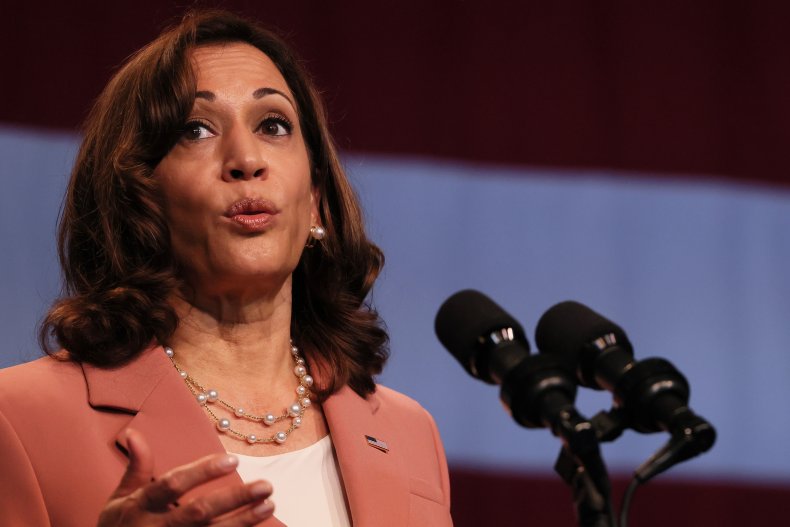 Harris, who received 16 percent of the poll's votes, was followed by Vermont Senator Bernie Sanders at 11 percent, California Governor Gavin Newsom at 9 percent and Transportation Secretary Pete Buttigieg at 8 percent.
A majority of Americans also are against former President Donald Trump running again in 2024, with 57 percent opposed while 35 percent are in support.
If Trump doesn't run, Florida Governor Ron DeSantis is the lead Republican with 23 percent, followed by former Vice President Mike Pence at 21 percent.
All the other Republican candidates are far behind, with former U.N. Ambassador Nikki Haley in third with 5 percent.
Biden suffered a major blow on Thursday, when Commerce Department figures showed the U.S. economy declined by an annualized rate of 0.9 percent during the second quarter of 2022.
As it follows a 1.6 percent fall in the first quarter, the U.S. is now in an unofficial recession, though it won't be confirmed by the National Bureau of Economic Research for several months.
No Democratic president since Franklin D. Roosevelt has won reelection after a recession began during their time in the White House.
The Decision Desk HQ poll found most Americans think their material circumstances are deteriorating, with 48 percent saying they are financially worse off than a year ago, while only 20 percent said they are better off.
There is particularly concern over soaring inflation, which has 66 percent of Americans "very concerned" and 28 percent "somewhat concerned."
Recent decisions by the U.S. Supreme Court, in particular its decision to overturn the Roe v. Wade abortion ruling, have made Americans significantly more likely to vote in the upcoming midterms.
In total, 55 percent of respondents said Supreme Court rulings make them more likely to vote in November's elections, while 7 percent said it had made them less likely to vote.
A separate poll released this week found that either Biden or Harris is on track to beat either Republican frontrunner in a 2024 showdown. Biden would defeat Trump 46 percent to 44 percent and DeSantis 45 percent to 41 percent. Harris would also beat Trump 46 percent to 44 percent and edge DeSantis 43 percent to 42 percent, though it is within the margin of error.