Kamala Harris Focuses on Abortion Amid Border Criticism
Vice President Kamala Harris on Friday focused on abortion rights during a trip to Chicago as the Biden administration faces heat over its border policies.
Harris arrived in Illinois days after Governor J.B. Pritzker issued an emergency disaster proclamation to aid hundreds of undocumented immigrants transported to the state via bus by Texas Governor Greg Abbott.
The efforts by Abbott to send migrants to Illinois are part of an ongoing push by the Republican governor to defy the administration of President Joe Biden over its stance on immigration. Abbott also sent undocumented immigrants to Washington, D.C., this week, dropping them off in front of Harris' home.
During her visit to Chicago on Friday, Harris participated in a roundtable with top Illinois Democratic officials—including Pritzker and Chicago Mayor Lori Lightfoot—about reproductive rights and the impact of the Supreme Court's decision to overturn the landmark Roe v. Wade in June.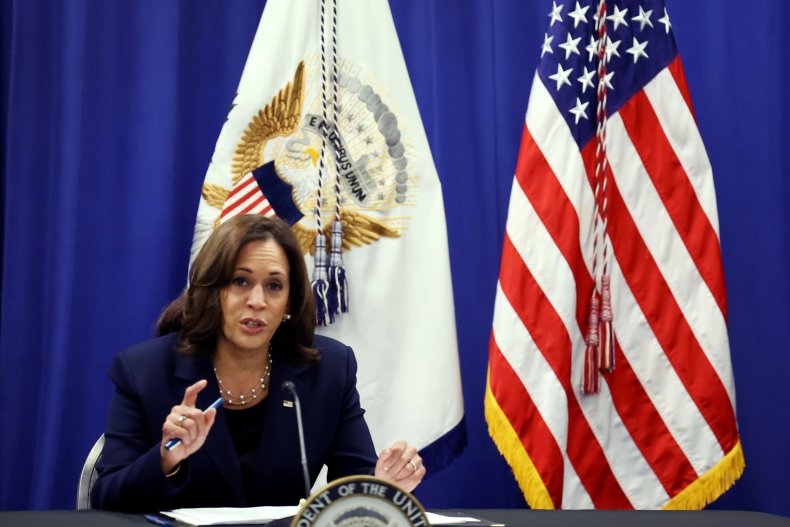 "We are in the wake of that decision facing a health care crisis in America," Harris said during the event. "That requires us all to speak up and do everything we can to ensure that we will fight to protect a woman's right to make decisions about her own body."
Harris also issued a call-to-action ahead of the November midterm elections. "Elections matter. We have a midterm coming up in 53 days. Who is your governor matters. Whether they're going to protect these rights and support these rights to freedom and liberty, it matters. So I encourage everyone to exercise your right to express your voice on this issue through your vote in 53 days."
Harris was also scheduled to attend a rally alongside Pritzker, who is up for reelection in November, later in the day.
On Wednesday, Pritzker issued the emergency proclamation related to the migrants that had been sent to his state. The governor said the measure would allow the state "to speed up the procurement of the immediate resources needed to help Chicago, Cook County, and other jurisdictions provide humanitarian assistance to the asylum seekers who are being sent to our state with no official advance notice by the Governor of Texas. Let me be clear: while other states may be treating these vulnerable families as pawns, here in Illinois, we are treating them as people."
Pritzker's office said the proclamation was necessary to "ensure sufficient capacity to meet the needs of more than 500 asylum seekers who have arrived already, with more buses arriving nearly every day."
This week, Abbott and Republican Florida Governor Ron DeSantis have drawn harsh criticism from Democrats and praise from conservatives, as they moved to transport undocumented immigrants from their states.
DeSantis sent two planes carrying migrants to Martha's Vineyard, Massachusetts, on Wednesday.
Biden blasted the governors and in a speech Thursday said Republicans "are playing politics with human beings, using them as props. We have a process in place to manage migrants at the border. Republican officials should not interfere with that process by waging these political stunts."
Newsweek has reached out to Harris' press office for comment.