Kamala Harris' Husband Doug Blowing Kisses to Her Before Joe Biden Speech Goes Viral
Video of Vice President Kamala Harris' husband blowing kisses to her before Joe Biden's first joint address to Congress has gone viral.
The clip shows lawyer-turned-professor Doug Emhoff sat wearing a mask and surrounded by empty seats because of COVID-19 social distancing rules.
Emhoff waves energetically at his wife before raising both hands to his mouth and blowing several kisses.
The second gentleman then pats his chest over his heart and gives a final wave.
The video, shared by a Twitter account under the name Ross Anthony, had been watched more than 300,000 times by Thursday morning.
Vice President Harris made history Wednesday sitting alongside Speaker of the House of Representatives Nancy Pelosi as it is the first time two women to appear behind a sitting president during the address to Congress.
Asked by ABC News how she felt about the milestone, Harris replied it was "normal."
In the speech—delivered 24 hours short of Biden's 100th day in office—the president laid out his administration's legislative agenda, including his higher capital gains tax; a comprehensive immigration reform bill; expanded voting, LGBTQ, healthcare and women's rights; addressing climate change; racial justice reform and other efforts.
Some compared the overt display of affection between the Harrises to the somewhat colder public exchanges that were witnessed between the former president and first lady, Donald and Melania Trump.
Melania Trump was on more than one occasion seen swatting her husband's hand away.
In one instance last August, Melania was seen repeatedly pulling her hand away from the then-president as the pair disembarked the Air Force One plane in Miami, Florida.
Emhoff has been a lawyer for more than 25 years and is licensed to practice Washington, D.C., as well as California.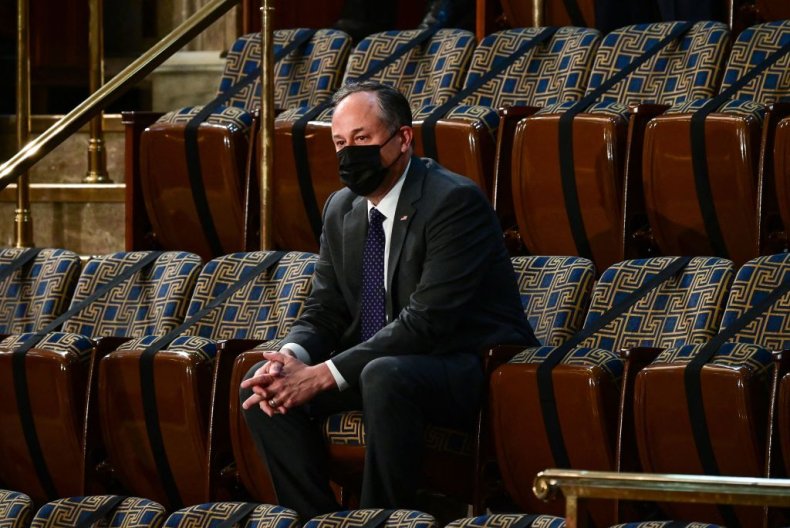 He has been married to Harris since 2014 and his two adult children, Ella and Cole, from a previous marriage reportedly call her their "Momala."
Emhoff was a fixture on the campaign trail and on November 7, after the election had been called for Biden and Harris, he tweeted an image of the couple hugging, with the message "So proud of you."
He has played a low-key role in the early days of the new administration but visited a string of states last month, including New Mexico, Iowa, Nebraska and Missouri, to promote Biden's COVID-19 relief package.
Spouses of the president and vice president have in the past acted as advocates for various causes but Emhoff has revealed few details about what role he will take.