Kamala Harris' Niece Meena Stands with Palestinians, Says Neutrality Akin to Oppression
Meena Harris, the niece of Democratic Vice President Kamala Harris, has posted an Instagram image announcing "I stand in solidarity" with the Palestinians of Sheikh Jarrah, a neighborhood in Jerusalem.
The escalated conflict between Palestine and Israel has involved the evictions of Palestinian families from the neighborhood.
"One cannot advocate for racial equality, LGBT and women's rights, condemn corrupt & abusive regimes and other injustices yet choose to ignore the Palestinian oppression," Meena Harris' image stated. "It does not add up. You cannot pick & choose whose human rights matter more."
In the image's caption, Meena Harris wrote, "If you are neutral in situations of injustice, you have chosen the side of the oppressor. I stand in solidarity with the Palestinian residents of Sheikh Jarrah."
Meena Harris's message of solidarity differs from recent messages of support that her aunt and Democratic President Joe Biden have pledged to Israel's top leader.
During Kamala Harris' first-ever phone conversation with Israeli Prime Minister Benjamin Netanyahu on Thursday, Harris "stressed the importance of advancing peace, security and prosperity for Israelis and Palestinians alike," the White House said. Kamala Harris pledged the United States' "unwavering commitment to Israel's security" to the prime minister.
Kamala Harris and Netanyahu also discussed the International Criminal Court's decision on Wednesday to investigate war crimes in the Palestinian territories, according to The National, a Middle East news publication. The U.S. and Israel have both rejected the investigation, saying that the ICC lacks jurisdiction since neither the U.S. nor Israeli governments recognize Palestine as a sovereign state.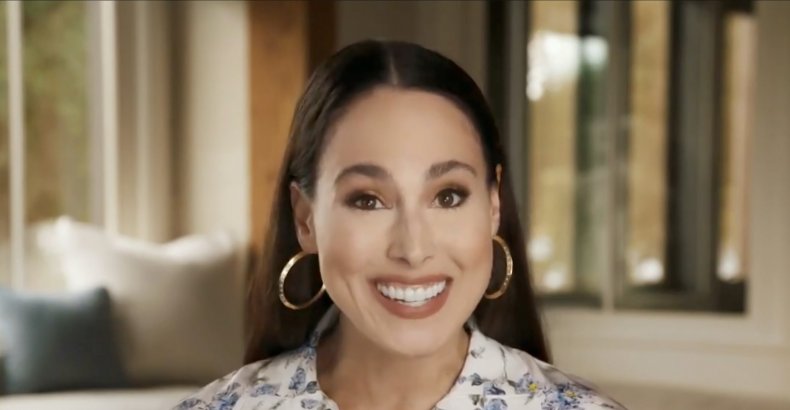 However, Meena Harris' pledge of solidarity with the Palestinians aligns more with progressives in the Democratic party's left-wing.
As the violence worsened on Tuesday, Democratic Minnesota Representative Ilhan Omar criticized State Department spokesperson Ned Price as "devoid of empathy and concern for human suffering." During a Tuesday press briefing, Price dodged questions about Palestinian child casualties and the country's right to self-defense.
"He can't even condemn the killing of children," Omar said. She later signed a joint statement calling out the U.S. for providing Israel with over $3 billion in military aid annually "with no conditions or accountability for wanton human rights abuses and continuing illegal seizures of Palestinian land," the statement said.
"It is long past time we finally take action to protect Palestinian human rights and save lives," it concluded.
In a Wednesday tweet, Democratic Massachusetts Senator Elizabeth Warren wrote, "The US must immediately work with our partners to stop Hamas's rocket attacks and Israel's airstrikes, then get to work on ending the illegal settlement expansion and impending forced removal of Palestinian families from E. Jerusalem and bringing about a two-state solution."
Independent Vermont Senator Bernie Sanders wrote via Twitter on Tuesday: "I am extremely concerned by the growing conflict in Israel and Palestine. Once again we are seeing how the irresponsible actions of government-allied right-wing extremists in Jerusalem can escalate quickly into devastating war."
He added: "The United States must call for an immediate cease-fire and an end to provocative and illegal settlement activity. And we must also recommit to working with Israelis and Palestinians to finally end this conflict."
Newsweek contacted Meena Harris' publisher for comment.