Kanye West Dons German Military Shirt for Balenciaga Shopping Trip
Kanye West has been photographed donning a German military-inspired T-shirt while shopping at a Balenciaga store—despite the beleaguered fashion brand cutting ties with him over his string of antisemitic statements.
Multiple outlets published photos of West—who has legally changed his name to Ye—visiting Balenciaga's store in California's ritzy Rodeo Drive with his new partner, Bianca Censori, on Wednesday evening.
And while West, 45, was seen exiting the building with several bags, his choice of attire also caught the eye, as he donned a white T-shirt featuring the name of the Bundeswehr—the armed forces of the Federal Republic of Germany—along with an eagle logo.
Previously known as the Reichsadler (Imperial Eagle) before World War II, the logo has remained in use as the Bundesadler (Federal Eagle) by the Federal Republic of Germany since 1945.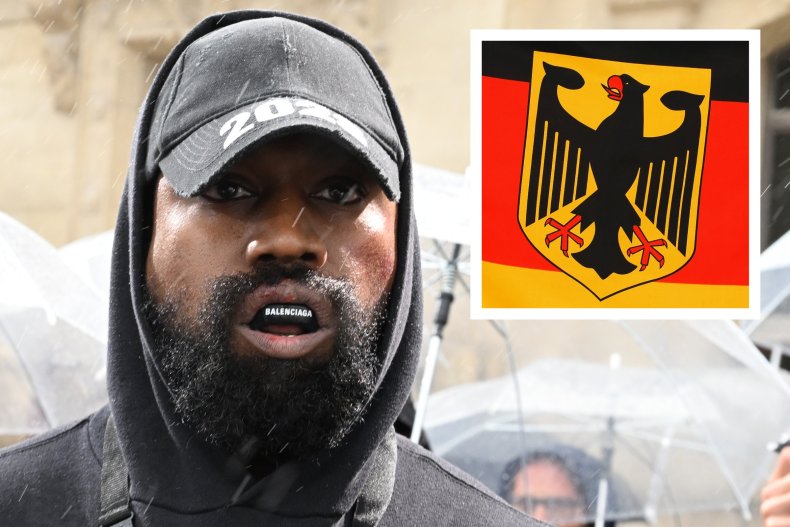 West's outing came almost two months after he made a December 1 appearance on conspiracy theorist Alex Jones' show Infowars, alongside documented white nationalist and antisemite Nick Fuentes.
Wearing a full face mask, West said that Hitler invented microphones and highways, praised the rule of the genocidal Nazi dictator, and denigrated Jewish people and Israel.
The musician and fashion designer added that he "liked" Hitler and said that nobody knew the meaning of antisemitism until he started sharing conspiracy theories about the Jewish race in 2022.
"They did good things, too," West said. "We've got to stop dissing the Nazis all the time."
Jones—who has said a "Jewish mafia" controls the planet and alluded to the "one world government" conspiracy theory often espoused by antisemitic groups—occasionally interceded, saying "we don't like Nazis."
West's interview came after he made a string of antisemitic comments both on social media and in interviews in October and November. His actions led to him losing a number of lucrative business deals, including those with Adidas and Balenciaga.
Balenciaga has recently faced a major image problem of its own, over images last year shown on its website that included toddlers holding the company's teddy bear handbags. The stuffed toys appeared to be dressed in bondage gear, including fishnet shirts and studded leather harnesses and collars.
A number of public figures spoke out against the images. West's ex-wife Kim Kardashian, who is a Balenciaga brand ambassador, said that she was "disgusted" and "shaken" by the images and was "re-evaluating" her relationship with the company.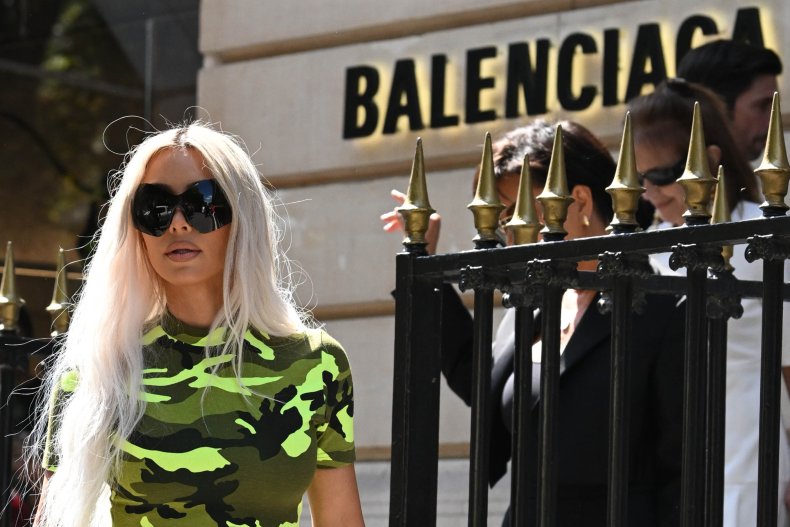 Balenciaga apologized for the campaign and pulled the images, which some on social media had described as "child porn."
After previously criticizing celebrities for not speaking out on the Balenciaga scandal, West defended the fashion brand in tweets posted before his Twitter account was permanently suspended in December amid the antisemitism scandal.
"I stand by Balenciaga and denounce all witch hunts and I cancel cancel culture. Jesus is King. Ending trafficking doesn't start or end with a fashion campaign for Christ Sake," the rapper wrote in archived tweets seen by Newsweek.
"Never turn our backs [on] Demna and the Balenciaga family for life," he said in a follow-up tweet that featured a photo of himself dressed in a bulky black ensemble. "Cancel cancel culture. Jesus please heal."
West also posted what appeared to be a text message exchange with Balenciaga's creative director, Demna Gvasalia, with whom he has collaborated on a number of projects over the years.
The screenshot purported to show Gvasalia asking West to help "stop Demna hate," prompting the musician to respond: "Love cures everything, Love Demna."
"God loves Balenciaga," West later tweeted. "Love is the answer, Jesus is the answer. Praying for all of the innocent artist and beautiful humans who make clothing that had nothing to do with the [ad campaign]. People's grandmothers work [there] for Christ sake."
Instead of turning against Balenciaga, West stated that pornography should be expunged from social media platforms as a way to end the trafficking of children.
"Remove any and all forms of pornography from Twitter and every platform," he stated. "Pornography is the product of [pedophilia]. When grown men look at porn they are watching someone's daughter relive trauma for money."
"The use of Porn destroyed my family but Jesus will heal everything," added West, who has spoken in the past of his own addiction to pornography.
West's tweets stand in contrast to comments he made at the height of the backlash against Balenciaga in November, when he said "all celebrities are controlled."
"You don't see no celebrities talking about the Balenciaga situation, right?" West told photographers in Los Angeles. "So that just shows you: All of these celebrities out here—don't let them influence you in any way, because they're controlled by the people who really influence the world."
Erstwhile presidential candidate West has been keeping a relatively low profile in recent weeks, leading to erroneous rumors that he had gone missing.
It was recently reported that West quietly wed Censori, who works at his apparel brand Yeezy, though though they are yet to file a marriage certificate.