Kanye West Tweets Video With 'Vote Kanye' Hat on Kamala Harris' Head During VP Debate
During Wednesday night's vice presidential debate rapper Kanye West tweeted out a video showing Democratic vice presidential nominee Kamala Harris wearing a hat that read "Vote Kanye" and Republican Vice President Mike Pence wearing a hat that read "Kanye 2020 Vision."
The tweet linked to a website which sells his branded election apparel and lists his 10-point election platform, each of which is followed by a Bible verse.
West announced his candidacy for president on July 4 of this year. During his one and only campaign event—held in North Charleston, South Carolina on July 19—West wore a bulletproof vest and claimed that Black abolitionist Harriet Tubman never freed any slaves. He also cried while recounting a conversation he had with his wife, Kim Kardashian, about possibly aborting their first-born child, North.
In a July 8 interview, West said he considers a COVID-19 vaccine "the mark of the beast," a Biblical reference to a mark denoting followers of a false leader or an anti-Christ. He also cited a debunked conspiracy theory that vaccination developers "want to put chips inside of us, they want to do all kinds of things, to make it where we can't cross the gates of heaven."
Numerous political commentators have publicly wondered whether West's presidency is genuine or merely a publicity stunt. Others have speculated that his campaign antics may actually be part of a public psychological breakdown associated with his bipolar disorder.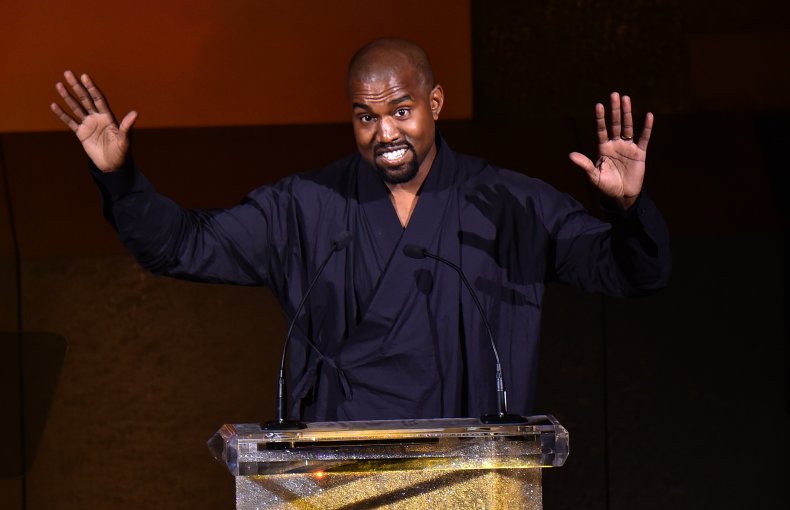 While West's name will appear on the ballot in 11 states—including Arkansas, Colorado, Idaho, Iowa, Kentucky, Louisiana, Minnesota, Oklahoma, Tennessee, Utah and Vermont—he has admitted that he's only running for president to help take away votes from Democratic presidential nominee Joe Biden.
West has spent $7 million of his own money getting himself onto state ballots, but most of that has been paid to Republican political operatives and lawyers, some of whom are affiliated with Republican President Donald Trump, according to New York magazine.
West has repeatedly touted his support for Trump. On October 11, 2018, West met Trump in the White House. The two were reportedly interested in discussing criminal justice reform, specifically job opportunities for former convicts.
West's visit reportedly left Trump "speechless and confused" and White House aides "embarrassed" as West mentioned his love of North Korea, how his red "Make America Great Again" hat makes him "feel like Superman" and West's belief that Democrats try to control Black people through the concept of racism.
West's wife has said that he supports Trump because he doesn't understand his policies.
In a July 5 article, Forbes writer Andrew Solender said that polling data suggests West's presidential bid could actually take more voters away from Trump than Biden.
Newsweek contacted Kanye West's campaign for comment.