No, the Kardashians Aren't Catholic—They Have Their Own Church
Kourtney Kardashian and Travis Barker's extravagant wedding in Portofino, Italy, has sparked questions over whether the bride's family is Catholic.
Kardashian, 43, and Barker, 46, tied the knot on Sunday at L'Olivetta, a villa owned by Dolce & Gabbana, in front of family and friends, before hosting them at a reception at the nearby 16th-century castle, Castello Brown, per People.
It marked the couple's third trip down the aisle, having already exchanged nuptials (without a license) in the early hours of April 4 after the Grammys in Las Vegas, and legally tying the knot in Santa Barbara, California, days before their big day in Italy.
Images from the Italian wedding showed Kardashian walking down the aisle in dramatic style, wearing a Dolce & Gabbana mini dress, which she teamed with a cathedral-length veil—complete with stitching depicting the Virgin Mary.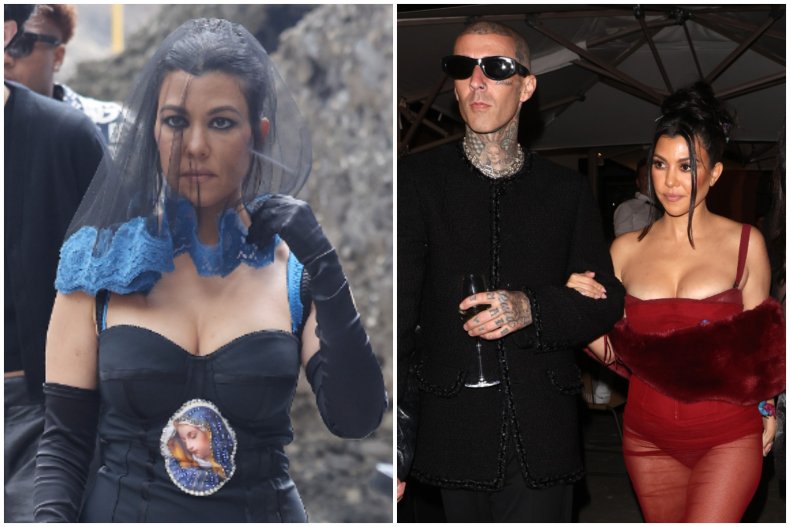 Adding to the theme, a statue of the Virgin Mary was also shown at the altar, holding baby Jesus, while candles and roses surrounded them. Even before the wedding, Kardashian was photographed in a black minidress featuring the Virgin Mary.
The depiction of the Virgin Mary was one of many moments from the nuptials that gave the ceremony a Catholic feeling, with Barker's 16-year-old daughter, Alabama Luell, sharing photos on her Instagram Stories of the newlyweds kneeling at the altar.
According to the publication Brides, it's a Catholic wedding tradition for a couple tying the knot to "kneel before the altar to receive their nuptial blessing from the priest."
From clothing, accessories to imagery at the altar, the ceremony appeared to depict the essence of a family with strong Catholic ties. It has also sparked debate on Twitter. Newsweek has taken a look at the family's links to the faith.
Firstly, it's worth noting that musician Barker's ties to the Catholic church are undeniably strong, having tattooed the Virgin Mary on his head.
Speaking about his dedication to the faith in a previous interview with Vice, he said: "Well I got the Virgin Mary tattooed on my foreman when I was 18, 19. and I was brought up Catholic. I definitely pray; I believe in God.
"I definitely think I was blessed, and I'm here for a reason after being the only survivor of a plane crash. So I'm not at church every day and I'm not pushing religion on people. But I believe in God and I pray and my kids pray."
While members of the Kardashian family have not publicly identified themselves as Catholic, some of them did go to Catholic school.
Catholic School
In a 2018 interview with Vogue, the bride's sister, Kim Kardashian, spoke about attending Los Angeles all-girls Catholic Marymount High School. Kourtney Kardashian has also previously spoken about her experiences at the school.
Recounting how the school had a strict no-makeup policy, Kim Kardashian said that she sported a "typical preppy schoolgirl" look at the time.
And while the mother of four is not Catholic herself, she explained: "I stuck to the rules, except for my really short skirt—I was always getting into trouble for that. I was, like, full-on Clueless."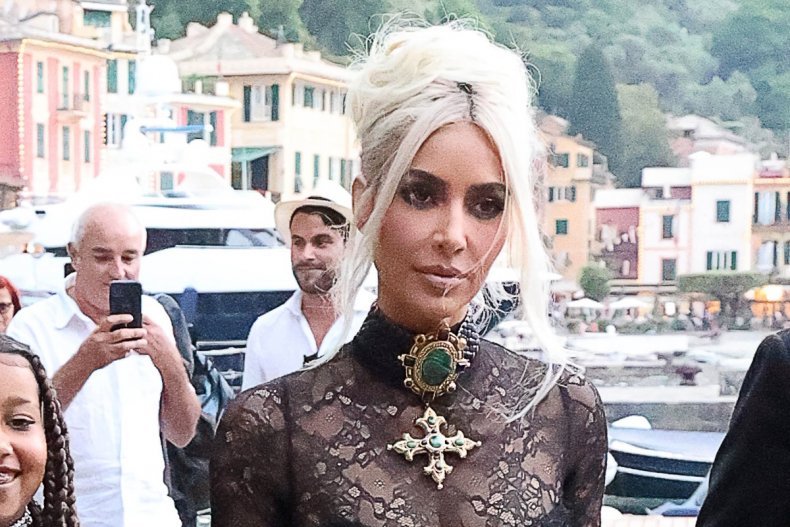 "I just genuinely loved it," she continued of her time at school. "I had an amazing Catholic school experience. It's very strict, very punctual, and I like that—it's how I've lived my life."
"We don't share it much, but we're really religious," she added of her family. "We start our day with a group chat with a Bible verse from my mom, and everyone chimes in on the meaning of it. We are very Christian—and our work ethic and our discipline comes from so many years at Catholic school.
Kim Kardashian's ex-husband, Kanye West, has also professed his dedication to religion, through a number of creative outlets, including his music. He is also known for his Sunday Service events.
Church has played such an integral part in the famous family's life that the Kardashian sisters' mother, Kris Jenner, is a co-founder of California Community Church, formerly known as the Life Change Church.
The church is headquartered in Agoura Hills, California, which is just a stone's throw away from Calabasas, where much of the family is based.
While not Catholic, the church appears to pride itself on welcoming all walks of life, with the website declaring: "No Perfect People Allowed."
"Bring your mess. (We're messy, too)," reads a statement on the website. "Lots of people think they need to have their stuff together before they can be a part of a church. If that's you, we'd love to be the place where you can finally let go of that idea. The truth is, we're all a bit of a mess, even Christians.
"Here's the other side of that truth: We're also all worthy of love. And grace. And a second chance (or 12th or 212th). Most of all, we're all worthy of redemption—a fancy church word that's a lot like rescue.
"So you're welcome here—just as you are. Really. Mess and all."
Per The Guardian, congregants are encouraged to donate $1,000 or 10 percent of their incomes to the church every month.
The Kardashians are known to be close to Lead pastor Brad Johnson, who officiated at Khloé Kardashian's wedding to former basketball player, Lamar Odom.
Members of the Kardashian family have also been seen attending the Hillsong Church, which has attracted a number of celebrities over the years.