Kari Lake accused Ukrainian President Volodymyr Zelensky of threatening the West with "terrorist splinter cells" if the U.S. stops "funding Joe Biden's proxy war with Russia" in a post on X, formerly Twitter, on Tuesday.
The former Arizona Republican gubernatorial candidate was responding to comments Zelensky made during an interview with The Economist in which he said Ukrainian refugees have generally "behaved well" and are "very grateful" but warned it will not be a "good story" for Europe if it "pushes these people into a corner" by abandoning Kyiv.
Ukrainian troops have been making slow but steady progress as they counter attack against the Russians in the southern Zaporizhzhia region, which Moscow partially controls and annexed in September 2022. However there has been no major breakthrough, sparking questions about for how long the West will continue its current level of military and economic assistance to Ukraine.
Zelensky's remarks came on the margins of a conference in Kyiv in which he admitted concern over whether Western powers will keep their pledge to back Ukraine for "as long as it takes."
In response, Lake shared a screenshot on X of the relevant section of the interview, saying: "Is Zelensky suggesting that Ukrainian refugees in other countries could be activated LIKE terrorist splinter cells if we stop funding Joe Biden's proxy war with Russia? This reads like a threat. How else are we supposed to interpret this?"
Newsweek has reached out to the Ukrainian foreign ministry by email for comment.
"I have this intuition, reading, hearing and seeing their eyes [when they say] 'we'll be always with you.' But I see that he or she is not here, not with us," Zelensky said during the interview.
"If you are not with Ukraine, you are with Russia, and if you are not with Russia, you are with Ukraine. And if partners do not help us, it means they will help Russia to win. That is it."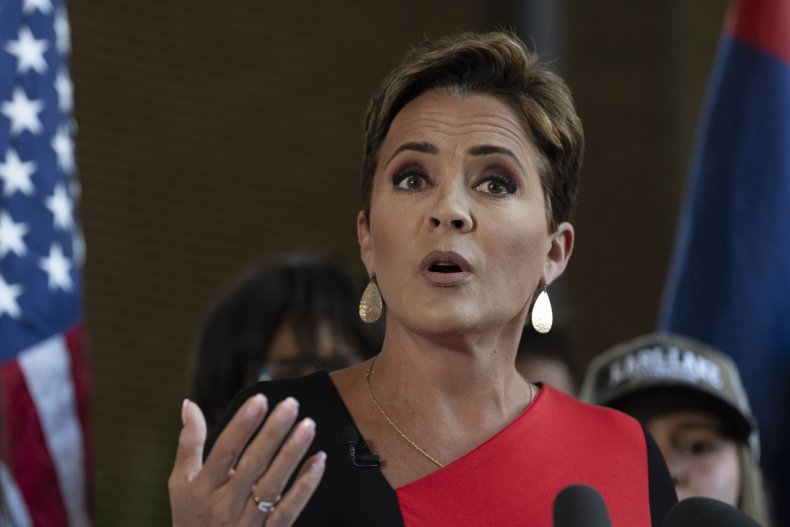 However, Zelensky expressed confidence that the U.S. will remain supportive of Ukraine if neither Biden nor Trump, the Republican front-runner, win a second term in November 2024. He argued that Trump would never support Russian President Vladimir Putin, as "that isn't what strong Americans do," and insisted that Biden would also stay the course, asking: "Do they want Afghanistan, part two?" in reference to the chaotic withdrawal of U.S. forces from that country in August 2021.
He expressed confidence that Ukrainian forces will make further progress in their counteroffensive, saying: "Now we have movement. It's important....If we push them from the south, they will run."
Overnight, a Ukrainian missile and drone attack on the Crimean port of Sevastopol, which Russia seized and annexed in 2014, reportedly damaged a landing ship and submarine belonging to Moscow's Black Sea Fleet, causing a number of injuries.
Lake shot to prominence when she stood unsuccessfully in the November 2022 Arizona gubernatorial election, losing narrowly to Democrat Katie Hobbs. She refused to concede and is continuing to insist the contest was rigged against her, despite the claim being rejected repeatedly in court. Lake is a fierce Trump supporter, with some speculating she could be the former president's running mate in 2024.