Kari Lake Addresses 2024 Rumors
Arizona Republican Kari Lake on Friday addressed rumors that she is running for office in 2024 during a meet and greet in Iowa.
Lake lost the 2022 gubernatorial race in Arizona to Democratic Governor Katie Hobbs but still isn't accepting her defeat, alleging election fraud.
Lake met MAGA supporters in Bettendorf sparking speculation that she might be pursuing national office. Lake's home state, Iowa has long played a significant role in presidential elections, as it is the first stop of the primary season.
Lake began her remarks by addressing alleged election fraud in 2022, accusing Democrats of "intentionally disenfranchising Republicans voters."
She said her team didn't want her to go to Iowa during her ongoing legal battle because "they'll think you're running for something."
But Lake said she is "focused 100 percent" on her ongoing court case to fight the election results in Arizona that she said is in appeals court and could go "all the way to the Supreme Court."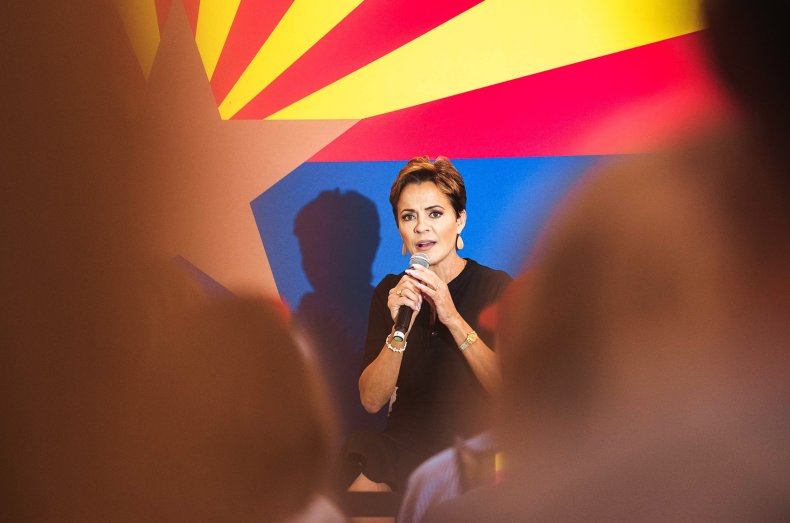 She also addressed rumors that she is running for U.S. Senate, saying she is focused on her court case.
"My number one focus in taking control of the Arizona governorship because we deserve that and we fought for that and we voted for that," she said.
This month, Lake hinted that she could run for Senate if she doesn't get a "decent ruling" in her lawsuit while on Charlie Kirk's Real America's Voice show.
Asked by Kirk if she's "entertaining" a Senate run, Lake replied: "Yes I am entertaining it. I mean my number one priority is our court case, and I have full confidence in our court case and I hope we will get a judge to do the right thing.
"But I'm also looking at what happens if we don't get a decent ruling in that, and they want me to go away, they want our movement to go away. I represent we the people, and if they want us gone so badly that they're willing to steal an election, then I'm not going to let them have that, I won't go away."
During her remarks Friday, someone in the crowd yelled "Trump VP," suggesting that Lake should be Donald Trump's running mate in his 2024 White House bid.
Lake didn't directly say whether she would join his campaign but said she will support his run.
"I love president Trump and I will do everything in my power to get that man elected," she said.
She added that her support for Trump is not for "any gain" but because she really likes him.
"I truly love the man because he gave up so much," she said, adding that he did a lot for Iowans and Americans. "I want him back in [the White House] because I think there is only one person who can take this mess that Joe Biden has gotten our country into...who can get in there immediately and and turn this around and that is Donald J. Trump."
She added that she will "explore other runs if need be."